Estimated read time: 7-8 minutes
PROVO — The numbers speak for themselves, but as is often the case, they don't tell the whole story.
After 23 NCAA Tournament appearances, seven Sweet 16 runs and four Elite Eight finishes, BYU women's soccer coach Jennifer Rockwood finally broke through with the program she helped build from scratch, culminating in the Cougars' first-ever NCAA College Cup semifinal appearance Friday at a sold-out Stevens Stadium in Santa Clara, California (7:30 p.m. MT, ESPNU).
The winner will advance to face the winner of the other semifinal between Rutgers and Florida State. If Santa Clara wins, the final will be played Sunday at 6 p.m. MT but moved to Monday at 6 p.m. MT if BYU wins because of the Cougars' no-Sunday play policy.
But not even the 400-plus career wins, 14 conference championships and seven conference coach of the year honors can adequately describe the impact Rockwood has had at BYU since foregoing a basketball scholarship to Ricks College in 1984 and transferring to the club soccer program in Provo.
Taking over the program in 1989, Rockwood is the only coach BYU has recognized since it made women's soccer an NCAA sanctioned sport in 1995. Since then, she's become a local legend in Provo; she even has her own flavor of ice cream at the BYU Creamery, Cherry Rockwood — a status symbol reserved for legendary BYU football coach LaVell Edwards (LaVell's Vanilla) and former men's basketball coach Dave Rose (Rose's Sneakerdoodle).
But for Rockwood, it's never been about the wins, the honors, the trophies or even the 18 All-America designations received by her players.
It's been about the people.
"Jen does a really great job of making every play feel cared for, that they matter, and that it's about them," said Colette Jepson Smith, the former Davis High standout who played three seasons at BYU and is now the head coach at Rowland Hall and Wasatch Soccer Club. "The head coach has to lay down the law, but she still has the ability to give players confidence. It's a sport of people, and that's something I always took from her.
"I didn't always appreciate it when I played, but I sure do now."
A special moment to celebrate Jen between our @BYUwvolleyball, @byuwtennis, @byuwgolf, and @BYUTFXC head coaches 🥰 pic.twitter.com/eUC8fGQbIS

— BYU Women's Soccer (@byusoccer_w) November 28, 2021
A powerhouse offense that consistently ranks among the top shot-takers in the country, Rockwood's teams aren't afraid to shoot. You can't score if you don't shoot, and the 27th-year head coach has rarely — if ever — chastised a player for shooting too much.
Aggression is the key in soccer, but so is patience, calmness on the ball, and tactical awareness in a game that can resemble both a chess match and a track meet — and sometimes in the same 45-minute half.
But whether she was talking to current NWSL Golden Boot winner and league champion Ashley Hatch or a UNLV transfer from Kaysville like Smith who just wanted to come home after a year away, Rockwood always found a way to keep the focus on the players.
Just shy of her 30th year overseeing the program — and two years removed from BYU's entry into the Big 12 — Rockwood has put it all together for a historic run leading up to Friday night's run-in with reigning national champion Santa Clara.
"This means a lot," Rockwood said. "It is a huge milestone and I think anyone who goes into the coaching profession is trying to get to the final four and win a national championship. I have had the opportunity to coach amazing athletes over the years and we really have had some fantastic teams, some teams who have been really close, and we haven't quite been there. I have a lot of support around me and an amazing staff that has helped me in my job."
That staff — led by assistant coaches Brent Anderson and Steve Magleby, volunteer assistant Made Gates, and administrative assistant Rachel Jorgensen, has been instrumental in the Cougars' breakthrough year, and receiving West Regional Staff of the Year honors by the United Soccer Coaches this past week.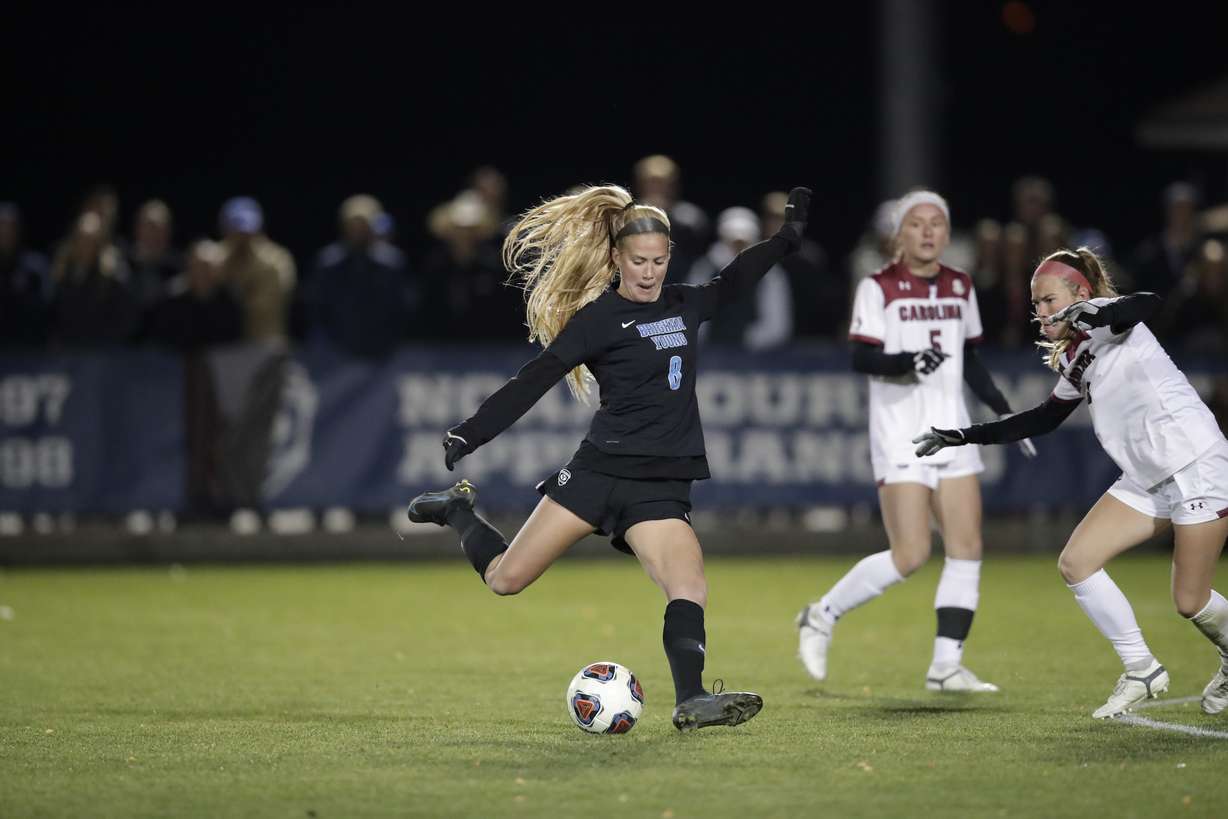 So, too, have been the players, led by MAC Hermann Trophy semifinalist Mikayla Colohan, the Cougars' first-ever three-time first-team All-American who has 18 goals and 15 assists this season and ranks second all-time in goals, assists and total points in program history.
The three-time West Coast Conference Offensive Player of the Year has plenty of help, though, including ace scorer Cameron Tucker, who's 16 goals and five game-winning goals on the year led to her own first-team All-America nod; and sophomore midfielder Jamie Shepherd, the two-time All-West Regional honoree. The Cougars are anchored by a defense that includes All-West Regional selection Laveni Vaka and goalkeeper Cassidy Smith, whose 2.14 saves per game and 0.65 goals-against average for .783 save percentage ranks among the top five in BYU history.
With that team, the Cougars knew they had a chance to do something special — from the moment they lost to Virginia 2-0 in the second round of the NCAA's unique spring tournament that cut short an 11-4-1 campaign truncated by the COVID-19 pandemic.
But at the head of it all was coach Rockwood.
"She's done so much for this program, and even for me personally," senior forward Makaylie Moore told BYUtv. "We knew we had the potential, but we wanted to put it all together so she can finally have this awesome accolade to an amazing career at BYU.
"Honestly, Jen has been awesome. I think the seniors realize how much effort she's put into the program, the time to get us the right gear and everything else. She's not just a coach, but the mom of our team, making sure everyone is good. I think the least we could do for her was put together a good performance and take her to some place she's never been before."
With one final try gifted by the NCAA's free season of eligibility before scattering to various professional careers — Colohan has already been drafted by the NWSL's Orlando Pride, and Moore delayed graduation until December for this season — the Cougars did just that.
"Not everyone gets a second chance, and they got it," said Smith, who was an assistant coach at Davis in an era that featured Colohan, midfielder Olivia Wade, and a national championship honor. "But it's not just their mentality. They worked hard, too; they're so gifted, their formation and tactics from the coaching staff — it all plays into it. Kayla and Cameron have the reins to do a lot of things. Olivia Wade is so good on the wing. Jamie Shepherd has been fantastic.
"It's all of those things — and then, they've managed to stay mostly healthy."
The run to Friday's Final Four didn't just start in the NCAA Tournament, or in the 4-1 win over South Carolina in a national quarterfinal. In many ways, it started Sept. 18, the last time BYU lost a match on South Field — a 2-1 overtime loss to Utah State that triggered an offensive deluge. The Cougars scored 25 goals in the next five matches, sparking a six-match winning streak and 12 of their next 13.
"In many ways, losing to Utah State may have saved their season," Smith said.
In 27 years at the helm of the BYU women's soccer program, Rockwood's teams have finished below .500 just twice. Far from a program, that's a dynasty, a consistent achievement layered by the individual bricks of three decades of top athletes — the majority of which came homegrown from Utah and the surrounding region.
That includes this year's signing class, an eight-member group led by Olympus midfielder Emma Neff, Lone Peak forward Camryn Jorgensen and Davis goalkeeper Taygan Sill, to name a few. If Rockwood knows one thing, it's recruiting, and she certainly knows how to mine the state's top soccer prospects — and turn several of them into professionals.
The Cougars have a challenge against Santa Clara, their WCC rivals with a 15-5-2 overall record and the reigning national champions. The Broncos, who are 8-0-1 at home this year, are one of two teams to shut out BYU and its nation-leading offense that averages 3.50 goals per match.
But if anyone is up to the challenge, it's Rockwood. And after 27 years, is anyone doubting here?
"I have worked pretty much my whole career to get to this point and I am just going to try to enjoy it," she said. "We have had our ups and downs, and just like any team, you battle through the rough times and learn from them and try to play our best soccer at the end of the season.
"Right now, I feel we are playing our best soccer."
How to watch, stream, listen to the NCAA Tournament
No. 4 BYU (17-4-1) vs. Santa Clara (15-5-2)
Stevens Stadium; Santa Clara, Calif.
Kickoff: 6:30 p.m. PT
TV: ESPNU (Jenn Hildreth, Julie Foudy)
Streaming: WatchESPN
Radio: BYU Radio 107.9 FM (Greg Wrubell)
Turning the Key: Kelsey Turnbow has 11 goals to lead a Santa Clara offense that averages 1.8 goals on 16.5 shots per game. The Broncos are 8-0-1 playing at home, which they will do Friday and potentially in Sunday's final after the NCAA moved the College Cup from nearby PayPal Park due to a potential scheduling conflict with the MLS Cup Playoffs.
Pure Offense: BYU leads the nation in shots (24.5/match) and ranks second in shots on goal (10.2/match) for an NCAA-high 3.50 goals per match. Cameron Tucker ranks second nationally with .84 goals per match, and Mikayla Colohan is fourth in scoring (.82 goals/match) and fifth in assists (.68 assists/match).
×
Related Stories