Estimated read time: 5-6 minutes
This archived news story is available only for your personal, non-commercial use. Information in the story may be outdated or superseded by additional information. Reading or replaying the story in its archived form does not constitute a republication of the story.
SALT LAKE CITY — Salt Lake City's skyline is about to change in a drastic way.
With the driving of a few golden shovels, Salt Lake City leaders and developers broke ground on the Astra Tower, a new 40-story structure that is slated to be the state's tallest building, during a ceremony Wednesday. The skyscraper, which is expected to top out near 450 feet in height, is expected to add over 350 "luxury" apartment units to downtown Salt Lake City by the time it's completed in 2024.
"Salt Lake City is in ascension — economically, socially, statistically. We're experiencing unprecedented growth," said Dee Brewer, the executive vice president of the Salt Lake Chamber and executive director of the Downtown Alliance. "Astra Tower is a remarkable illustration of our city's ascension."
The Astra Tower will be located on the northwest corner of 200 South and State Street, where an old fast food restaurant stood until it was torn down last year. The Kensington Investment Company purchased the 0.69-acre parcel in 2018.
The plan calls for 685,000 square feet of building area, which will include parking levels, retail space and 377 apartment units. The units will include studio, one-bedroom and two-bedroom options, as well as two levels of "exclusive penthouse units," according to Kensington.
There will also be some swanky features on three of the floors, including a "residents-only" rooftop terrace with a big-screen TV, grill and social areas on the 40th floor. Other amenities in the plan include an outdoor urban park, a spa and fitness center, a clubhouse with a chef's kitchen and a work lounge with conference rooms in areas of the building.
Ed Lewis, CEO of Kensington Investment Company, said he believes that Utah's capital is turning into a "world-class city," and the new skyscraper will add to a community literally on the rise.
"I believe Astra Tower will be the future of apartment living in Utah," he said. "Once delivered in late 2024, Astra Tower will offer best-in-class apartments for a city fast attracting people from across the globe."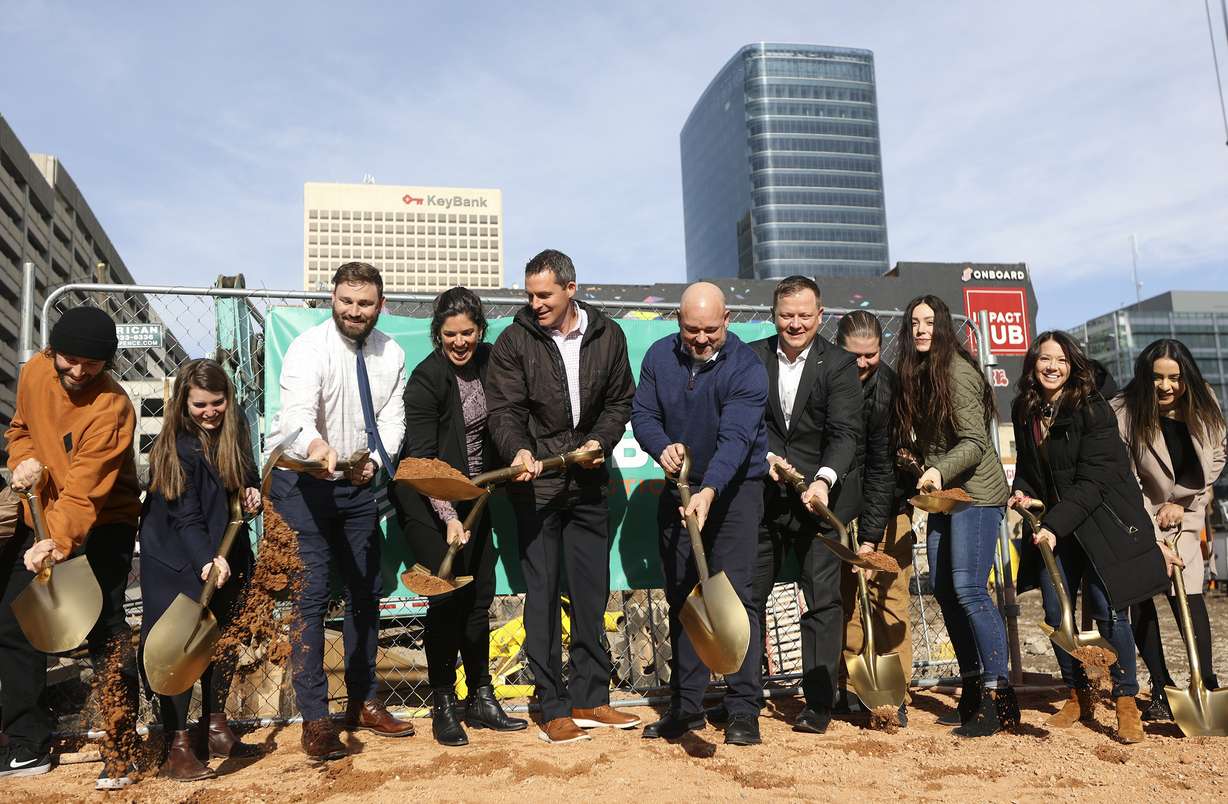 Kensington and Jacobsen officials offered some new details about the upcoming construction Wednesday. They say they plan to seek LEED Gold certification in environmental standards and WELL Building concepts once the building is complete. The latter seeks to reduce negative impacts on the environment by reducing air pollution and optimizing water conservation.
Crews will also use what's called a post-tensioned concrete design to help minimize building damage in case of an earthquake. The concrete structure of the building is expected to be completed over the course of the next 20 months and it's anticipated that it will reach its 450-foot skeleton by September 2023, barring setbacks.
With an estimated 450-foot stature, it would be close to 30 feet higher than any other building in the state. That title is currently held by the 422-foot, 26-story Wells Fargo Center on Main Street completed in 1998.
The 28-story, 420-foot Church Office Building for The Church of Jesus Christ of Latter-day Saints is the second-tallest. The nearly completed 95 State building is next at about 395 feet, followed by the 111 Main building (387 feet) and 99 West, a 375-foot condominium building.
The new tower will join a few new buildings on a rapidly developing State Street. There is the 95 State, the almost-finished 259-foot Liberty Sky apartments and a 140-foot building called 255 South State, which is expected to add another 190 apartment units and retail space in an area just south of the Astra Tower by the time it is completed in early 2023.
Though it may appear State Street is where all the growth is downtown, it is just a sliver of the new developments happening around the city — many with construction starting or continuing in 2022. The Hyatt Regency by the Salt Palace Convention Center, which is slated to be completed in the fall, is perhaps the most notable of those projects.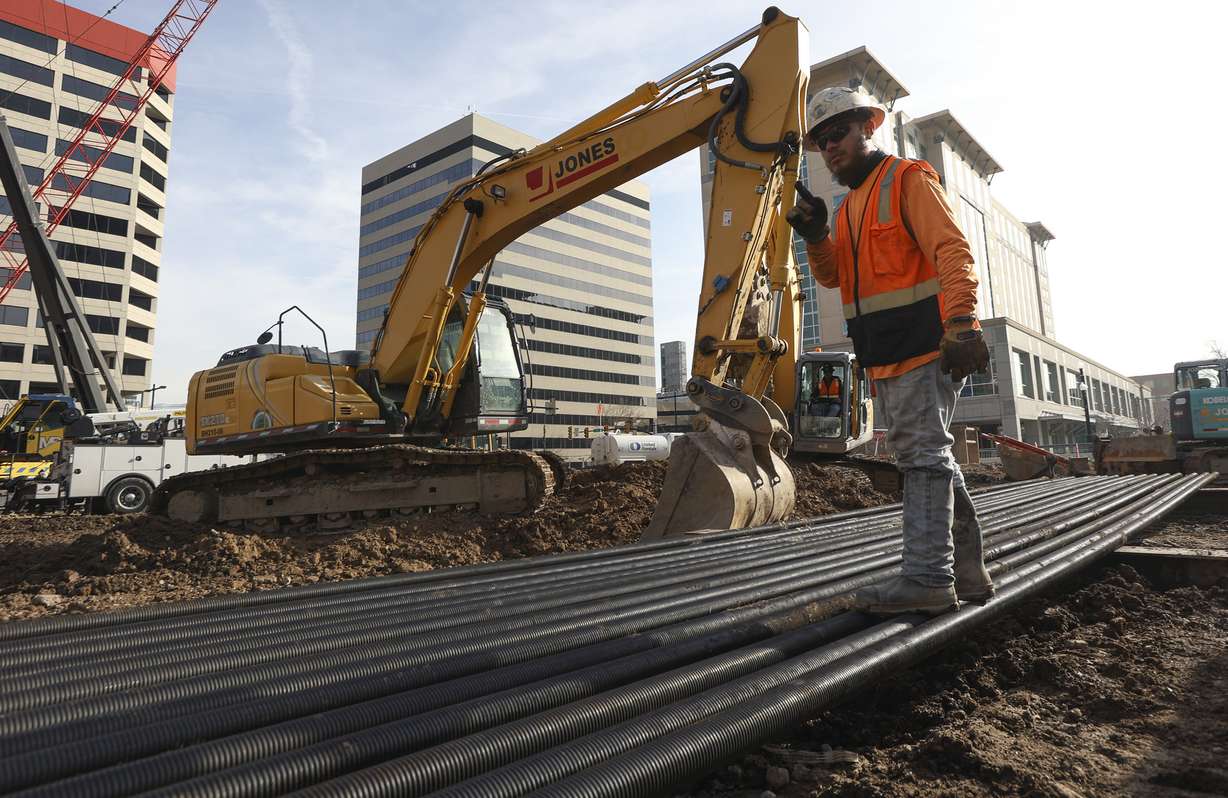 Brewer added that residents of the building will live in a growing arts and entertainment district, not just in the city or state but the entire Intermountain region, noting that over 3 million ticket holders attend events downtown annually. The building is also across the street from the Gallivan Center, which is the site of the summer Twilight Concert Series.
In addition to having parking spaces, he said that there will be ways that make the area more bike-friendly so residents can just ride their bikes to the Downtown Farmer's Market every Saturday morning in the summer.
---
Density and building vertically are inevitably what we're facing in our city.
–Salt Lake City Councilmember Ana Valdemoros
---
Salt Lake City Councilmember Ana Valdemoros said projects like Astra Tower — and the other projects coming along downtown — are helping chip away at the city's housing shortage, and it is doing so in a sustainable way.
The housing shortage, caused by Utah's population growth and a lack of housing options, is blamed for the high costs of housing in both Salt Lake City and other places across the state.
Valdemoros says the state and city's economic growth, low taxes and education quality have made it a desirable place to live, meaning more housing is needed to accommodate the interest. Current University of Utah Kem C. Gardner Policy Institute estimates call for the county's population to grow by 50% over the next few decades — an increase of over 600,000 people.
The institute adds that Salt Lake City already has a shortage of over 18,000 units. In short, it means every building that increases housing is important.
"The city keeps growing out and we constantly look for new housing options," Valdemoros said. "This building will help for that purpose. ... Density and building vertically are inevitably what we're facing in our city."
×
Photos
Most recent Business stories