Estimated read time: 10-11 minutes
This archived news story is available only for your personal, non-commercial use. Information in the story may be outdated or superseded by additional information. Reading or replaying the story in its archived form does not constitute a republication of the story.
The following story was supported by The Fund for Investigative Journalism and was reported by The Utah Investigative Journalism Project in partnership with the Deseret News.
SALT LAKE CITY — On Jan. 17, 2021, the Utah Capitol was ready for anything. A little over a week after the tumult of the insurrection at the nation's capital, local law enforcement wasn't taking any chances. The Capitol was filled with more police and National Guard troopers than actual protesters. Bomb-sniffing dogs circled the grounds and a news chopper wheeled in the sky overhead.
Given the deadly clash in Washington, D.C., less than two weeks prior, it's understandable the state would be on high alert. But that's not to say that the Utah Highway Patrol, which oversees security at the state Capitol, was not also warned about a threat coming to its grounds on Jan. 6.
According to the Department of Public Safety, the office found 1,657 "preparedness" emails in the week leading up to the Jan. 6 "Stop the Steal" rally and protest at the state Capitol. While many of the emails may have been duplicates, the volume still indicates scores of unique communications about a potential threat at the Capitol.
But critics have called into question the department's actual preparedness at that event, considering that a Salt Lake Tribune photographer was assaulted and no suspect was apprehended. Nor do records show that troopers on the scene actually put much, if any, effort into investigating the attack. Video from social media feeds obtained by The Utah Investigative Journalism Project also show state troopers appearing to take a very hands-off approach to dealing with militias and groups at the event threatening a counterprotester.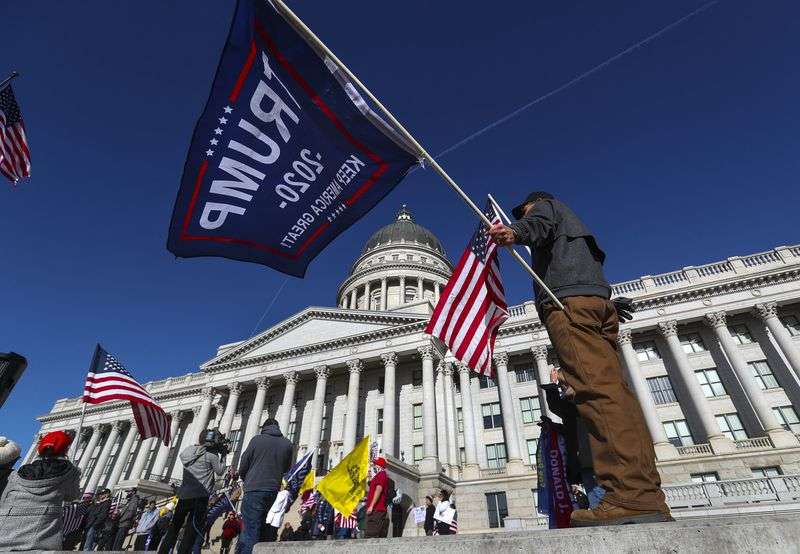 Since last January, Congress has been investigating the events of the violent insurrection in Washington, D.C., that ultimately led to the deaths of five Capitol Police officers and a shooting death of one protester. Committees have been called, subpoenas fired off and investigators continue to dig.
Meanwhile, in Utah, heavily armed militia members continue to present challenges to law enforcement at public demonstrations.
On Dec. 4, United Citizens Alarm and the Utah Proud Boys held an appreciation rally for the Second Amendment and Kyle Rittenhouse — who was acquitted in late November of homicide and attempted homicide charges after shooting and killing two people during a night of protest and unrest in Kenosha, Wisconsin — at the City-County Building in downtown Salt Lake City. The sun shone through the brisk day, and initially the rally was more like a hangout, with militia members mingling, joking and passing around cookies.
Then an elderly woman came into the crowd with a megaphone, shouting and holding a sign with a picture of former President Donald Trump behind bars. The woman howled to "Lock him up." Militia members taunted the woman and hurled profanities at her. In a couple instances the confrontations looked ugly, especially as the woman decried what had happened at the nation's capital nearly a year before.
Hearing that, one man bragged loudly and proudly to the woman that he had been in D.C. at the rally that day. Though he didn't say if he breached the Capitol, it was perhaps a brazen admission. But then again there were no police at the Salt Lake City event at that time to take note, nor to intervene between the protesters.
'Unable to locate the individual'
Salt Lake Tribune photographer Rick Egan has covered everything from crime scenes to parades in his career. He even embedded with multiple Utah Army units in the early years of the Iraq War.
While Egan came out of a war zone without incident, in Salt Lake City he was pepper-sprayed in the face when covering the Jan. 6 "Stop the Steal" event.
In April the Utah Investigative Journalism Project was able to receive copies of the Department of Public Safety investigation into the attack, after the case was closed for lack of leads to follow.
The reports are brief.
The report shows that investigators didn't see the person responsible show up at the protest on Jan. 17. The only possible lead came later, from Egan himself, when the photographer identified an individual at a protest based on a photo he took during the Jan. 6 event. Department investigators interviewed the individual but found he had a confirmed alibi and ruled the suspect out.
While investigators relied on a photo database — after the fact — for leads, no on-scene interviews were conducted. There was no old-fashioned police work of simply asking people in the crowd about what they saw.
Lt. Nicholas Street, then the spokesperson for the Department of Public Safety, said it might not have been possible for troopers to conduct interviews while also focusing on their regular security duties. He also said a "simple assault" might not have warranted further resources.
"We have to somewhat prioritize investigative efforts," Street said. "But at the same time, we took that (investigation) very seriously."
And yet no interviews were attempted after the fact either, though the opportunity was there. The "Stop the Steal" rally, after all, was not attended by a random assortment of people. It was led by organizers with contact information who filed a permit and was filled with easily recognizable groups of militias.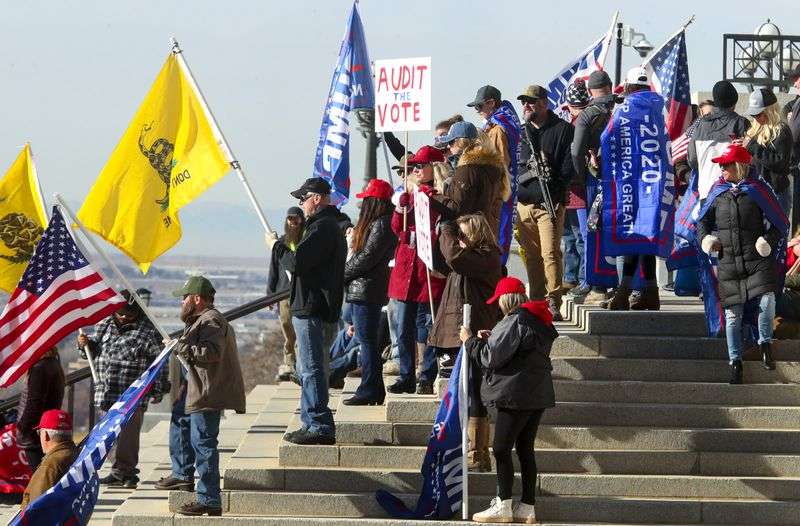 'Y'all are awesome'
Casey Robertson, the leader of United Citizens Alarm, said his organization was providing security for that day but was well acquainted with the multiple "patriot" groups that were represented. Robertson said he had 70 members at the event, and while he said none of them saw who attacked the photographer, he also said no law enforcement ever reached out to ask if they saw anything.
He stresses that organization is known among these groups for the discipline of their command structure, jokingly referring to the Proud Boys as a "fight club with a drinking problem." Given their close ties, he said, if it came down to it, his group could easily form a coalition of different groups.
"It's kind of nice to know that if all hell broke loose we could probably get four or five hundred people to come out and be a presence," Robertson said. "That's a pretty good deterrence."
The close connections between the groups is on full display in a video taken of the Jan. 6 event in Utah by a counterprotester more closely aligned with the Black Lives Matter movement who livestreamed the event.
A United Citizens Alarm member tells him calmly that he is being watched, but when the counterprotester tells him, "Don't touch me," the UCA member responds in a threatening tone: "Hey! Say another word and I will have more Proud Boys on your rear than anything."
When the counterprotester doesn't leave, a UCA member indeed summons a group of Proud Boys. The video-taker probably doesn't help the situation by mocking UCA and the Proud Boys, but soon enough he is mobbed by a crowd of Proud Boys telling him to "Get the (expletive) out of here."
The counterprotester quickly moves next to a state trooper at the scene, as the Proud Boys surround him and continue shouting. The state trooper saunters over to the group at an unhurried pace and can be heard on camera saying, "Y'all are awesome" to the Proud Boys before saying a few more inaudible words to them. The group seems to calm down but the counterprotester quickly decides to clear the area regardless.
For Street, the former communications officer with DPS, it's not clear if the trooper did tell the Proud Boys they were "awesome," but also said even if he did, the context of the situation was unclear and it may have been a de-escalation strategy that in fact worked.
Street said officers have become more aware that they can't appear to be on the side of militias and groups purporting to "back the blue."
"These groups claim to back the police but we want nothing but to distance ourselves from them by all means," Street said. Protesters kitted out for war make tense situations even more so, Street said. "They are definitely on the wrong side of our mission and we all know that."
Still, there are some critics like activist Carl Moore who say the troopers' approach at the Capitol smacked more of bias.
"I got my phone stolen at (the Capitol) by one of those dorkbags and I'm sitting there yelling at the police and they just watched," Moore said of troopers on the scene.
For Street, sometimes dealing with heavily armed protesters unfortunately means law enforcement has to be more "hands off" in order to not risk provoking the wrong, heavily armed individual. He notes that while troopers didn't intervene in the moment, they were at least able to stop the vehicle of the individual who had stolen the phone later and recover the items and return them to Moore.
"Sometimes we have to pick our battles as law enforcement," Street said.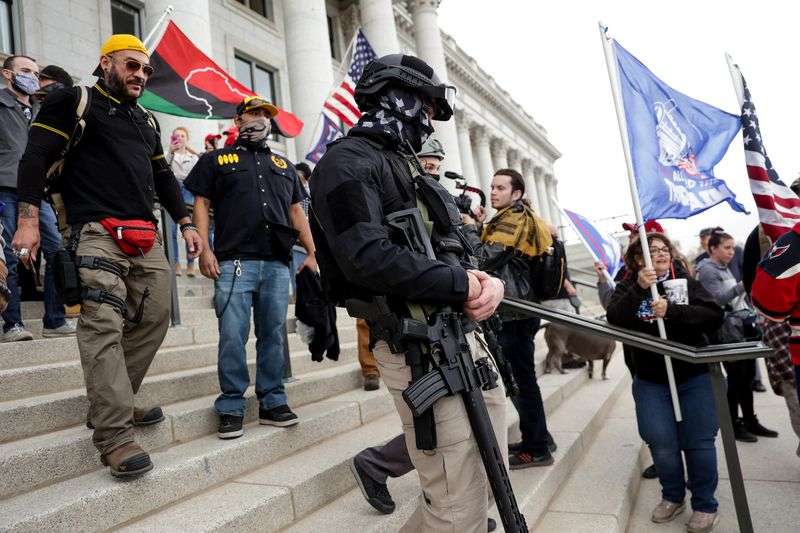 'A human response'
Since Jan. 6, militias in Utah have continued to organize and hold events. UCA helped organize and provide security for the WeCANAct Liberty Conference at the Salt Palace in October that hosted speakers promoting election fraud conspiracy theories, including talking points from QAnon, a conspiracy that claims a shadowy network of Satanic, cannibalistic pedophiles have infiltrated the highest levels of government.
As many as 1,000 attendees came and heard from speakers including former national security adviser Michael Flynn. In a UCA podcast, Flynn lauded what UCA is doing and encouraged it to work with local sheriffs. He spoke with Ken Dudley, who was shot when he was driving through a protest in Provo in 2020 and later joined UCA, which formed in the wake of the shooting, and was in October running for mayor of Provo.
Flynn said Dudley was "ordained" to run for office and encouraged Dudley to "Put the fear of God into them, no matter what."
But while militias locally and nationally continue to grow, they've not always been welcomed. In Wisconsin lawyers are suing local law enforcement for the tacit approval of the behavior of extremist groups at the protest where Rittenhouse shot and killed two individuals he felt threatened by. The attorney general in Washington, D.C., also recently sued the Proud Boys and the Oath Keepers over their role in the Jan. 6 insurrection.
Still, in other states like Utah, militias are tolerated and accepted.
Jim Bueerman is a retired police chief from Redlands, California, and is a current policing consultant. He said nationwide police have become sensitive about avoiding perceptions of favoring any one side over another. Still he said it's not surprising police in the past have been more sympathetic to groups that claim to support law enforcement over those calling for police reform.
"That's a human response, that's a human frailty," he said. "If we're being criticized, are we going to warm up to the people criticizing us or to the people who are supporting us?"
Regardless, he said police have learned militias will not always support them, and will turn on them with deadly consequences when it suits them, like they did in D.C. on Jan. 6. Bueerman worries that even with police remaining neutral enforcers of the law their job is incredibly difficult in open carry states where law enforcement has to contend with heavily armed protesters.
"State laws that allow weapons in those situations are very shortsighted and those that have allowed weapons at protests have apparently never been to one of those protests," Bueerman said. "Emotions are high, anger is high, hatred is high and both sides are armed — it takes almost nothing to light that particular fire."
Utah Highway Patrol Col. Michael Rapich said his officers have adapted greatly since Jan. 6 and especially since the tumultuous summer of 2020. Where once the Utah Highway Patrol had one specialized unit for dealing with civil unrest, now every trooper has received training and equipment for those situations. The troopers also recognized early the need for better cultural awareness and began diversity and equity training and community interactions in 2020, even before the 2021 Legislature mandated cultural sensitivity training. The troopers have also taken to communicating early and often with event organizers to help establish boundaries and expectations before an event takes place.
"When we have good training, good equipment and good resources that creates options," Rapich said. "More options, more training and more understanding have given our officers a whole lot better chance at having (positive) outcomes, and there's been a lot of that."
×
Related stories
Most recent Utah stories