Estimated read time: 2-3 minutes
LOGAN — Ski resorts in the Cache Valley are starting to open this week after battling some warm temperatures and somewhat disappointing snowfall.
On Tuesday, sunny sky made for a comfortable opening at Beaver Mountain. "Oh yeah, it's a nice bluebird day," Caleb Leff said. "It's nice out. I had too many jackets on. Had to shed a layer."
The nice weather has proven to be a challenge in the days leading up to opening day. "It's been a little bit of a borderline temperature with the inversion right now," said Dustin Hansen, operations and marketing director for Cherry Peak.
Hansen said they've had to work around the clock making and grooming snow here — as much as the temperatures would allow.
"It's been a challenge this year with Mother Nature, but you know what, it feels so good to actually get out of the car and see skiers come down the mountain today," he said.
Beaver Mountain faced similar challenges as they prepared to open Wednesday.
"The last two days, it's been in the 40s up here," said Travis Seeholzer, mountain operations manager at Beaver Mountain Ski Area.
But the excitement for the season is high, at least with some people.
Teenagers Vance Hansen and Sierra Maughan called the first chair of the day at Beaver Mountain.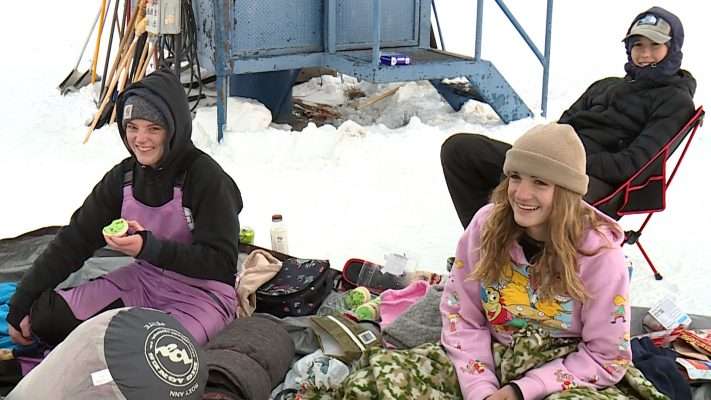 "We decided it would be a fun idea to come up and hang out for the night," Hansen said.
"Yeah," Maughan said.
"Get first chair," Hansen added.
"We got here at 12, ha ha ha," Maughan said.
Seeholzer said that's a first.
"It's not unusual for people to spend the night, but they've been here all afternoon," he said.
Of course the hope at both resorts Tuesday night was that storms later this week could blow out the inversion and bring lots of fresh powder.
"The forecast is something that gives you a little bit to look forward to," Dustin Hansen said.
Beaver Mountain's opening Wednesday lines up with some of their latest opening days over the past 10 years.
Cherry Peak, however, is doing better than it did last year when it opened on Dec. 28.
Correction: A previous version of this story incorrectly referred to activities at Cherry Peak. The activities were at Beaver Mountain Ski Resort.
×
Photos
Related Stories