Estimated read time: 8-9 minutes
This archived news story is available only for your personal, non-commercial use. Information in the story may be outdated or superseded by additional information. Reading or replaying the story in its archived form does not constitute a republication of the story.
SHREVEPORT, La. — Speed and size.
As the BYU football program prepares to upgrade its conference affiliation in two years, the Cougars will need both of them in abundance.
And they added both Wednesday on the first day of the NCAA's early signing period.
In the middle of the final week of preparations and celebrations for the Independence Bowl, BYU signed 18 new prospects — a group headlined by speedy four-star receiver and track star Cody Hagen from Corner Canyon High and former University of Utah defensive end commit Aisea Moa, in addition to a number of mid-year additions that will mostly come from the program's annual return of missionaries for The Church of Jesus Christ of Latter-day Saints to add to the penultimate recruiting class of the FBS independence era.
"Really excited for the speed," BYU coach Kalani Sitake said after practice for the bowl game. "There are a lot of players in this class that are going to be competing for spots right away, as well as several others that will come in after serving missions."
Of the newcomers, Moa — along with Oregon transfer Kingsley Suamataia, the former five-star offensive tackle from Orem who transferred from Oregon — will enroll in January. As such, those two newcomers will be counted among the class of 2021, per NCAA regulations.
It wasn't purely intentional — the Cougars are always looking to get bigger, always looking to get stronger, and especially, always looking to get faster. But this year's group of talent place a unique premium on quickness — "pure track speed," as offensive coordinator Aaron Roderick called it — and lining them up in one class came natural.
Perhaps no more natural than Hagen, a four-star wide receiver by 247Sports who fended off offers from Stanford, Arizona and Utah before committing to BYU and quickly becoming one of the school's top leaders as others in the predominantly Utah-based class where all but three signees came from the Beehive State.
The Gatorade Utah Player of the Year — the third member of his family to win the award — rolled up 1,805 yards and 23 receiving touchdowns as a senior for the Chargers, the third-best single season in state history behind only Orem star (and future BYU teammate) Puka Nacua and former Corner Canyon teammate Noah Kjar.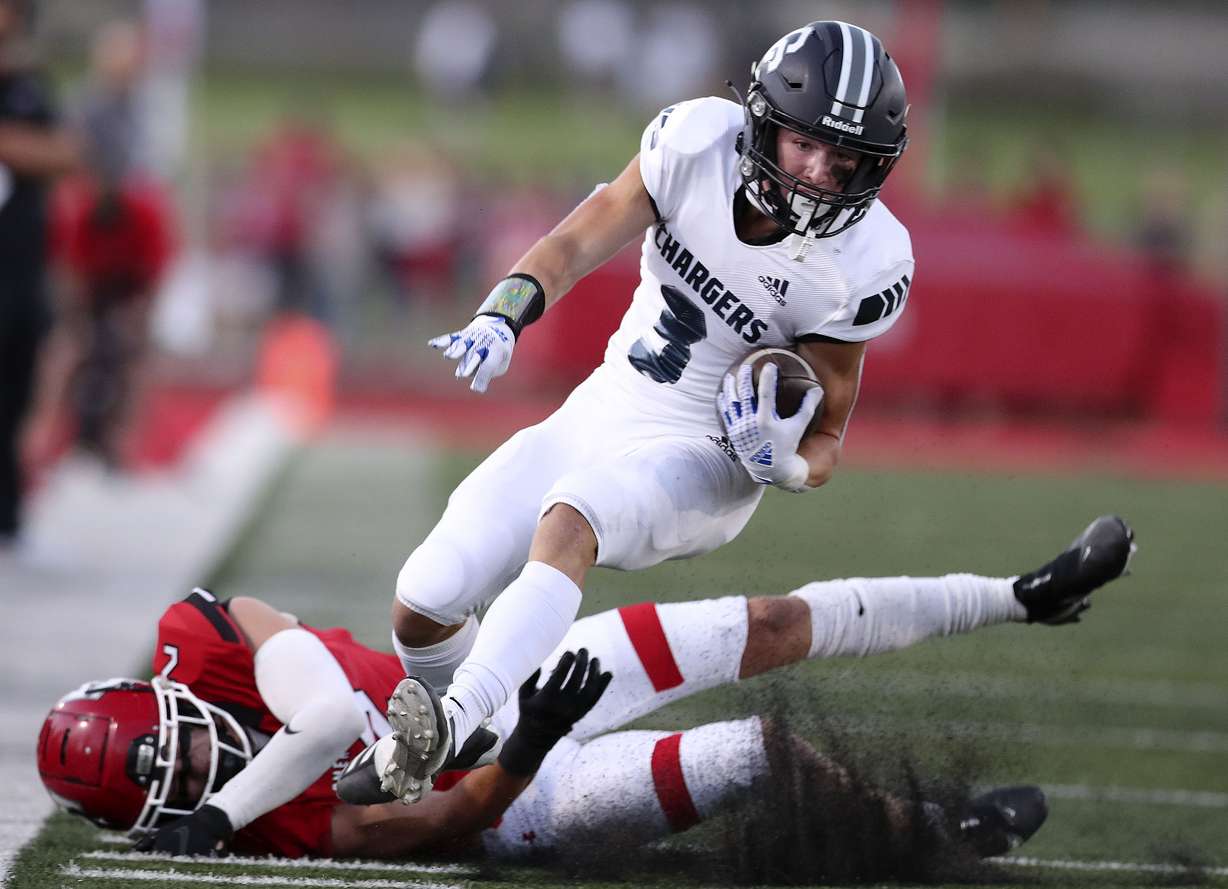 But it was his burner speed that really stood out, including a 6A state-record 10.52 100-meter dash time laid down last May. Pair it with 4A record holder Dominique McKenzie and twin brother Marcus McKenzie, two former Virginia commits who flipped to BYU in the final week, and the Cougars couldn't help but take notice of the speed coming out of the Class of 2022.
"This year, there were some really fast in-state guys on the track," Roderick said. "There were some great track times last spring, and we were able to add several of those guys to our team.
"I can't remember a time in my coaching career when there were better track times than last spring. We were fortunate to add several of those guys running those times to play receiver for us, or where ever. I'm really excited about them."
Ever-changing athletes
The "athlete" label was thrown around a lot in the class of 2022, and though coaches mostly decided on positions by signing days, they could also change.
Cannon DeVries will join the defensive backs initially, but cornerbacks coach Jernaro Gilford said the Weber High receiver "could help on both sides of the ball."
Brooks Jones is a 6-foot-6 tight end from Queen Creek, Arizona, where he played for former BYU offensive coordinator Ty Detmer and tight end Dennis Pitta, but he'll enroll as a defensive end, at least initially.
Same with Peter Falaniko, the former Pine View High offensive lineman who Cougars coach Darrell Funk could potentially play on defense, "but don't tell Kalani I said that," he joked with BYUtv.
American Fork's Noah Moeaki will enroll as a tight end when he completes his mission, per tight ends coach Steve Clark. But the hard-hitting 6-foot-3, 205-pound bruiser could also move to linebacker.
"He's a big tight end who can play both the F and the Y," Clark said of Moeaki, who is the nephew of BYU running backs coach Harvey Unga. "Strong, fast, thick; good hands, good feet. We're looking forward to getting him in two years."
The Cougars were also awaiting a potential commitment for more athleticism from Snow College defensive back Keionte Scott, the top-rated junior college cornerback in the country. But the 6-foot, 195-pound secondary standout who led all junior colleges with three interceptions picked Auburn over a top five that also included Oregon, Tennessee and Miami in a signing day ceremony in Ephraim.
Sitake said the Cougars are still on the look out for additional help in the defensive secondary, where Scott would've played. They'll likely get that through the NCAA transfer portal, or possibly through a late high school commitment during the traditional signing period in February.
Cornerback and safety has traditionally been an area where BYU has recruited for development, with players like D'Angelo Mandell, Malik Moore and Jared Kapisi mentoring younger players like Caleb Christensen, Micah Harper and Morgan Pyper. But even that approach may be shifting slightly as the Cougars move into the Big 12, where further recruits in hard-to-find positions lie in Texas and surrounding areas, assistant head coach and safeties coach Ed Lamb noted.
"We always set out to get the most game-ready players that we can," Lamb said. "But there are certain positions where we have to get more developmental players.
"We feel like with the way our recruiting is going up, we can start looking at more 'upside' players. Moving forward, I think we can get more guys with football experience on the defensive side of the ball, are more trained at the cornerback position, and still have that upside."
It may even come out of Utah again, where 15 in-state prospects signed early Wednesday to compete for BYU.
"I think the first thing we're going to do is look close to home," Sitake said. "A big part of that is being able to run camps this summer. The class before was more based on evaluation, and done in the pandemic without many official visits.
"We got on it early with these guys."
How to be fast
The other key influx is speed, especially at wide receiver. That includes Parker Kingston, former Roy High option quarterback who also played running back, wide receiver and defensive back for the Royals.
Hagen, Dominique McKenzie and Marcus McKenzie are Utah High School Activities Association track and field record holders and arguably the three fastest receivers to commit to the Cougars as a tandem since Nate Soelberg, Cody Fonnesbeck and Brett Cooper in 1999.
"Ever since little league, I felt like I was one of the faster kids," said Hagen, the Gatorade Utah Player of the Year who plans to serve a mission either next year or after one season in the program. "In high school, it separated itself. I just need to keep working."
BYU was the first to offer Hagen before the Corner Canyon standout and third Gatorade POY from his own family fended off interest from Stanford, Arizona and Michigan, among others, thanks in part to the Cougars' forthcoming move to the Big 12 in 2023.
"Seeing the program develop, going to the new conference, a Power Five program," Hagen said, "it will be a big thing in the coming years, and it will be good to play against the big competition."
Sitake's growing a reputation of recruiting in the trenches, particularly on the offensive line. The Cougars added Idaho standout Talin Togiai — who moved on from Nebraska and Utah to BYU when the Cougars offered him — as well as local prospects Vae Soifua (Orem), Trevin Ostler (Bountiful) and Peter Falaniko (Pine View).
The group will also include Lone Peak offensive lineman Joe Brown, who will sign Thursday on the second day of the early signing period at a ceremony in Highland, he announced via Twitter. That would bring the current signing class to 20 players, including 19 high-school recruits in a class that the NCAA will to sign up to seven additional plays to account for the transfer portal and one-time free transfer that is hitting college football.
That's in addition to Oregon transfer Suamataia, who committed to BYU after spending most of his freshman season with the Ducks.
"It's been a blessing just to be home. I get to see my mom every day, my family, my friends from high school on the team," Suamataia said, a group that also includes fellow Orem High product Soifua. "Vae is dominating. It runs in the Poly blood; he's great, an explosive player. Stay tuned for the Orem Tigers."
For up-to-the-minute information on the early signing period, visit our Recruiting Central page.
×
Related links
Related stories
Most recent BYU Cougars stories