Estimated read time: 10-11 minutes
This archived news story is available only for your personal, non-commercial use. Information in the story may be outdated or superseded by additional information. Reading or replaying the story in its archived form does not constitute a republication of the story.
SALT LAKE CITY — Heading into his second year at the helm of the Beehive State, Utah Gov. Spencer Cox on Tuesday stood near the dry, receding edge of the famous Great Salt Lake to unveil how he wants to spend — and return — taxpayer money next year.
One issue in particular that affects not just Utah but other Western states was highlighted in Cox's $25 billion budget proposal for next year, subject to the Utah Legislature's consideration.
He chose the Great Salt Lake to showcase the dramatic impact the West's megadrought has had on Utah and the rest of the West, and to make the case why the state should spend a "generational" half-billion dollars in one-time investments on water conservation, preservation and infrastructure.
"We think it's crazy that we're growing as a country and that we're not investing additional water storage," Cox told the Deseret News and KSL editorial boards on Monday, ahead of his budget unveiling. "It's an abomination."
It's a "mistake," Cox said, that Utah and other Western states "stopped building dams a long time ago," and it's something "our forebears would roll their eyes or laugh or be very disappointed in us that we're not looking (ahead) like they were."
So as state officials explore proposals out of a list of about 300 potential new reservoir sites, Cox is proposing a slew of projects and initiatives to both bolster and improve Utah's existing water infrastructure.
In addition to $100 million in already appropriated federal COVID-19 relief funds, Cox is recommending another $400 million in federal relief funds, totaling $500 million for water conservation, restoration, preservation and infrastructure "to proactively respond to drought challenges, degrading infrastructure and to meet the needs of future growth," his proposed budget document states.
That includes $200 million, on top of an already appropriated $50 million, for secondary watering metering, with an aim to help Utahns better track their water usage and therefore conserve water.
"That's huge," Cox said, citing recent pilot studies that show water metering alone — not including additional fines — can help reduce water use by more than 20%
The Great Salt Lake, the governor's proposed budget notes, contributes over $1.3 billion in total economic impact, is home to upward of 10 million migratory birds, and is a recreation haven for boaters, hunters and wildlife watchers.
But the lake's very existence is being threatened.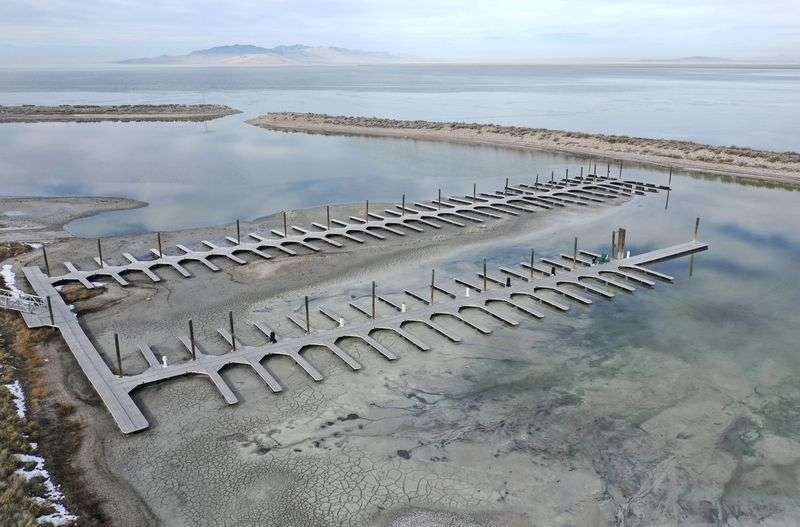 Cox said he intentionally chose to unveil his budget at Antelope Island, where there are sweeping views of the drying up Great Salt Lake, to signal the lake's future as a "high priority of his administration." He called it an "indispensable natural resource" and one of Utah's "most important ecosystems."
The Great Salt Lake's marina on Antelope island — where sailboats once docked — was practically bone dry Tuesday, sitting on the shrinking lake's cracked and sandy shore. Along the edges of the lake's shoreline, thousands of birds nestled in the shallow waters.
"During summer 2021, the lake reached the lowest levels on record — threatening wildlife habitat, air quality, local communities, human health, industries that depend on the lake, and even Utah's world-famous snow," Cox's proposed budget states.
So the governor is recommending $600,000 to update the Great Salt Lake's management plan, $45 million of federal COVID-19 relief funds for the lake's preservation, in addition to the $5 million lawmakers appropriated in May, which would bring its total to $50 million.
"These efforts will enhance and direct water flows to the lake, restore and preserve wetlands and upland habitat, and integrate the Great Salt Lake into water and land use planning," Cox's proposed budget document states.
How Cox wants to use taxpayer dollars to fight the drought
Here are some more highlights of what the governor is recommending Utah spend for water-related projects:
$200 million for secondary water metering, with an aim to increase water conservation.
$1.5 million to help incentivize homeowners to rip out their lawns.
$8 million for watershed health.
$25 million to rehabilitate Utah Lake.
$50 million in federal COVID-19 relief funds, in addition to $20 million already appropriated, for agricultural water conservation efforts.
$75 million in federal COVID-19 relief funds, on top of $25 million already appropriated, to bring clean water to Westwater for the first time from nearby Blanding and improve drinking water systems in other small rural communities.
$890,000 from water fees to aid local communities in maintaining drinking water standards.
$100 million in federal COVID-19 relief funds for a local match program to help local cities and towns fund additional water infrastructure.
$500,000 to begin planning and developing future water storage solutions.
$4 million for a watershed restoration initiative plus $1.5 million to the Shared Stewardship initiative to improve watershed conditions, increase water yields and reduce wildfires.
$1 million for pre-fire mitigation and $2.5 million to restore fire-ravaged landscapes to protect drinking water quality.
Should Utah cut taxes? If so, how?
Utah has the "best economy in the nation by just about any measure," Cox said, pointing to Utah's low unemployment rates, its No. 1 GDP growth, its booming economy. It's that strong economic growth, fiscal management and a historic surge of federal stimulus funds that have returned about $1.16 billion in available ongoing revenue and a staggering $1.87 billion in available one-time funds to spend.
"We've never seen numbers quite like that," Cox said.
Cox said the overarching theme of his budget proposal is a belief that "we need to pay this forward in a big and important way to help future generations the way we've been helped."
That theme is not just relevant for investing in infrastructure — particularly water infrastructure — but also investing in people, Cox said.
So the governor is recommending Utah give $160 million back to some taxpayers in the form of a refundable grocery tax credit.
While poverty advocates have called for a full repeal of Utah's sales tax on food, that's not what Cox is recommending, arguing a grocery tax credit provides "the greatest ability to benefit low- and moderate-income Utah households" when compared to other tax relief options.
Some legislators are also eager to cut income taxes across the board, but Cox isn't proposing that either, pointing to state estimates that show an income tax rate cut provides larger benefits to Utahns with bigger salaries. While a $160 million income tax rate would provide $54 million in relief for Utahns making less than $100,000 a year, it would give Utahns making more than $100,000 a year $106 million in tax relief.
---
The very nature of the tax credit's structure ensures that Utah families that are the most in need of tax relief to help pay for food will receive the greatest benefit.
–Gov. Cox budget proposal
---
Asked why he decided to propose a grocery tax credit rather than a full repeal of the food tax, Cox told reporters a tax credit would "give a much larger benefit for the poor."
Conversely, a $160 million tax cut in the form of a grocery credit would provide $150 million tax credits for Utahns making less than $100,000 and $10 million in credits for Utahns making greater than $100,000, according to state estimates.
"The very nature of the tax credit's structure ensures that Utah families that are the most in need of tax relief to help pay for food will receive the greatest benefit," Cox's budget proposal states.
While Cox acknowledged slashing Utah's food tax would provide a more "immediate" benefit to Utahns at checkout, the governor said state estimates show a grocery tax credit would provide a bigger financial benefit, especially for families who make less than $100,000 a year and for those with children.
For example, a single parent with two children who makes about $20,000 a year would get $240 back through the grocery tax credit compared to saving $85 in food taxes. That same family wouldn't benefit from an income tax cut.
Plus, Cox said repealing the food tax would also give a tax cut to tourists and other out-of-state visitors, a group "we're not excited to give a tax break to."
Cox also said state officials are exploring the possibility of addressing poverty advocates' concerns by providing the tax credit in quarterly payments, and perhaps without needing Utahns to file their taxes to receive the benefit.
"Those are challenges we're working to overcome," Cox said.
While repealing Utah's food tax or giving an income tax cut are "both good proposals," Cox said, "we think they have their own problems and we think we have a better proposal."
Cox said he floated the idea to legislative leaders recently, and he acknowledged many legislators may already be "locked in" on an income tax cut. It's possible the Utah Legislature will go a different direction when it convenes in its 2022 general session in January, or it's possible lawmakers could choose some form of both proposals, Cox said.
"That's part of the conversation," Cox said. "There may be a way to mix and match this."
Senate President Stuart Adams, R-Layton, said in a statement issued Tuesday without specifically mentioning Cox's grocery tax credit proposal, but said legislator's priorities "remain investing in Utah's future."
"Over the next few months, we will evaluate the governor's budget proposal as we look at ways to replenish rainy day funds for future emergencies, provide tax relief that will benefit Utahns long-term and fund infrastructure projects," Adams said. "As elected officials, we are committed to working on behalf of Utahns to make sound fiscal decisions that will positively affect generations to come.
House Speaker Brad Wilson, R-Kaysville, also tweeted a statement on Cox's budget that did not specifically address any of the governor's proposals.
"Creating a fiscally-responsible budget while addressing the state's most pressing needs is no small task," Wilson said. "The Legislature values Gov. Cox's input and will take his recommendations into consideration as we craft the final state budget through the legislative process."
What else is in Cox's budget proposal?
Here are some more priorities included in Cox's budget:
Education and workforce
$976 million for education, what Lt. Gov Diedre Henderson called a "historic" investment. That includes $420 million for higher education and $556 million for K-12 education, including a 5% increase in the weighted-pupil unit, the basic building block of education funding.
$55 million to eliminate school fees for supplies or activities that are required to complete a course. This includes fees for textbooks or other supplies.
$3 million to fund mobile crisis units and counseling to address student mental health. Henderson cited a 2019 American College Health Association National College Health Assessment that found 57.8% of students in Utah's public institutions "felt things were hopeless in the last 12 months," expressing deep concern in student mental health.
$183 million for workforce development in training, upskilling and reskilling.
$105 million to provide state employee pay and benefit increases, including a 3.5% cost of living increase.
$63 million for targeted pay increases for state employees, including public safety officers.
Infrastructure
$228 million for housing, including $100 million for developing affordable housing and $128 million for deeply affordable housing for the homeless. That includes up to $20 million in funding to help pay for the first phase of a tiny home village being planned in Salt Lake City.
$141 million to develop The Point, the site of the soon-to-be demolished former Utah State Prison in Draper, where state officials envision a sweeping, master planned community.
$294 million to swap unissued but already authorized transportation bonds for cash payments, including $232 million to pay for the double tracking of FrontRunner, plus $62 million in cash swaps for other transportation projects previously bonded for.
$115 million for rural broadband fiber optic backbone projects.
$46 million to finish "regionally significant projects" outlined by the Utah Department of Transportation's active transportation plan.
$3 million to fund rural electric vehicle charging infrastructure.
For more details on Cox's fiscal year 2023 budget recommendation view it in its entirety here. More details are available on the Governor's Office of Planning & Budget's website.
×
Related stories
Most recent Utah stories