Estimated read time: 5-6 minutes
OREM — Mark Pope was hurting, and so was his team as it sat in stunned silence in the visiting locker room at the UCCU Center while music continued to blare long after Utah Valley's 72-65 upset of No. 12 BYU late Wednesday night.
Pain. Hurt. Cringeworthy frustration. It was all evident on the third-year BYU coach's face as her returned to the place that made him a head coach for the first time in his Division I career, and walked away with the Cougars' first loss of the season.
It probably still hurt when his team woke up Thursday morning. And that's OK, because it should hurt. The self-branded Crosstown Clash became a University Parkway collision a few hours after the 7 p.m. MT tipoff, and the Cougars are filling out the insurance forms.
That's why you play games like the one BYU did Wednesday night, an in-state contest against a team with several crossover players located 4.7 miles to the north against which a win would be the biggest in program history.
On Wednesday night, it was for the Wolverines, who improved to 7-1 with their seventh consecutive victory.
For BYU, it was pain.
"This is why we play this schedule," Pope said underneath the UCCU Center after the conclusion of the overtime contest, the Wolverines' fourth of the season. "We're going to get punched in the mouth more, and the whole idea is how good can we be when we're done with the season. We have a lot to learn, a lot to grow, and some younger guys who need to grow really fast. And we will.
"We're not going to roll through this gauntlet and not be exposed a couple of times. It's good for us, it's healthy, and it's what we need to do."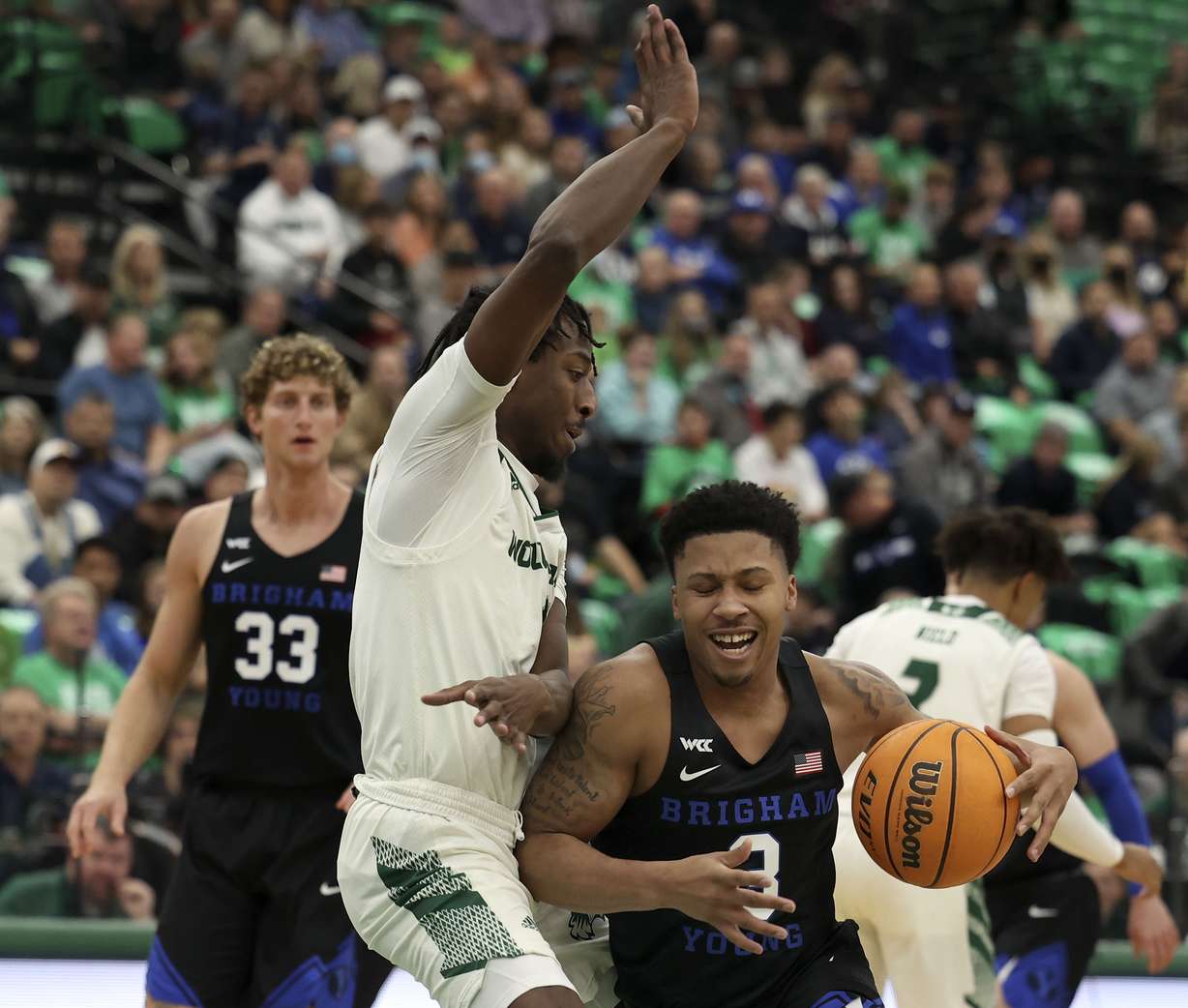 Pope preached that same thing through the first six games, though how much anyone heard of it during a 6-0 start and a "No Loss November" that had fans feeling invincible is unknown. He said it after fending off Horizon League favorites Cleveland State, after downing former Mountain West rival San Diego State, after routing Oregon in a Pac-12 neutral-site laugher. He even said it after the Cougars' latest win over rival Utah, their first victory on their archrival's home court in a decade.
BYU needs to get better, Pope said. The Cougars needed to then, and they need to now. They were never going undefeated in the season; the sport doesn't allow that for all but the most rare of teams, and BYU isn't that. College basketball is a journey of change, growth and improvement — for every team.
It just seems more evident now.
"There's a ton of room for improvement," Pope added Wednesday night.
That improvement must now come with a heavy dose of adversity. The Cougars lost senior forward Gavin Baxter for the season Wednesday night to an ACL tear that represents the third season-ending injury of the former Timpview star's career.
BYU played through the gut-punch of the loss, already down a post in Gideon George (illness), and had two freshmen thrown into the fire to try to take Baxter's place. And while Fousseyni Traore and Atiki Ally Atiki may end up being stars in BYU blue — indeed, the talent is there enough that such an outcome may even be likely — they were simply new players this night in their seventh collegiate game who were shown the ropes by a bigger, stronger, tougher rebounder.
That name, of course, was Fardaws Aimaq, last year's leading board man in the nation who picked up where he left off after flirting with the NBA draft — and then added a 3-pointer game, as well. The 6-foot-11 Canadian posted his seventh double-double of the season with 24 points and 22 rebounds, but also added a terrifying 3-point shot, going 2-for-4 from deep to lead the Wolverines a win.
Aimaq was a veritable star, and Justin Harmon's career-high 24 points weren't bad, either. Utah Valley looks like a contender, not just for a Western Athletic Conference title, but for the program's first-ever NCAA Tournament berth that will come down to how the Wolverines perform in one week in Las Vegas.
But that's a subject for another day, and for yesterday. For now, the focus is on BYU — specifically, on Pope's oft-repeated mantra to "get better every day."
"A rivalry game. Mark Pope, great coach. They have a great squad," Aimaq said of BYU. "It was a rivalry game. But our guys did what they were supposed to do tonight, and I'm so proud of our guys, especially our new guys who came in and really stepped up."
Added UVU coach Mark Madsen: "BYU has a tremendous team. We have nothing but respect for them."
There was experience and physicality in the post inside the UCCU Center, and it didn't necessarily come from BYU. Traore and Atiki combined for just 3 points on 0-for-5 shooting with six rebounds and two blocks.
Again, the big-bodied duo may prove to be great players in BYU history. But for now, they — like the rest of the Cougars — have to learn and get better.
"These young guys are going to grow really, really fast," Pope said. "They'll do a good job, and we'll get better."
Perhaps more concerning are the shooting woes. The Cougars have made 35-of-130 3-pointers against Division I opponents, a 26% success rate that would rank in the bottom 15 nationally (the Cougars' 11-of-24 against NAIA Central Methodist kept them at 265th prior to Wednesday's game).
It's one area that needs to get better, Pope admits. But it's also hampered by the lack of depth in the post due to Baxter's injury and Richard Harward's cardiovascular issue that shows no immediate recovery.
"We need to earn ourselves better shots, more in-rhythm shots," Pope said. "We haven't been a great ball-movement team. We run a lot of stuff through our bigs at the top, and we spent a lot of time with two rookie bigs tonight. They're going to catch up, and they will.
"But there's a ton of room for improvement."
Pope hopes that improvement comes fast. The Cougars face their third consecutive road game Saturday afternoon at Missouri State (2 p.m. MT, CBS Sports Network), a top-75 team in KenPom that Pope scheduled via a home-and-home agreement with the intention of adding a Quad One road game to his schedule.
Now, it also needs to be a bounceback game.
×
Related Stories