Estimated read time: 5-6 minutes
PROVO — The BYU men's basketball team watched its good fortunes to start the season skyrocket Monday when the Cougars debuted in the Associated Press Top 25 at No. 18 following the first 4-0 start of the Mark Pope era.
The Cougars celebrated the moment, as anyone would upon receiving that national respect, and then got back to work.
Rankings don't mean anything in November, and they mean even less for a team that doesn't keep winning. Ditto for the West Coast Conference, which started as hot to the season as anybody with the No. 1-ranked team nationally in Gonzaga and the 18th-ranked Cougars.
"This conference is starting out the season so well, with a lot of big wins over high-quality opponents," Pope said of a WCC whose top five improved to 27-0 and 43-12 overall. "It's really good. … I think KenPom has us just 1.5 points behind the Pac-12 right now, and it's exciting. This is a great conference; we've been blessed to be a part of it. It's going to be a dog fight all year.
"There's a lot of Quad One games in conference now, which isn't always the case. That's going to help all of us in chasing NCAA Tourney bids and seeding."
Take, for example, Oregon. The previously-ranked No. 12 Ducks were riding high to start the year before being dismantled by BYU in Portland 81-49 last week.
By Tuesday night, Oregon was in the midst of a two-game losing streak with its second consecutive defeat to a West Coast Conference opponent 62-50 to Saint Mary's in the Maui Invitational in Las Vegas.
Add in a humiliating loss by Oregon's football team at Rice-Eccles Stadium on Saturday and it's quite the week for the once College Football Playoff-bound Ducks. And it could just as easily happen to anyone else.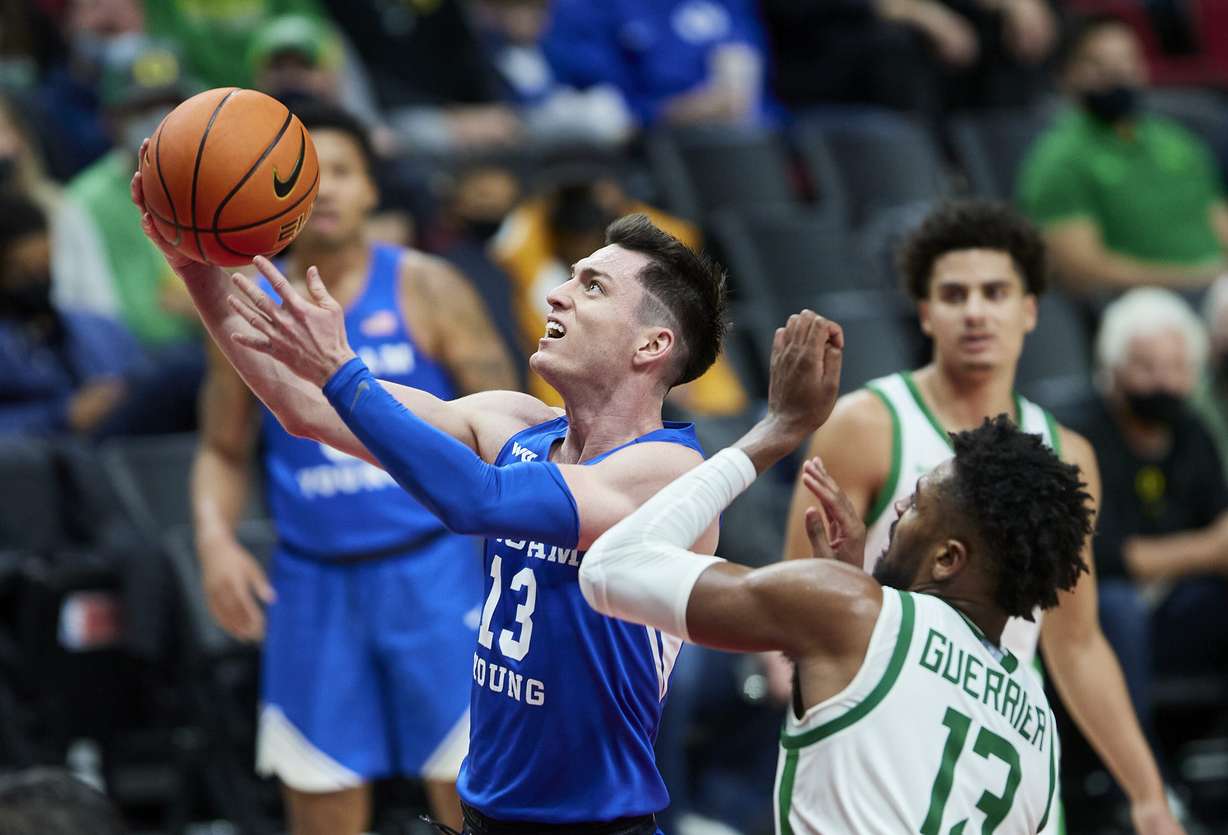 "Win or lose, you're always dealing with winning or losing. It's always a challenge," Pope said. "Every day, the job is to help each other re-focus on what matters and what is really important.
"But this team has been really good with its energy every day. Every day hasn't been perfect … but I think we all feel it: we need to get way better. This next six-day run is insane. We've got to get better."
But what a place to approach the challenge, as the No. 18 team in the country and one of six top-100 teams from the West Coast Conference in KenPom.
College sports are the ultimate "what have you done for me lately?" activity. And lately, the Cougars have reigning Southwest Athletic Conference Tournament champion Texas Southern before a weekend matchup at archrival Utah, which improved to 5-0 Sunday by clinching the Sunshine Slam tournament.
The chance to pit the state of Utah's top two brands against each with identical unbeaten records in November is tantalizing. But in keeping with theme, it means nothing without a win over the Tigers, who opened the season like they did last season — and most seasons — with a 13-game road trip that includes losses to Oregon, Saint Mary's and North Carolina State in games they led at varying points.
That's the challenge BYU faces now: staying focused on the moment while everyone takes notice of Provo. And it isn't easy to do, admitted team leader Alex Barcello.
"I think it's extremely hard to do, especially with some of the attention that we've been getting right now nationally," said Barcello, who leads the team with 20.5 points on 70.3% shooting per game. "But we don't want to lose sight of what got us here, and what got is here is coming in every day and focusing on those details and being present. What can we get better on that day? What can we focus in on in our scout? I think that's helped us to stay focused on our next game.
"It's really hard to do as a team. But these guys have been doing it so well right now."
The Tigers (0-5) return much of the talent from last year's NCAA Tournament team, but also add a handful of transfers to the HBCU program. That includes John Walker III, a graduate transfer from Texas A&M who averages 12.8 points per game, including a 19-point outing against Oregon.
With tournament experience and several high-major transfers, the Tigers have captured BYU's attention.
"It helps a lot," Barcello said. "No matter who we're playing, we can win or lose if we don't show up to play. We've seen that in the last four games, and luckily we've been really well prepared. Our coaches have kept us locked in.
"But it's an extremely hard thing to do."
The Cougars also got good news Monday with an injury update to Fousseyni Traore. The freshman from Mali who prepped at Wasatch Academy practiced for about 20 minutes Monday, Pope said, and a little more Tuesday afternoon as he recovers from an ankle injury suffered in the final moments against Oregon that kept him out last Saturday's win over Central Methodist.
His status for Tuesday is uncertain — and he likely wouldn't play at full capacity Wednesday, if he does. But the injury doesn't appear to be long-term, either.
"I'm going to know more based on how he feels in the morning," Pope admitted of his 8-point, seve-rebound per game freshman. "He didn't go backwards, and that will tell us a lot tomorrow morning."
On the air
No. 18 BYU (4-0) vs. Texas Southern (0-5)
Marriott Center, Provo
TV: BYUtv (Dave McCann, Blaine Fowler, Spencer Linton)
Streaming: BYUtv.org
Radio: BYU Radio 89.1 FM, KSL 102.7 FM/1160 AM (Greg Wrubell, Mark Durrant)
Series: BYU leads, 3-0
×
Related Stories