Estimated read time: 7-8 minutes
PROVO — Even with eligibility remaining, few expected BYU distance running star Conner Mantz to be back for his senior season.
The former Sky View standout had accomplished everything he could in his career with the Cougars, winning conference titles and regional meets, right up to last year's individual national title.
In a program as accomplished as BYU cross country, from 1984 national champion and Olympic marathoner Ed Eyestone to 2006 champ Josh Rohatinsky to Olympian Jared Ward — just to name a few — Mantz was as accomplished as anybody.
But by 2020 was an odd year for a lot of people, athletes included, and the Olympic trials' impact on incoming shoe contracts made Mantz's professional opportunities limited, unless he qualified for the U.S. Olympic team. After Mantz's eight-place finish while maintaining his collegiate eligibility, they would've still been there, perhaps. But Mantz and his coach — in consultation with people in the industry that 30-plus years running at the world's top levels will earn an athlete like Eyestone — agreed that his pro prospects would be best met at a later date.
So Mantz returned to Provo for his senior season, and as such he'll look to defend his individual national championship Saturday morning at Apalachee Regional Park in Tallahassee, Florida (9:10 a.m. MT, ESPNU).
"I came back partially because I wanted to give back to the program, among many other reasons," Mantz said. "One of the big things was just to give back to a program that has helped make me the athlete I've grown to be. I wanted to compete with the athletes.
"Has it been everything I expected? Maybe not entirely. But it's been a great season with a new team; we had a few new guys than last year, and it's changed the whole dynamic. I think the really cool thing to be a part of was just to experience the growth of a team."
The only BYU runner to record three career top-10 finishes at the national meet, Mantz could add to his legacy that started early, when he finished 10th at nationals as a freshman. Only three other Cougar harriers were on the roster during Mantz's freshman season in 2017, and one of them — American Fork product Casey Clinger — served a church mission in between.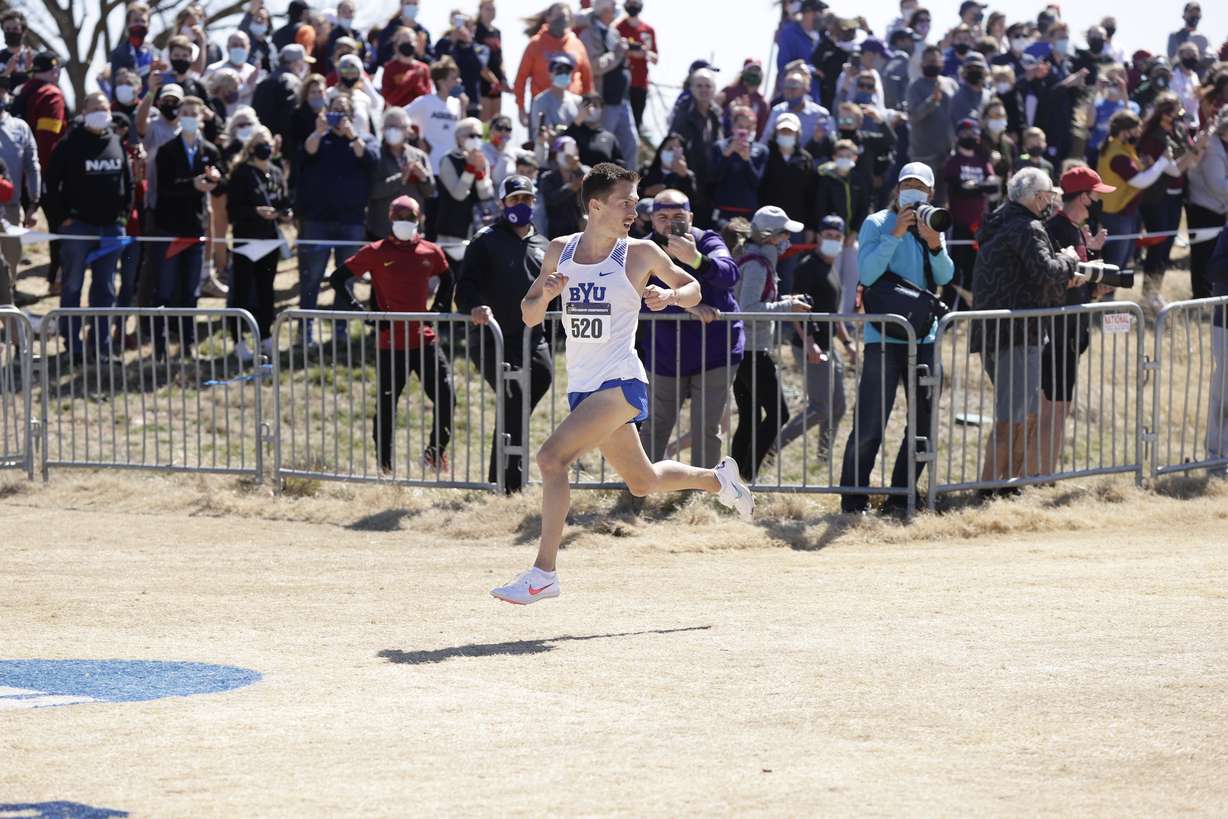 "It's been exciting to work with him," said Eyestone, a former Olympic marathoner and NBC Sports analyst. "What he's done has been phenomenal, and what a nice cap to his career to come back and battle for a title. He's just gotta take it one step at a time, but I'm sure we'll see that grit and determination demonstrated on Saturday that has made Conner Mantz what he is."
The senior clocked a course-record 22:47.0 in winning the FSU cross country invite pre-nationals meet at Apalachee Regional Park back in November. He's also the first BYU runner to win a regional title since Miles Batty in 2011, when he won his eighth straight meet and 12th of his career.
Mantz's leadership on a team that is youthful but experienced has been key for a program that will compete for its second team title in three years.
Paced by Mantz's third-place finish in 30:40.0, Danny Carney and Jacob Heslington finished close behind for the school's first-ever men's national title to balance two runner-up finishes and 10 in the top-five.
Athletes like Clinger and senior Brandon Garnica, not to mention freshman standout Aidan Troutner, sub-4 minute miler Lucas Bons, and steeplechase standout Garret Marsing — the latter two of whom were held out during the Cougars' Mountain Regional title win in Provo — could provide a path for a similar title chase at the wooded course hosted by Florida State.
But by most accounts, the Cougars' meet starts with Mantz.
"Connor is going to be hard to beat," Florida State coach Bob Braman said. "He's a great champion, a great defending champion. I'm glad that we have a guy who will be in the mix as well."
The Cougars are also coming into nationals with arguably their best form after clinching the NCAA Mountain Regional at Timpanogos Golf Club in Provo. That title came by knocking off top-ranked Northern Arizona — though regional meets are notorious for mismatched lineups of resting athletes, NAU and BYU included.
"I like these seven," Eyestone said of his team. "It's a fun group, and I think they'll be able to get out there and be relaxed. We don't feel a lot of pressure; NAU, Oklahoma State and Notre Dame are probably teams ranked ahead of us. But the fact is, there are six very good teams vying for a podium spot."
Southern Utah's men's team also qualified for the national meet with a fifth-place finish at last week's Mountain Regional. The Thunderbirds are led by Christian Ricketts, who placed seventh overall in 29:54.5, and Nate Osterstock, who was 25th in 30:25.3.
The Thunderbirds will also be represented by Alison Pray, who will compete as an individual after finish fifth in the regional in 20:24.4. Other Utah teams competing in the field include seventh-ranked Utah, which is led by all-region honorees Bella Williams and Cara Woolnough; and Utah State, led by returning NCAA national qualifier Katie Kaviland.
"That's been our goal all along," Haviland said. "Going as an individual was a little bit bittersweet, because I wanted to have my team there with me. We were so close, to have us go all together."
Weber State's Summer Allen will compete at the NCAA championships for the third time in her career. The senior from Orem will be joined by teammate Billie Hatch, as well as husband Christian Allen in the men's race.
The reigning champion BYU women's cross country team is ranked No. 4 nationally going into the championships, lifting significant pressure to repeat following a breakout 2020 season that concluded with the program's first national title since 2002.
North Carolina State will take the favorite tag after the three-time NCAA runners-up received 11 first-place votes in the latest coaches' poll. New Mexico, Colorado and Minnesota also rank among the top five.
But the Cougars brought back six of the seven runners from the title-winning team that placed four runners in the top 40, including track and field national champion Anna Camp-Bennett, Whittni Orton and Sara Musselman.
"Those women are really special to me," said BYU women's coach Diljeet Taylor, who made headlines this fall when she became a rare sitting head coach at BYU who is not an active member of The Church of Jesus Christ of Latter-day Saints. "It gets me emotional; I love these women, and they have made me a better coach. Success for them is leaving the program better than they found it — and they are all successful.
"There will be nothing but pride felt in my heart as I watch them run their final race at BYU."
BYU will be aiming to become the 12th team in NCAA history to win repeat national titles, a list that starts with three-peat champion Stanford from 2005-07 and the six-year run by Villanova from 1989-94. The Cougars are also on that list with back-to-back titles won by the program in 2001-02 under former coach Patrick Shane.
"Early in September, we kind of let go of being the defending national champions," Taylor said. "Own the target, we know we did that — but that was last year and now we have a new opportunity.
"We've got to have fun with this. This is our third year in a row of being one of the better teams in the field, and it's not fun being where we're at right now, it will never be fun. So the mindset is to go out and have fun."
How to watch, stream NCAA cross country championships
Apalachee Regional Park; Tallahassee, Florida
TV: ESPNU
Streaming: WatchESPN
Women's 6K start: 8:20 a.m. MT
Men's 10K start: 9:10 a.m. MT
Meet info via Florida State
×
Photos
Related Stories