PROVO — Defending national champion BYU women's cross country has a new head coach, and one that is also the old coach.
Confused? Don't be.
The Cougars announced Tuesday the promotion of Diljeet Taylor to women's cross country head coach, after the tenured distance running guru had previously served as men's and women's cross country associate head coach and associate head coach of the men's and women's track and field programs.
Taylor came to BYU five years ago, and in that time has produced 10 All-Americans in cross country, 54 All-Americans in distance and middle distance track events, and last season's national championship cross country team.
"I continue to be grateful for the administration here at BYU who have shown me an incredible amount of value over the past five years," Taylor said in a news release. "The support I have received has empowered me to give my best to our program. I look forward to continuing to build the women in our program so they can compete at the highest level in the NCAA. Our success here is a direct result of having the right women at the right place."
A graduate of Cal State Stanislaus in 2002, Taylor was born and raised in Ceres, California. The rising star coach is of Indian descent and grew up in the Sikh religion, and is not a member of The Church of Jesus Christ of Latter-day Saints that sponsors BYU. The university has routinely preferred head coaching candidates to be of the same faith as the sponsoring institution but has never codified the preference to policy.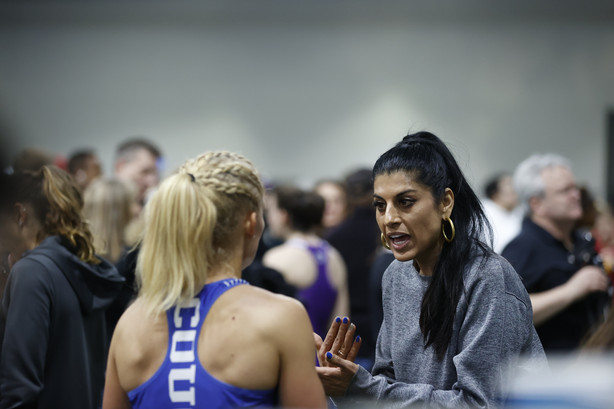 Still, Taylor becomes the first non-Latter-day Saint head coach at BYU in well over a decade, a mention that should not be overlooked. In addition to her professional accolades, Taylor has offered a warm heart and a soft hand to her athletes in difficult times — including the cancellation of the 2020 season by the COVID-19 pandemic, as BYU was opening the NCAA indoor championships.
"We had a great season, and that's what matters," she said at the time. "I'm proud of you guys; you fought, you guys were here for each other. And I believe you were going to do it.
"We've got a lot of running left to do."
For example, BYU hasn't had a non-Latter-day Saint head coach in football since Hal Kopp in 1956-58. Former men's tennis coach Jim Osborn, wrestling coach Fred Davis and gymnastics coach Mako Sakamoto are other prominent head coaches in BYU history who have not be members of the church that sponsors the school.
In his most recent hires for head coaches, primarily in football and men's basketball, athletic director Tom Holmoe had told media that the head coach of those programs should be active members of the church.
But BYU athletics personnel have repeatedly told KSL.com that while such a preference has been the norm, it is not a codified mandate. And Taylor has more than earned her promotion, Holmoe said.
"We are thrilled to name Diljeet as head coach, and we are incredibly thankful and amazed at everything she has done for BYU track and cross country," said Holmoe, who took over as BYU athletic director in 2005. "What she has accomplished, including securing a national championship in cross country this past season, is something to make all of Cougar Nation proud. But even more important than what she's done, is who she is. She is an incredible human being, with an incredible amount of character, who has guided BYU student-athletes in important and meaningful ways.
"We are so fortunate to have Diljeet here at BYU."
Under Taylor, the Cougars were named the U.S. Track & Field and Cross Country Coaches Association NCAA Division I women's cross country and track and field program of the year in 2020-21. In addition to the cross country national title, her distance runners scored every team point in a pair of top-10 finishes at both the women's indoor and outdoor track and field championships in 2021.
In addition to the title, the women's cross country team has finished inside the top-12 every season over the past five years, including four top-10 finishes and a runner-up appearance in 2019. Taylor coached three West Coast Conference champions from 2018-20, including individual titles from Erica Birk-Jarvis and Whittni Orton, and her harriers collected 33 all-WCC awards and four WCC freshman of the year honors, while Taylor was named WCC women's coach of the year in each of the past three seasons.
Most recently in track and field, Taylor coached the women's distance medley relay team to an NCAA championship and helped Courtney Wayment to an NCAA indoor title in the 3,000-meter run, the first national title in both events in BYU history. Under Taylor's tutelage, Anna Camp-Bennett added an NCAA championship in the 1,500-meters during the outdoor season, propelling the cougars to 10th place in the team standings — their first top-10 finish since 2005.
Outside of the NCAA structure, Taylor helped send seven current and former athletes to the 2020 U.S. Olympic team trials, including Camp-Bennett, Orton, Wayment, Lauren Ellsworth-Barnes and Claire Seymour.
×
Related Stories