Estimated read time: 6-7 minutes
FARMINGTON — Collin Chandler agonized over the decision for hours, days, weeks and even months.
Visit after visit, game after game, trip after trip, the top-rated basketball player in Utah according to 247Sports and several other recruiting services took a look at his options.
In the end, he just followed his gut.
The Farmington shooting guard announced his commitment to BYU on Wednesday afternoon, the first day of the NCAA's early signing period, bringing to a close the long-running recruitment the No. 28 player nationally in the ESPN Top 100.
Chandler is the highest-ranked BYU recruit by ESPN since Eric Mika signed with the Cougars in 2013.
"It just came down to a gut feeling," Chandler said. "Being on campus and experiencing the kind of culture they have there drew me in. I loved it.
"I love coach (Mark) Pope and his whole staff. I wanted to play in the Big 12; those are some good teams. Kansas, Baylor, Texas Tech. I wanted to play against the best."
It was, perhaps, the second-biggest decision Chandler had to face Wednesday, which was also the last day of basketball tryouts at Farmington. He still has to make the team, technically.
"I'm hoping," he said with a laugh.
"He's on the bubble," Farmington coach Kasey Walkenhurst joked.
With that in mind — Chandler is the only player whose name currently appears on Farmington's roster on MaxPreps, so take that for what it's worth — the senior could focus on finalizing his decision. He did so with a series of phone calls Saturday and Sunday, culminating his call to head coach Mark Pope to let him know the big news.
The hardest call, though, was to Utah, where he had been recruited since Larry Krystkowiak first reached out to him early in his high school career and where new coach Craig Smith had followed him since his days at Utah State. Making that call was tough, Chandler admitted.
"I've loved that school, and they've been recruiting me so hard," he added. "Their coaching staff is amazing. It's hard to know a coaching staff put that much time into you, and to have a let down, not really understanding what you're feeling.
"It's tough."
But that was the moment where Chandler's father Jason saw the most growth and maturity from his son during a wide-ranging recruiting process that stretched across the west coast. Ranked No. 35 nationally by 247Sports, the 6-foot-4, 170-pound wing played out his recruitment like most teenagers do in 2021 — on social media — and made his decision surrounded by friends and family at Farmington High School, with Walkenhurst sitting next to Chandler, his parents and his siblings.
"To see him grow and develop and improve every time he goes out, to see his competitive nature show, it's great," said Chandler's father Jason, a University of Utah graduate and season ticket holder for football. "But the thing I found the most impressive for him was being able to grow up and to have difficult conversations.
"He's met and had really good relationships with the coaches that have recruited him — friendships, even. To call them and tell them that he wasn't going to go with them has been very difficult for him. I know they're grown ups and they hear no a lot, but it's heartbreaking for him. But seeing that maturity has been awesome."
But Wednesday was about making life decisions for Collin Chandler, and his parents were always supportive of that. Every time he asked his mom and dad for advice, they put their allegiances and fandom aside and gave him an honest opinion. Chandler plans to serve a two-year mission for The Church of Jesus Christ of Latter-day Saints prior to enrolling in college, with plans to leave in the late spring or early summer of 2022, and that fueled part of his decision, as well.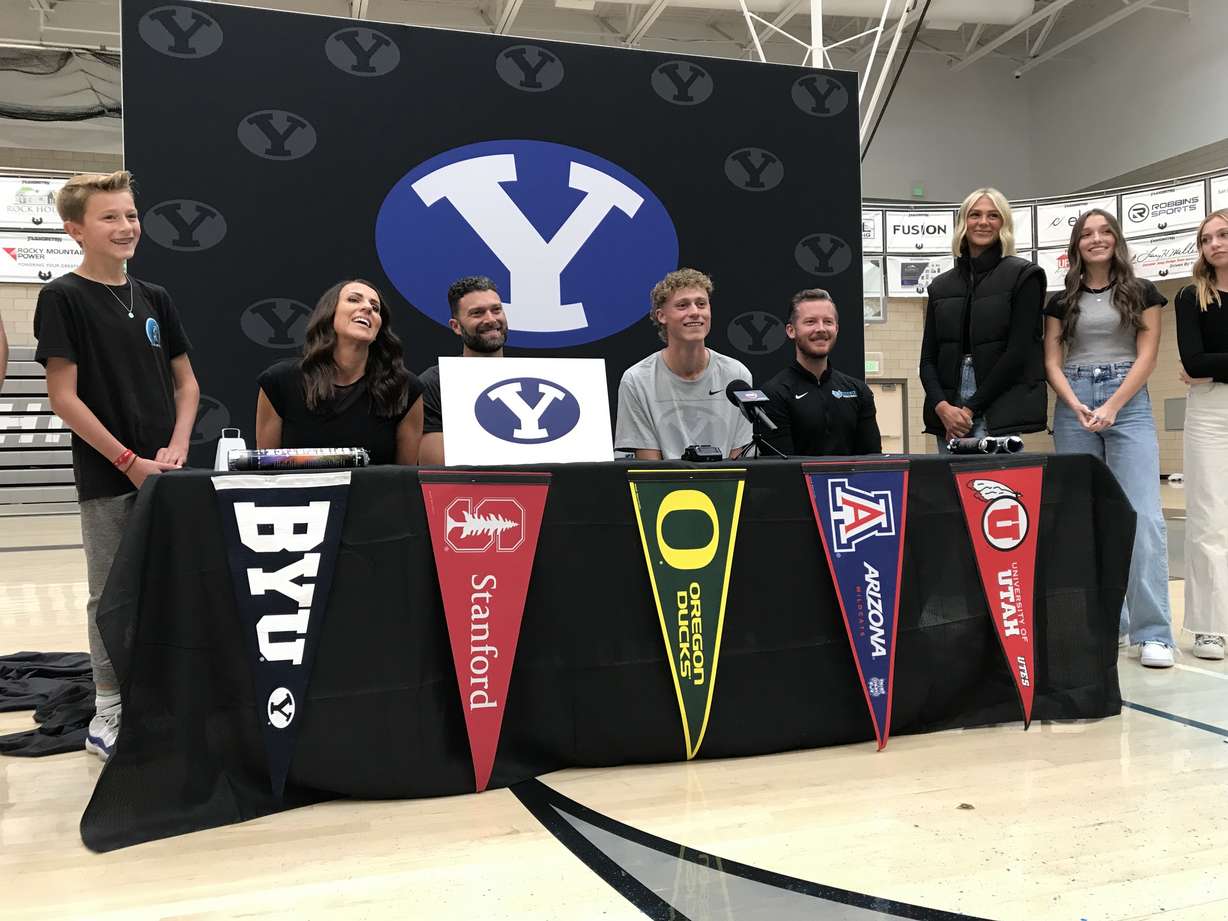 "BYU, of all the places, has the most experience bringing back missionaries," Chandler said. "They've experienced every situation that has probably happened. I feel like they know what to give missionaries for what they have because every mission is different.
"I feel like they know the equation of getting people back and healthy and ready as well as anyone."
A three-year varsity player for the Phoenix, Chandler broke out a year ago with 22.6 points, 5.0 rebounds, 2.8 assists and 1.5 steals per game while leading Farmington to a 19-8 record, a Region 5 title, and a spot in the 5A state championship game.
With the Phoenix's move to 6A, all eyes will be on stopping the wing who has added size, strength and a mid-range game to an athletic ability — and one that will be playing for BYU in the Big 12 in a few years. Chandler's game will be as much on display in his final season at Farmington as it will be in the Marriott Center in a few years. Cougar fans are more than welcome to go to FHS and watch him.
More than anything, they'll see a hard worker, Walkenhurst said.
"When he started as a sophomore, he was predominantly a person who could get to the rim," the veteran coach said. "Then last year as a junior, he improved his shooting. This year, I think he's become a three-tier player. He can shoot from anywhere on the floor, and his midrange game is as good as I've ever seen.
"BYU has a kid who can score, and there's no question about it."
Chandler selected BYU over a top five that included Arizona, Oregon, Stanford, BYU and Utah, in addition to offers from Creighton, Gonzaga and Utah State, among others. And the battle between the west coast powers — each of them Pac-12 programs or the flagship school of his faith — was intense.
Pope turned the tide for good.
"I wasn't as much thinking about BYU; my whole family were Utah fans," Chandler said. "But I gave Pope a chance, and he's an awesome recruiter. I felt like he had the same views as me. Then the Big 12 news came out, and I felt like I had to give them a chance. I did, and that's what I loved."
That spark was fanned into a flame during the Cougars' Midnight Madness event, a made-for-students spectacular in the Marriott Center where Pope hosted Chandler and his parents and siblings. While there, Chandler met with the entire coaching staff, toured the campus and facilities, and even got a sneak peak into rarely-seen parts of the 19,000-seat Marriott Center.
After a brief safety training and filling out the required insurance forms and paperwork, Pope sent Chandler and a school photographer into the rafters of the largest venue in the West Coast Conference — what will soon be the largest venue in the Big 12 — for photos.
After the weekend, Chandler posted the photo on his Instagram account and BYU fans immediately flooded the post, including current Cougars Te'Jon Lucas, Caleb Lohner and Seneca Knight.
It was the ending of a near-perfect visit for Chandler, and one that ultimately led the Utah fan to sign with the team down south.
"It was good to experience it first hand," Chandler said. "I knew that the Marriott Center gets crazy, but to see that many people there for Midnight Madness was awesome. That environment really attracted me; I want to play for a fan base that loves you and wants to support you."
×
Related Stories