Estimated read time: 6-7 minutes
PROVO — Welcome to the ROC Show, Aztecs.
In a rematch of a former Mountain West Conference rivalry rekindled in recent years, Alex Barcello had 17 points and three assists, and fellow senior guard Te'Jon Lucas added 13 points, five assists and three rebounds to help BYU basketball edge San Diego State 66-60 Friday night in the Marriott Center.
Fousseyni Traore added 9 points, eight rebounds and two assists off the bench for the Cougars (2-0), and Seneca Knight added 8 points and six rebounds — a season-high since transferring to BYU from San Jose State over the summer.
Caleb Lohner scored 7 points and pulled down eight rebounds, including a crucial rebound after Nathan Mensah missed two free throws with a chance to tie with one minute left.
You can thank the BYU student section — the "Roar of Cougars" that extended from the sideline to the rafters — for that one.
Mensah led San Diego State with 18 points and eight rebounds, and senior Trey Pulliam added 12 points and four assists for the Aztecs (1-1).
Matt Bradley was limited to 8 points on 4-of-11 shooting, Adam Seiko added 5 points on 2-of-7 from the field, and Lamont Butler had 4 points on 2-of-5 from the field before fouling out with seven minutes to play.
Missed shots happen, but give credit to BYU's defense for locking down San Diego State's shooters — particularly Spencer Johnson, Seneca Knight and Gideon George, who had a combined 14 points and nine rebounds as the Cougars improved to 50-26 all-time against the Aztecs.
"You have an epic scorer like that and you have to throw a lot of bodies at him. And we did," BYU coach Mark Pope said of Bradley, the California transfer who prepped at Wasatch Academy and finished third in the Pac-12 in scoring a year ago with 18 points per game. "It's one of the great thing about depth; to be honest with you, it's harder for an elite score to face a bunch of different bodies because you never get in a rhythm of what you can get.
"Seneca is giving you a totally different look than Spence is, who is giving you a totally different look than Gideon."
In a game where no team led by more than six and both squads combined for 41 fouls, the Cougars improved to 2-0 with wins over two NCAA Tournament-caliber teams after being prone to excessive scoreless stretches — including a 4:53 field-goal drought in the final minutes.
Barcello ended the drought in a way only he can: AB for 3.
The senior took a cross-court pass from Lucas to the left wing, falling away for a triple with 3:05 on the clock to give the Cougars one of their many one-possession advantages. From the pass to the stepback 3, to the — maybe-sorta-kinda foul that wasn't called before the ball swished the net — it was a perfect play.
And there was never any doubt who was going to take the shot.
"We just do what we always do and take the best look there. And you know, Alex is always coming through for us," Lucas said. "It can be another guy next game; we're not predicated on one person has to score or one person has to make the play. We like to take the best shot available, and at that time it was Alex coming off the screen, and doing what he do."
The only thing more perfect than the 3-pointer? The pass that set it up.
Not even the uncalled foul could ruin the moment.
"That's what Te'Jon does every day: throws dimes," Barcello said. "He's got such great vision, such great awareness of the defense and where they're at on the floor. He threw an incredible pass and I was lucky to hit the shot. I do think I got fouled a little bit, but we'll leave that up to the refs."
BYU never truly pulled away, but San Diego State only led for 4:02.
The Cougars outrebounded the Aztecs — long as they may be, one of the better rebounding teams on the west coast a year ago — by four, 42-38. That included a game-high six defensive boards from Lohner and five on the offensive glass from Traore, who shot 4-of-6 from the field and had a plus-minus of 12 in just under 27 minutes off the bench in his second official (but third-ever) college basketball game.
"We knew that we had to win on the glass, which is saying something because this isn't an elite level rebounding team, and I am so proud of this 42-38," Pope said. "Talk about our guys answering the bell and staying focused on what was the No. 1 most important part of this game: this glass."
But if there's a moment that won the game — well, second to Barcello's clutch 3-pointer, or another jumper he had moments later to stay in front in similar fashion — it came from the crowd. With just over a minute left, Mensah stepped to the free-throw line for a pair of freebies.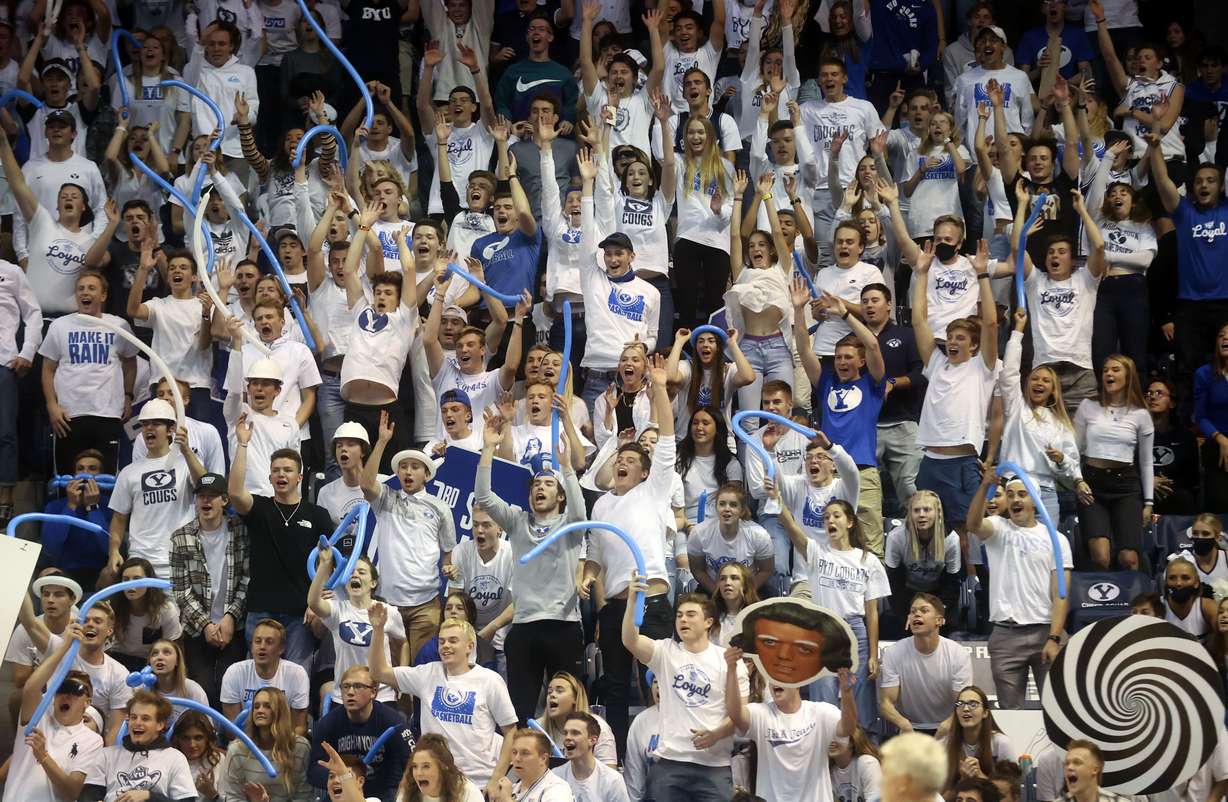 And the BYU student section did their thing, jumping into action to extend sheets and tarps across the seats behind the glass and spinning posters, mesmerizers and memes while flooding the court with noise.
It worked; Mensah missed both foul shots. If Friday were a Utah Jazz game, the crowd would've erupted for free chicken from Chick-fil-A.
"It's one of the best feelings that you get playing in this Marriott Center knowing that whoever it is going to the line, whether they're a good shooter or not, they're gonna have to deal with the ROC going all the way to the ceiling," Barcello said. "And it's special to be at a school that has a fan base that's that into it and that's wanting us to win so bad that they're doing anything and everything that they can: throwing up signs, jumping in the air, whatever it is, painting themselves. It's a really special feeling.
"When Mensa went to the line at night, we all knew, maybe he's not the greatest free throw shooter, but that's going to have a huge impact on him missing shots when he goes to the line."
And the rebound? That was the icing on top that sealed the win as much as Barcello's jumper on the other end or Lucas' free throws down the stretch.
"I think we had a ton of great rebounds, but that definitely was one of the biggest of the night if not the (biggest). That's what he does," Barcello said of Lohner. "He's got such an awareness of where the ball is gonna come off the rim or off the glass and he just goes and gets it. It's hard to block him out; we struggle with blocking him and Gideon out every day in practice because. They just have such great awareness."
BYU hits the road Tuesday to face No. 13 Oregon in the Phil Knight Invitational at the Moda Center in Portland, Oregon. Tipoff is scheduled for 8 p.m. MT.
×
Photos
Related Stories