Estimated read time: 2-3 minutes
This archived news story is available only for your personal, non-commercial use. Information in the story may be outdated or superseded by additional information. Reading or replaying the story in its archived form does not constitute a republication of the story.
WEST JORDAN — The U.S. military is unique because of the way it is interwoven and connected with the citizens of the country, Col. Joseph W. Green told an audience at a Veterans Day program Thursday.
He asked people to think of the military as a partnership with citizens, and consider what they can do to further the cause of the nation.
"Veterans sometimes feel a little bit nameless and unremembered, and so days like this are important for us to remember," said Green, chief of staff of the Utah National Guard.
West Jordan's Veterans Day ceremony was one of many throughout the state to honor and give thanks for individuals who have given service to the United States. West Jordan's program was held at Veterans Memorial Park. The Utah Pipe Band played "Amazing Grace" and a medley of military songs, and veterans gave a rifle salute and rang the bells of peace.
Green shared a story about when he was a commander in Afghanistan and one of his men did not get on a helicopter because he felt a prompting that stopped him. Before the helicopter returned, it went down and 32 others lost their lives.
"I honor those who passed away and I honor those who listened to the right voice, and acknowledged God's hand in both of those events," Green said.
During the Revolutionary War, he said families would follow the husbands to battles and the wives would help bring water, and even occasionally step in and man the guns. He compared this to his family, to children he has had to leave while deployed to other countries, and to his wife who was instrumental in helping him save one of his men who was planning to take his own life.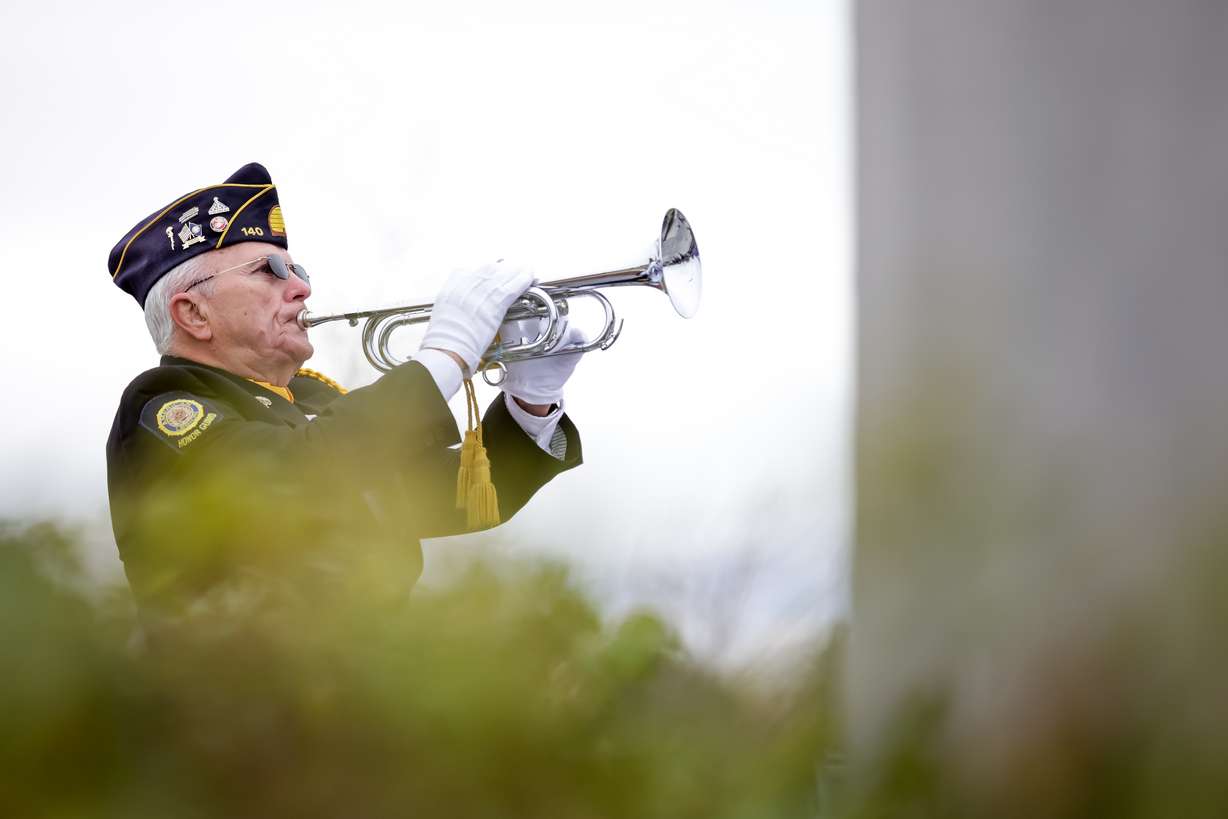 "The community was involved from the very beginning of the battles of the Revolutionary War, and they are today," Green said.
Rep. Burgess Owens, R-Utah, spoke about his experience raising and lowering the flag at his school when he grew up and being taught to respect the flag. He said Utah is unique because of its values — values that he said can help build up the country.
He also thanked the veterans and those who are willing to sacrifice for the concept of freedom.
"We're gonna look back on history and realize that we were blessed to be here in these times, to take advantage of opportunities like this to thank our first responders, thank those who run toward danger as others are running away from it," Owens said.
West Jordan Mayor Dick Burton encouraged community members to find simple ways to honor veterans, including flying a flag, giving a veteran a meal, or asking a veteran about their service.
"With so much attention focused on the things that divide us as a nation, it is so easy to overlook something that unites us — our gratitude for the sacrifice of our veterans," Burton said.
×
Photos
Related stories
Most recent Utah stories