Estimated read time: 6-7 minutes
PROVO — Te'Jon Lucas has a secret, but it's not one that he hides very well.
The 6-foot-2 point guard had never been to Utah before he opted to transfer for the second time in his collegiate career and spend his final season of eligibility at BYU. And one of the places he wandered toward when his feet were on the ground was a soda shop in Utah County.
Lucas downplayed the trip, but his BYU teammate and fellow newcomer Seneca Knight spilled the beans.
"Te'Jon's got a sweet tooth," Knight said during BYU basketball media day. "He likes sweets."
Maybe that's why BYU coaches and players think the Milwaukee transfer will fit right into the 2021-22 Cougar squad that opens the season Tuesday night against Cleveland State (8 p.m. MT, BYUtv).
"I learned that Utah is the home of sweets and cakes and cookies," Lucas said. "Coach is trying to give me cookies every day. I'm like, 'Coach, I don't need all these cookies.'
"If you go in our locker room, we have a bunch of candy and cookies. Coach's thing is to take a box home. It takes me a week to get through, but at least I'll have something for my mom when she comes to town."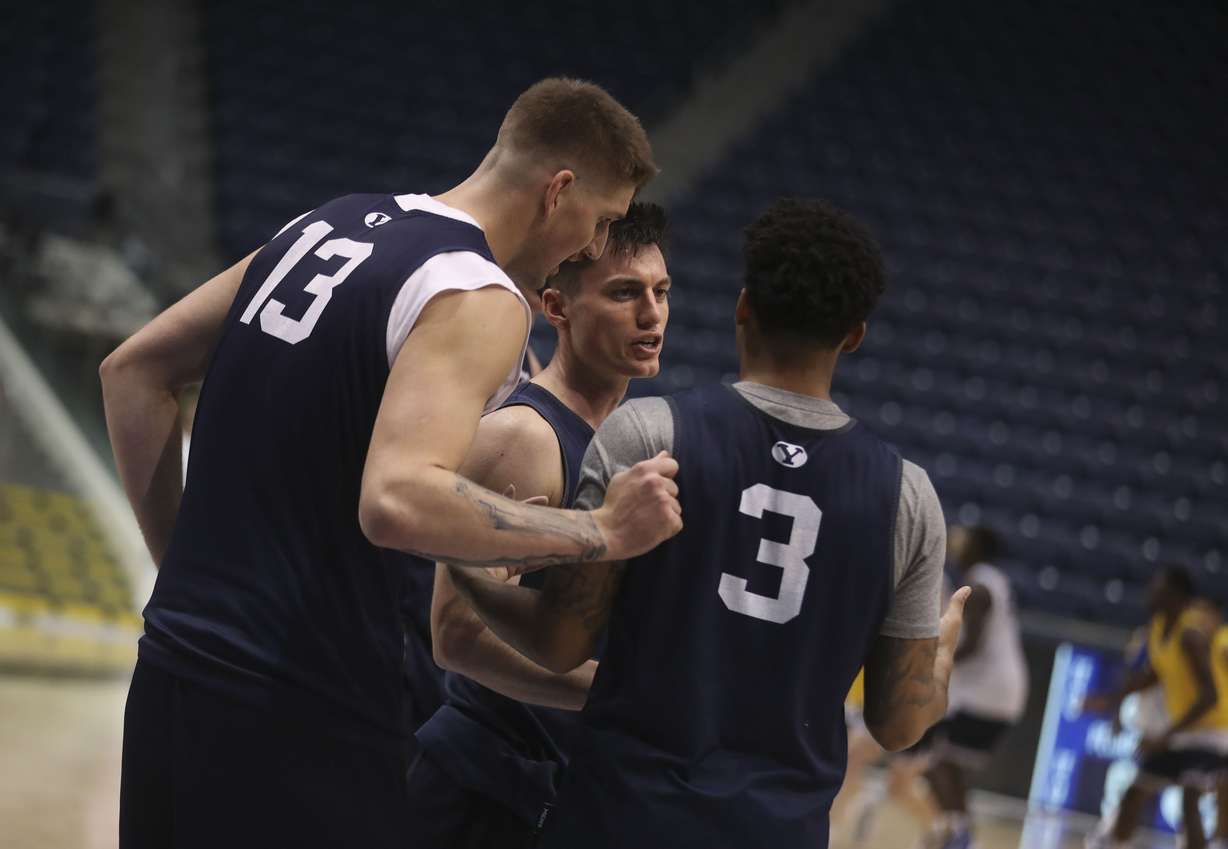 Lucas, though, may secretly be the instigator of the cookie and candy cravings, at least according to Knight. BYU coach Mark Pope and his assistants encourage it, sure — and the well-timed sponsorships with Crumbl Cookies and other local eateries probably help.
But Lucas' penchant for sweets is nothing compared to his appetite for winning. The Cougars haven't shied away from championship-level hopes this year, and the second playmaking point guard to pair with Alex Barcello will play a big role in realizing those dreams.
Lucas was a star back home in Wisconsin, where he averaged 20.5 points, 5.3 rebounds, 7.8 assists and 2.8 steals per game as a senior at Milwaukee Washington. The son of Milwaukee who credits a local community center with saving his life signed with Illinois over offers from USC, Purdue, Old Dominion and Michigan and spent two seasons with the Illini.
For as good of a basketball player as he is — one who was recruited by almost half of the Big Ten and wound up with all-conference honors back home — he's an even better human.
"This young man is really special," Pope said. "We have a good group; I don't know what is going to happen when we get punched in the face for the first time. We might disintegrate in the locker room.
"But this is a good group of guys with good leadership. And he's a beautiful kid. It's been fun to watch these guys race all over with their NIL work, and he's doing a bunch of charity work with his NIL work. His dream is to open up a community center in Milwaukee. His home life was super complicated growing up and the community center where he grew up literally saved his life. He's taking some steps to make something that is super real. He's going to be fun to follow."
Lucas averaged 5.7 points, 2.2 rebounds and 3.2 assists in 29 games as a sophomore, making 19 starts a year after a 75-73 win over BYU at the United Center in Chicago. But the Milwaukee native transferred home in 2018, where he spent two all-Horizon League seasons, averaging double-figure scoring and leading the Panthers both on and off the court.
He started all 22 games for the Panthers during the COVID-19 shortened 2020-21 season, finishing second on the team with 14.9 points per game to go along with a team-high 5.8 assists and 4.6 rebounds.
Lucas finished second in the Horizon League in assists, 10th in assists to turnover ratio at 1.9, and 16th in scoring before ending the season with a 10-12 record following a 71-65 loss to top-seeded Cleveland State in the Horizon League tournament semifinals.
Which makes Tuesday's regular season-opener against the Vikings even more meaningful. The game in Provo will be one of five games nationally featuring two teams that played in the 2021 NCAA Tournament in Indianapolis. Here are the others:
Kansas-Michigan State
Villanova-Mount Saint Mary's
App State-Iona
Texas Southern-Oregon
"I've circled it so many times on my calendar," Lucas said. "I know they're hungry, and they're going to play hard on defense. That's their MO. Their defense turns into offense, so our biggest thing will be to take care of the ball. That's what they key in on."
All of that made this year's transfer that much more difficult. Lucas loved his previous home, but felt like his time had come for a change.
After meeting with Pope and his assistant coaches, Lucas knew Provo was the place for him — sweet eateries, soda shops and sweet pork burritos included.
It didn't hurt that one of the first teammates he met was Alex Barcello, the BYU point guard who opted to take advantage of the NCAA's free season of eligibility provided by the COVID-19 pandemic as well. The Milwaukee native and Phoenix native had good reason to talk last spring, too.
"We watched the NBA finals together, because he's from Arizona and I'm from Milwaukee, so you know I had a little fun with him on that," Lucas said with a grin. "But we've been bonding ever since; we talk a lot. We watch film together. I text him all the time.
"We're a great one-two punch that we'll be able to provide out there."
Any worries about how Lucas would play with Barcello, the Cougars' leading shooting and Associated Press All-America honorable mention who averaged 16.1 points on 47% 3-point shooting with 4.7 rebounds and 4.3 assists, were assuaged by the duo's pairing in the Cougars' 63-45 exhibition win over Division II Colorado Christian.
"He's a great player, and he's fun to play with," Barcello said. "He's so unselfish; he's a playmaker.
"We knew we needed to respond, and we needed to do it in the right way. A couple of shots weren't falling for us, and we just needed to get to the second and third side. It was definitely fun to be out there with him."
When Barcello needed to be the scorer, Lucas took the role of primary passer. When the tables are reversed, they'll switch roles.
"T is the best passer that I've ever played with," BYU teammate Gideon George said. "I don't know who I'm going to play with in the future, but T has a really high IQ, so you know he can find guys sprinting the floor. Playing with T is fun, because he's going to find you with wide-open shots."
Like a Dirty Dr. Pepper and a cookie on the side, Lucas seems to be a perfect fit with his Cougar teammates — but mostly, Barcello.
"It's going to be super fun," Pope said. "They're just going to be fun. They're going to have fun together. They are built to be in the same uniform on the same court together.
"I'm so excited for those two."
×
Photos
Related Stories