Estimated read time: 5-6 minutes
PROVO — There were a lot of firsts when BYU basketball tipped off the 2021-22 preseason Thursday night in the Marriott Center.
The first competitive game that Alex Barcello and Te'Jon Lucas have played together. The first official action for freshmen Fousseyni Traore, Atiki Ally Atiki, and other first-year starters.
But most importantly for head coach Mark Pope, the first game in far too long in front of a loud arena.
Barcello scored 14 of his team-high 16 points with four rebounds in the first half, and Lucas added 11 points, four assists and two rebounds as the Cougars overcame a slow start to pull away from Division II Colorado Christian 63-45.
"It was awesome," said Pope, whose team faced a filled-up student section of 1,623 ROC pass holders for the first time since February 2020. "It just seems like it's been forever since we played in front of fans. Maybe we didn't shoot the ball well as a result; we were a little too excited. But that was a beautiful thing for us.
"It was everything we wanted: it was challenging on the defensive end. This team has been so good all training camp that we haven't had a lot of moments to crush them, and getting a little bit of frustration tonight was super important for us. We're excited for Tuesday."
Gideon George added 9 points and six rebounds, and Traore supplied 3 points, six rebounds and two blocked shots for BYU, who channeled the frustrations of 16 turnovers into shooting 55.6% from the field in the second half.
Cougs lead 37-29.

Gideon with 9 pts and 5 rebs pic.twitter.com/Uyqu4aFd8x

— BYU Men's Basketball (@BYUMBB) November 5, 2021
DJ McDonald led Colorado Christian with 12 points, and Ross Williams added 11 points and four rebounds for the visiting Cougars, who led until the middle of the first half.
But back-to-back 3-pointers by Trevin Knell and Spencer Johnson highlighted a 14-2 run to put BYU up 51-33 midway through the second half and help the hosts pull away for good.
San Jose State transfer Seneca Knight had 4 points, three rebounds and two assists off the bench, capping the night with a rim-rattling jam with four minutes remaining before Pope emptied the bench for the walk-ons.
Here are three takeaways before BYU's regular-season opener next Tuesday, Nov. 9 against Cleveland State (8 p.m. MT, BYUtv).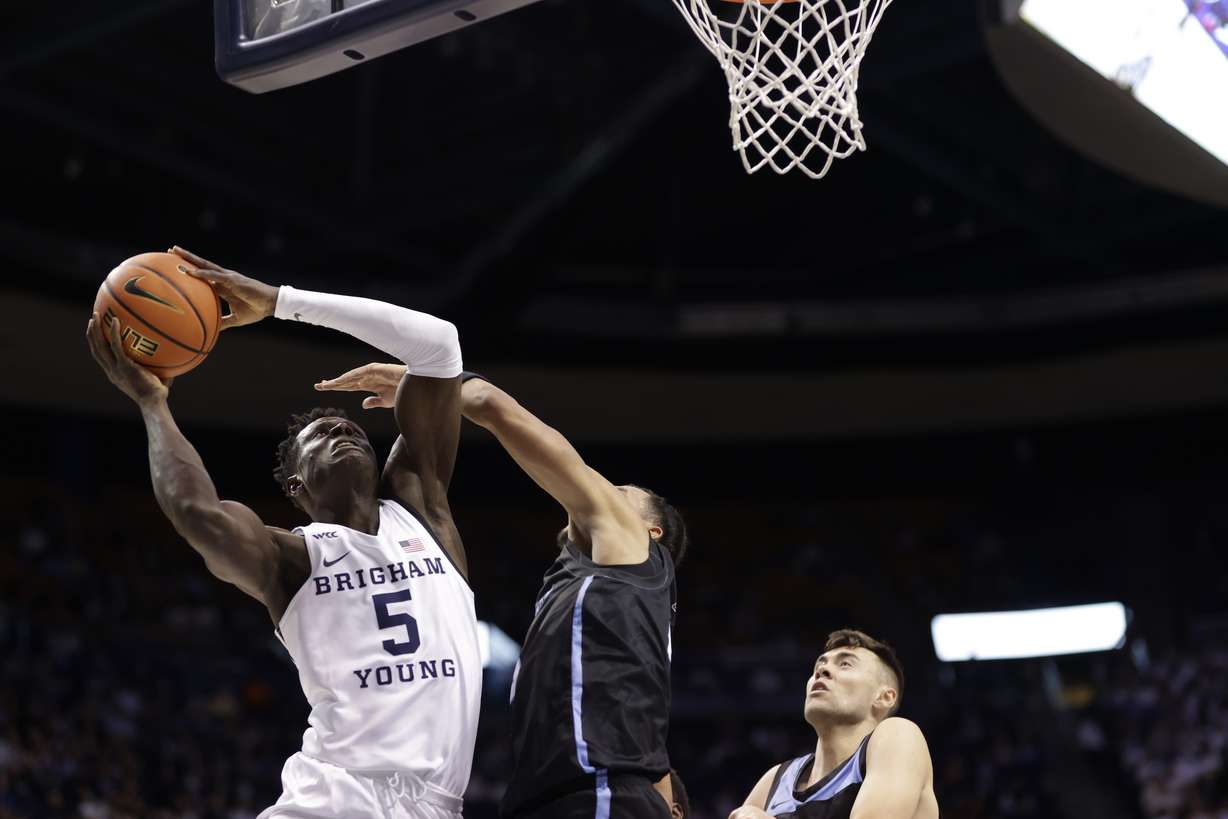 Slow start, fast finish
The Cougars started slow, knocking down just two of their first eight field goals, including 1 of 5 from 3-point range and trailed early.
Pope made several subs, playing 10 players in the first eight minutes, to try to find an answer. Part of that was due to the absence of Richard Harward (more on that in a moment). But most of it was an incoherent offensive system that looked like the first game of the season — which, to be fair, it was.
Fortunately, BYU had Barcello, who knocked down a 3-pointer with 7:03 left in the half. When the offense got moving, the fast-moving BYU team showed itself again, shooting 55% from the field in the second half for a 50% mark on the game, including 7 of 21 from 3-point range.
"Obviously we started out slow. There was definitely frustration on the court," Barcello said. "I thought the guys really locked in as the game went on. Offensively, we definitely struggled. So our main thing was to get to the second or third side; we're all new faces. We've practiced together. But it's different when you step out there in front of fans, and guys are still getting used to that."
Richard Harward has been taken to the locker room.#BYUhoops#GoCougspic.twitter.com/LBALO5yNJ9

— BYUtv Sports (@byutvsports) November 5, 2021
Harward's knee issue
The biggest concern, though, came via Richard Harward's knee just five minutes into the game.
Harward started in the low post but left the game after awkwardly landing on his left knee. The Orem High product started but had to be carried to the locker room by team medical staff, unable to put any weight on his leg.
Harward returned to the court before halftime unassisted, giving the crowd a thumbs up signal. But the Utah Valley transfer did not return to the game.
"The doctors told us everything is fine," said Pope, a former Columbia medical school student and self-proclaimed drop-out to pursue a life of coaching. "I'm speculating a little bit, but maybe it was a little dehydration. Maybe Richard is so passionate and emotionally engaged that he was fatigued from that, too. He works so hard and competes so hard, so we held him out of the rest of the game to be safe."
Harward's absence meant more time with George and Caleb Lohner playing in the post, as well as Gavin Baxter, who is still under restricted minutes following last season's season-ending ACL injury.
George finished with 9 points and six rebounds in 15 minutes, including a posterizing dunk during a 9-2 run to start the second half and push BYU's lead to 37-29 at the Under-16 timeout.
Good defense always turns into good offense 👀

Don't let @AlexBarcello23 get hot 🤫#BYUhoops#GoCougspic.twitter.com/tZsPO7RXHZ

— BYUtv Sports (@byutvsports) November 5, 2021
Barcello is the engine, but Traore is a beast
It's been said that Barcello is the engine of the BYU basketball team since the former Arizona reserve transferred to Provo two years ago.
That isn't changing a year after what should've been his last.
The Chandler, Arizona, native hit back-to-back 3-pointers to give BYU a 24-21 — yes, the Cougars were struggling that much on offense — with 1:09 left in the first half. That lifted BYU to a 26-21 halftime lead on Traore's first bucket of the game at the buzzer.
"Seeing Alex come back,I'm grateful for it," George said. "My stock is high with Alex coming back; that's my brother for life. You just get confidence playing alongside Alex. He's an All-American. He talks, and he walks the walk, too."
Speaking of Traore, the freshman from Wasatch Academy is proving himself in the first month of his collegiate career. Traore's stop on the defensive end led directly to Barcello's three, his fourth of the game.
And though the putback was his first score of the game, the freshman from Bamako, Mali, had four rebounds and two blocks in the first half, before checking out for good with a team-high six boards after 17 minutes.
"It's all about his willingness to learn and get better every day," Barcello said of Traore. "He's wanting to go out there and be almost perfect, to be better for the team. Those are the guys you want to play with. It's only going to get better as the season goes on, and results come for him."
×
Photos
Related Stories