Estimated read time: 6-7 minutes
DRAPER — Eric Kjar still isn't sure what to think about two phone calls he received from local businesses in August.
The Corner Canyon High head football coach said two different businesses approached him just as the football season began and asked if they could sign several of his high school players to sponsorship deals.
"I was shocked," said the veteran coach of the state's top-ranked team. "I didn't really know what to tell them. ... We don't have any (guidance) from the UHSAA (Utah High School Activities Association), so I didn't really know what to do or what to tell them. I didn't even know how to react."
He ended up declining both opportunities.
But thanks to several developments in other states, the Utah High School Activities Association's executive committee will discuss the issue in its next meeting.
And it looks like things are about to change for Utah high school athletes.
"Our current rules would not prevent any student individually, without associating with a team or the school, from profiting off of their image," said association attorney Mark Van Wagoner, who said he has just begun to research the issue. "I think what we're looking at is some guidance about how to do it, some direction, some means of letting student-athletes understand what they can do without losing their amateur status."
The NCAA changed its ban on college athletes profiting off of their own name, image and likeness on July 1, 2021, after being sued over the issue. As colleges scrambled to come up with guidelines that would help student-athletes navigate new opportunities and challenges, some wondered if this would also change high school sports, where amateurism is at the heart of the stated mission.
At the national meeting of high school associations this summer, there was universal dislike of having high school athletes being paid by sponsorship deals. But then about two weeks ago, the New York State High School Activities Association voted to allow student-athletes to "participate in commercial endorsements provided there is no school team, school, or section or (association) affiliation."
That means students can capitalize on sponsorship deals, but they cannot be identified as, say, the Corner Canyon star quarterback in those deals.
A week later, Mikey Williams, a 17-year-old basketball star from Vertical Academy in Charlotte, North Carolina, became the first high school athlete to sign a sponsorship deal. He signed a multiyear endorsement deal with Puma, according to ESPN.
This is, for many, a development that is both troubling for some and inevitable for high school sports.
Rob Cuff, executive director of the Utah High School Activities Association and current president of the National Federation of High Schools, said he's heard concerns about what allowing sponsorships could do to the "level of fairness" in high school sports.
"What the NCAA has done doesn't affect high schools, even though some people think it does," he said. "Our amateur rule, undue influence rule, those guide what we're going to allow. ... We're going to discuss it at the next meeting to see whether or not we're going to tweak or change the rules. ... I don't think anybody is totally against it."
"If you look at it from a legal standpoint, I feel like there's nothing anybody could do to stop that," said Brighton High Principal Tom Sherwood, who sits on the association's executive committee. "Once you make a name for yourself, regardless of how you made your name, it's your name. And as long as that's all you're using is your name, nobody owns that."
He doesn't see how the association can stop teens from signing deals that don't include schools. That's not to say the high school issue isn't more complicated than the college issue was' and is. As Sherwood points out, colleges programs combine tax dollars with private support and commercial sponsorships, and many make money off of their athletic programs. At the high school level, athletic opportunities are provided almost exclusively because of taxpayer support.
"I think we're going to say what they can and can't do," Sherwood said. "In terms of using a team sport for an individual gain, I think it takes away from the educational purpose of high school athletics. I mean, I don't want to deny anybody an opportunity to capitalize on our capitalist society, but I think at the same time, we need to protect what's worth protecting. And I think high school sports have already become a challenge. And if you introduce big media dollars into it, I feel like that's a challenge that none of us want."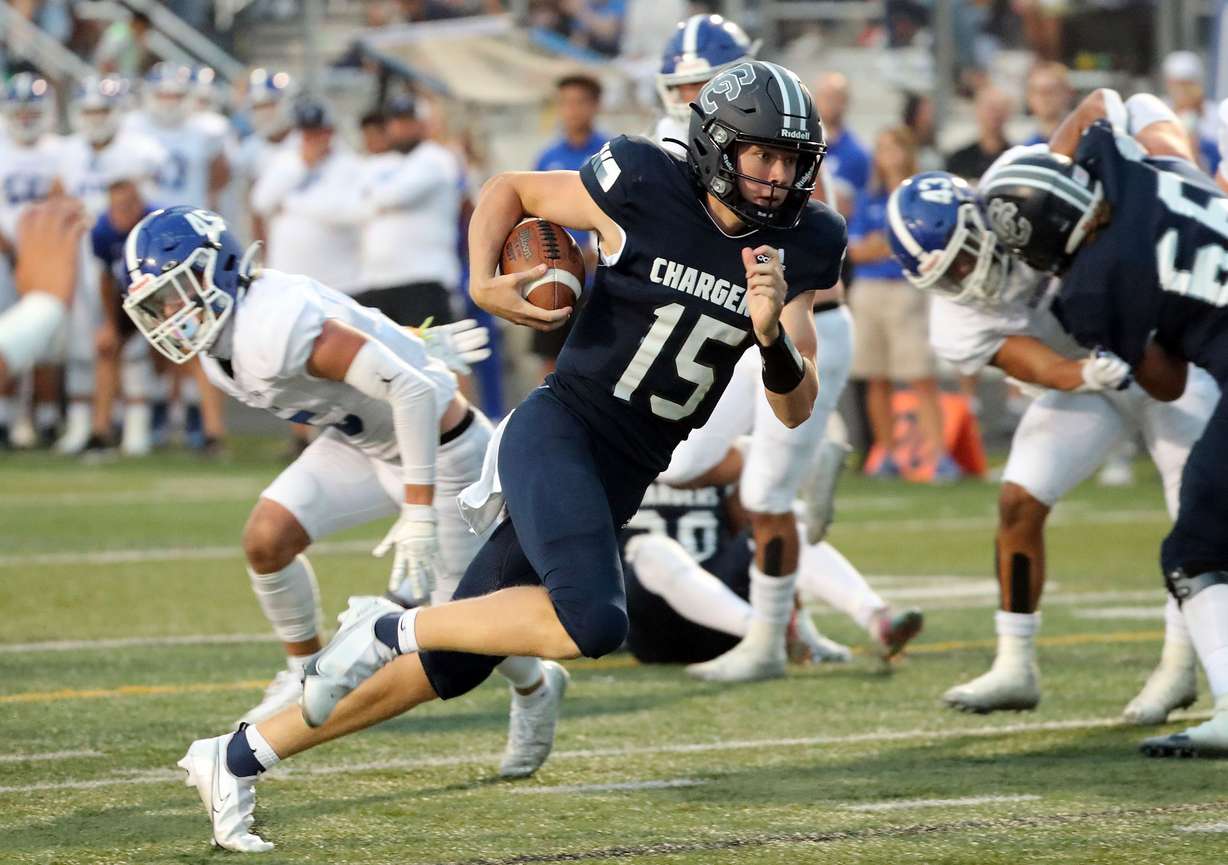 A few calls to local high school football coaches elicited a range of reactions. Les Hamilton, a longtime prep coach who is now the offensive coordinator at Bingham High, said he doesn't see any issue with it.
"I don't think it's any different than a kid mowing lawns on the weekend to make money," he said. "I don't think it should incorporate the school at all. But if the kid has athletic ability, I don't see how it's any different than a kid being really good at math (and capitalizing on it). ... I do not think this will be common, but I don't see it as a problem at all."
Copper Hills High head football coach Corey Dodd, who played football at the University of Utah, said he thinks it's "ridiculous" to consider allowing high school players to profit from fame they gain playing high school sports.
"Can you imagine how that NFL-style feelings will translate into high school hallways?" he asked. "I just don't know how a 16-year-old ego is going to handle that. ... It's a lot to handle."
Kjar said he's conflicted by the issue.
"I don't know," he said when asked how he felt about possible changes. "There are parts of me that think, 'Why shouldn't you be able to make money off your own name if you can?' ... But it's a hard one because you don't want them making too much money at such a young age because it could really mess with them. I guess it depends on what kind of parents. I don't know."
Kjar and other coaches said in addition to causing individual issues for an athlete, it could destroy team chemistry, and it could exacerbate the opportunity gaps that already exist in more wealthy communities.
Kjar said he wouldn't allow his own son to sign a sponsorship deal, although he admitted that "a lot of money" might make him reconsider that stance.
"It's hard," he said. "I see both sides of it. It really just depends on the kind of person they are and who they have around them. ... It's going to be a little weird for sure because it's going to happen. And it's going to be a lot to try and manage."
Woods Cross High football coach Brody Benson is frustrated that prep coaches, whose jobs are already much more complicated and demanding due to recruiting and transfer rule changes, may be dealing with the equivalent of agents in the near future.
"What we believe high school sports to be, and what they should be, is gone," Benson said. "And I don't think it's ever coming back."
Correction: An earlier version incorrectly listed Benson as coach at Highland High. He was hired at Woods Cross High earlier this year.
adonaldson@ksl.com
×
Related Stories