Estimated read time: 6-7 minutes
PROVO — Kalani Sitake couldn't help but snicker, even if he didn't outright laugh at the assumption.
The program once called "Quarterback U." for its abundance of high-end signal callers both in college and the NFL had something of a branding problem, where a starting quarterback with a 6-1 record against Power Five competition was being overshadowed by his starting tailback.
No offense intended to Jaren Hall. That's just how remarkable of a season the Cougars were experiencing with Tyler Allgeier, who has back-to-back 1,000-yard seasons for only the fifth time in BYU history.
"You mean a running back is getting more attention than a quarterback at BYU? When did we ever think we'd see that," the former BYU fullback said with a sarcastic smirk. "But Jaren's done a great job; he's humble. He doesn't need attention. He'll get it.
"I've been really pleased with the way he handles himself on the field. It's hard to manage that offense and he makes the right calls. He works great with A-Rod and Fesi at getting the offense set."
It's irony, at least. But Hall's role in powering BYU's 38th-ranked total offense shouldn't be overlooked as the Cougars look to improve to 8-2 with a win Saturday against Idaho State in the regular-season home finale (1:30 p.m. MT, BYUtv).
Less than two months removed from a rib injury that caused him to miss games against South Florida and Utah State — both wins — Hall has taken full control of the starting job a season after Zach Wilson brought national focus back to the BYU quarterback room with his top-10 Heisman Trophy finish and first-round NFL draft pick. He's helped the Cougars to five wins over Power Five programs for the first time in program history, a 4-0 record against the Pac-12 (with one more to go at USC), and a spot in the top 15 of the College Football Playoff selection committee's initial rankings.
Hall, who gave up baseball to focus on recovering from a history of multiple concussions during the football season, doesn't mind deflecting praise for the season either. The first Black starting quarterback in BYU history has always been quick to credit his teammates — mostly his offensive line and wide receivers, but also Allgeier and the other running backs — for his success.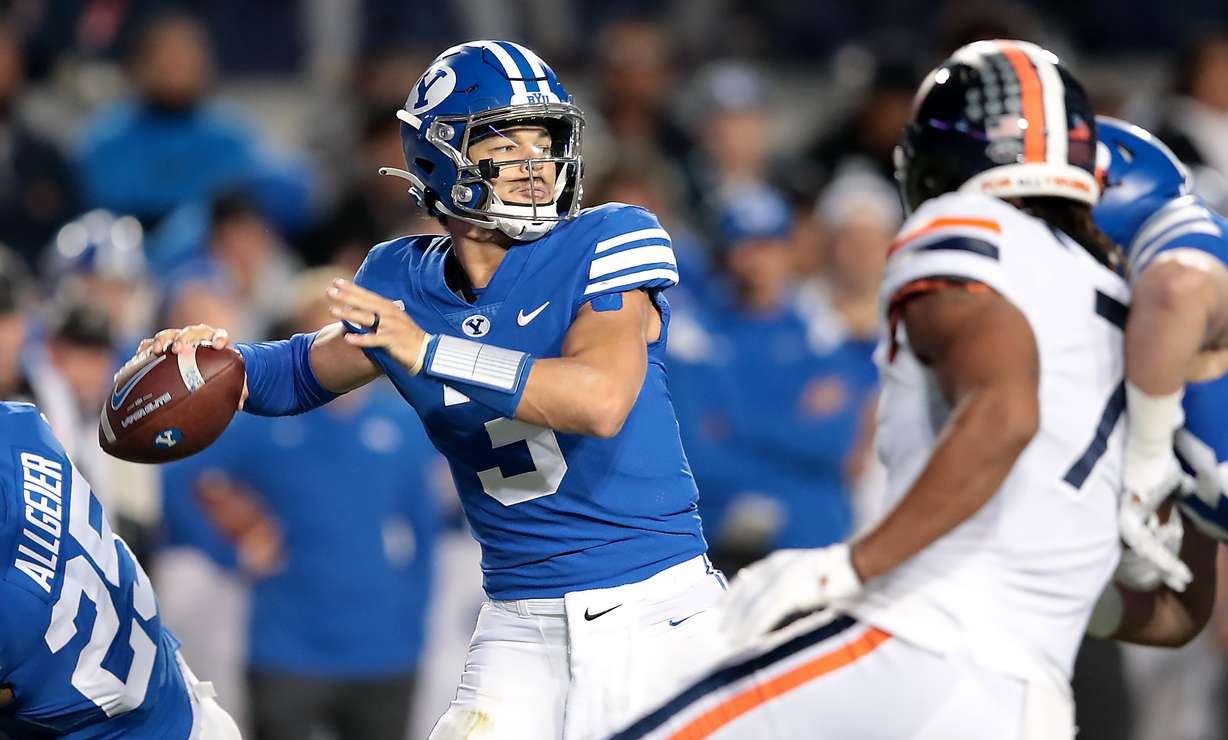 And while Hall deserves his own praise, he knows where credit is due, as well.
"It makes my job easy, but it also makes it hard. You've got to keep everybody happy," he said during Tuesday night's coach's show. "A lot of long conversations and text messages with everybody.
"But it really does make my job easy. Just get those guys the ball as quick as you can, and they go do something special with it."
Hall has been through a lot since emerging from a four-way quarterback derby with backup Baylor Romney and freshmen Jacob Conover and Sol-Jay Maiava-Peters as the starting quarterback to replace Wilson. Most notably, he's thrown for 1,697 yards and 12 touchdowns with just three interceptions in 2021, including 300 yards in each of his last four games.
Exactly as his teammates always expected.
"I don't think anybody's surprised by it, because of how he stepped into the role in prior years," running back Lopini Katoa said. "That's the same for Baylor; they're both able to step up when called upon. I don't think anyone is surprised by how he led the team."
Hall is only getting better. He's run for 247 yards and two touchdowns, injury aside, and maintains a 146.74 quarterback efficiency rating on a team whose 65.9% completion percentage ranks 29th in the Football Bowl Subdivision.
"We had to trust him with his health and what was the right thing to do with his legs; he's feeling really good now. He was close to 100% this last game," Sitake said. "But he did a good job at creating space. … No turnovers; that's a good sign for us, too.
"I think there are some throws that I know he wishes he had back. But he was on point, and we have made things difficult for him because we gave him the responsibility of being smart with his own health while knowing Baylor isn't 100% cleared yet. We need to be smart with our offense."
With health returning, Hall has been at his most dangerous.
"Anytime a quarterback can create more space and time, it's dangerous," Sitake said. "All of our quarterbacks can run. They are all athletic. That's part of our game plan. They all are able to run the ball."
Hall's command of the offense in his first season has run the full gamet of emotions — and that's just in the Cougars' recent shootout victory over Virginia. BYU was up 21-0, then trailed at halftime, then held the Cavaliers to one second-half touchdown to pull away for the win.
Even the balls that looked underthrown on film — perhaps the biggest criticism BYU fans have had of the first-year starting quarterback — are often done so on purpose, offensive coordinator Aaron Roderick said.
The sophomore found Samson Nacua for a career-long 52-yard reception on the first play of the game, capped that drive with a 2-yard rush, and added three touchdown passes to go along with a program record-tying five rushing scores from Allgeier.
"It was a fun game to be a part of," Hall said. "It was nothing I've ever experienced before."
But as plenty of his fellow married students at BYU will admit, his most important title is father to his daughter Jayda, whom he and his wife Bre welcomed to the family this past summer. It's a title he'll always talk about — well before schemes, plays and football strategy.
It's also been the best source of some of his dad jokes, like when he told BYUtv during a postgame interview that "dad's don't sleep" following another late kickoff. Don't think that marriage and family have made him any less of a quarterback, though.
"It's humbling, and it kind of makes me balance out my life a little better, putting aside distractions from the past," Hall said. "I think it's made me a better quarterback and football player; when I'm at home, I'm able to focus on my family life and my baby. When I'm here, my wife knows this is what I'm doing and she pushes me to just get better with any spare time I have.
"It takes that burden off my shoulders to feel like I have to be everywhere at one place. I'm grateful for football and for my wife being so supportive."
×
Related Stories