Estimated read time: 7-8 minutes
ROSE PARK — Rather than falling to the ground in pain or kneeling on the grass in gratitude, Jack Blodgett beat his chest and screamed in excitement when he broke the tape Wednesday afternoon in the 3A state boys cross country championships.
The Ogden junior had a lot of reasons to cheer.
First was his individual title, a championship that has eluded him for three years, which he clinched with a winning time of 15:50.7 — eight seconds better than runner-up Richard Crane of Richfield.
Then there was the Tigers' team title, their first since winning back-to-back in 2011 and 2012. Ogden surged past second-place Richfield 44-74 with two runners in the top 10 and all five scoring runners in the top 15.
"I wanted to win for the past three years and haven't performed," Blodgett said. "This was big. And I kind of like being hyped; it's what I find fun."
Jake Peterson finished sixth for Ogden in 16:13.8, followed by Coby Wight (16:43.9) and Carter Parsons (16:46.2) to add top 15 finishes for the Tigers.
Additionally, Ogden's girls cross country team had just won their own championship, the first since 2013.
"It was surreal," said Ogden junior Charlize Herrera, who led the Tiger girls with a 10th place finish in 20:22.3. "All year, we've been working hard and to have all your hard work pay off — even when you're that tired, to hear a championship, it's amazing."
Following Herrera, Kaitlyn Blackham finished 14th in 20:32.2, followed by Donna Gonzalez (20:33.1) and Isabella Gray (20:36.6), and Gem Garner (20:58.3) for five runners in the top 20, out-pacing Carbon, which was led by runner-up Beverly Lancaster.
Juan Diego's Ethan Stevens finished first in 19:28.9.
"For us, it's more about being a family," said Herrera, a junior in her first season. "Because we care so much about each other, when you see one of your teammates moving up in the face, you know they want you to be there with them.
"They're really pulling you through. You feel connected in the race."
Less than a week after the Ogden's girls soccer team won its second state title in three years, one could say it was a good day for O-town.
Definitely a good day.
"It's impressive. They made us want to go get it, as well," Blodgett said.
"We get to put some numbers up."
3A Girls
Top 10 individuals
Ethan Stevens, Juan Diego (So.) — 19:28.9
Beverly Lancaster, Carbon (So.) — 19:33.7
Sadie Nelson, Manti (So.) — 19:44.1
Lydia Forsyth, Canyon View (So.) — 19:52.9
Jaylee Jenkins, Union (Fr.) — 19:53.0
Cadence Kasprick, Grand County (So.) — 19:55.6
Kate Heywood, Morgan (Sr.) — 20:04.0
Clara Compton, Morgan (Jr.) — 20:05.0
Paige Curtis, Delta (Jr.) — 20:09.2
Charlize Herrera, Ogden (Jr.) — 20:22.3
Team scores
Ogden 72, Carbon 82, Morgan 85, Canyon View 109, Manti 119, Grand County 175, North Sanpete 195, Juan Diego 209, Summit Academy 238, Union 247, Grantsville 267, Judge Memorial 285.
3A Boys
Top 10 individuals
Jack Blodgett, Ogden (Jr.) — 15:50.7
Richard Crane, Richfield (Jr.) — 15:58.1
Jess Christiansen, Emery (Sr.) — 15:59.0
Paul Squire, Union (Jr.) — 16:01.1
Jett Davenport, Union (Sr.) — 16:09.9
Jake Peterson, Ogden (Sr.) — 16:13.8
Kobe Cruz, Carbon (Sr.) — 16:18.9
Cannon Anderson, Richfield (Sr.) — 16:22.5
Tyler Saunders, Richfield (Sr.) — 16:27.9
Cameron Hollobaugh, Union (Sr.) — 16:29.7
Team score
Ogden 44, Richfield 74, Union 76, Carbon 103, Emery 132, Manti 176, Morgan 186, Juan Diego 212.5, Grantsville 218.5, Judge Memorial 262, North Sanpete 292, Providence Hall 314.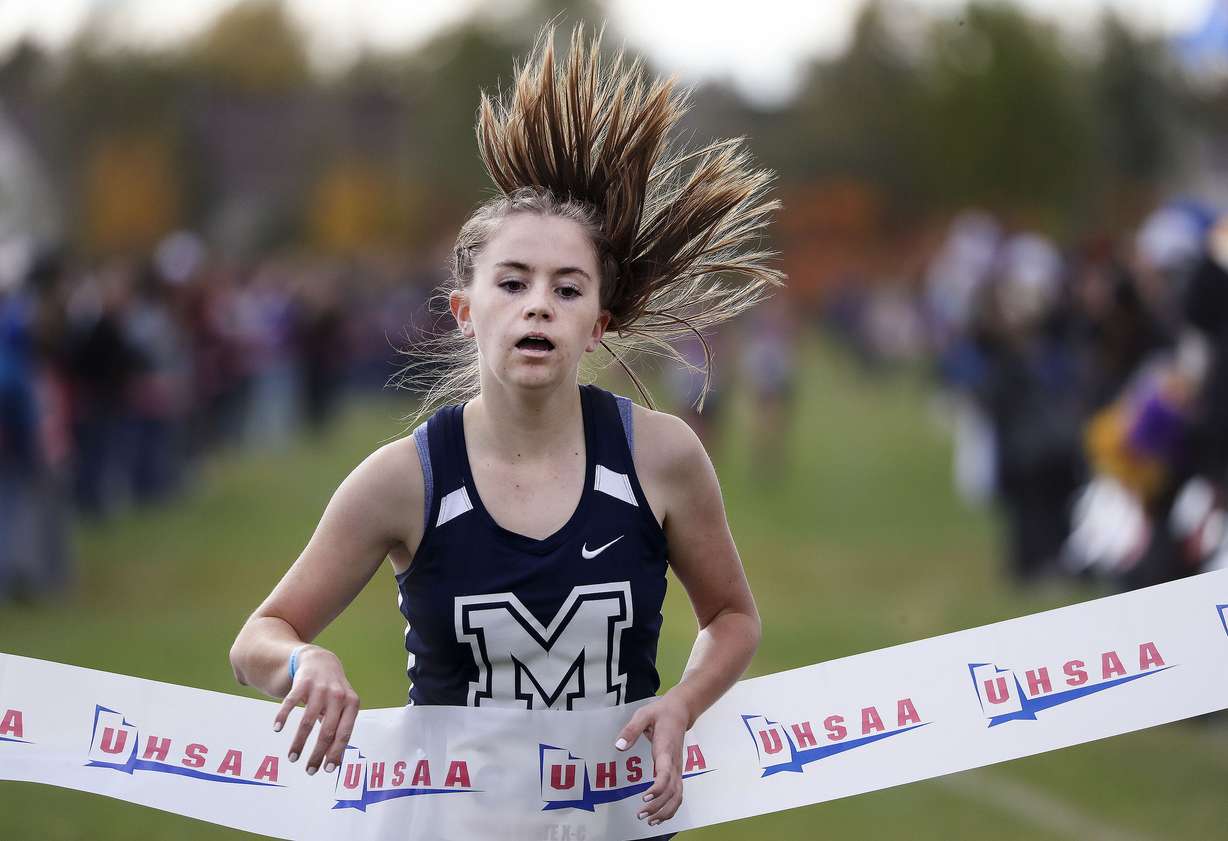 2A Girls
Danielle Zwahlen, Julia Rust and Charly Sargent finished 2-3-4 to lift North Summit to its first cross country title since winning five-in-a-row from 2013-17 in the 2A girls final.
Millard freshman Kyra Moat finished first, more than 10 seconds ahead of the field in 20:42.3. The Eagles finished 13 points behind North Summit with 43, followed by Parowan (91), North Sevier (98) and Beaver (143) in the top five.
Top 10 individuals
Kyra Moat, Millard (Fr.) — 20:42.3
Danielle Zwahlen, North Summit (Jr.) — 20:52.9
Julia Rust, North Summit (Fr.) — 20:58.0
Charly Sargent, North Summit (So.) — 21:00.0
Matilee Sudweeks, Parowan (So) — 21:09.3
Karla McCoy, North Sevier (So.) — 21:15.9
Kara Camp, Millard (Jr.) — 21:18.6
Lexi Callister, American Prep WV (So.) — 21:19.7
Emma Stephenson, Millard (So.) — 21:25.4
Scarlett Brock, North Summit (Fr.) — 21:38.8
Team scores
North Summit 30, Millard 43, Parowan 91, North Sevier 98, Beaver 143, Saint Joseph 174, San Juan 182, Merit Prep 195, American Prep WV 199, Freedom Prep 291.
2A Boys
Millard junior Michael Ralphs took first in 16:05.1 to lead five scoring runners in the top 10 as the Eagles overwhelmed the 2A boys final.
Camden Moat finished third, Travis Whitaker fifth, Ben Ralphs seventh and Kayden Frampton eighth to pace Millard.
Top 10 individuals
Michael Ralphs, Millard (Jr.) — 16:05.1
Ezra Shilling Rabin, Rowland Hall (Jr.) — 16:16.6
Camden Moat, Millard (Jr.) — 16:27.4
Keaton Hallows, North Sevier (Jr.) — 17:03.7
Travis Whitaker, Millard (So.) — 17:08.2
Josh Rust, North Summit (Jr.) — 17:16.0
Ben Ralphs, Millard (Fr.) — 17:18.1
Kayden Frampton, Millard (Sr.) — 17:19.0
Evan Jahn, Rowland Hall (Jr.) — 17:32.3
Edward Lyman, San Juan (So.) — 17:25.8
Team scores
Millard 24, Rowland Hall 65, North Summit 117, Kanab 124, San Juan 132, North Sevier 134, Baver 151, Waterford 223, Maeser Prep 225, American Heritage 265, Freedom Prep 278.
1A Girls
Panguitch's Adelaide Englestead finished first in 19:35.7 to lead the Wildcats to their third title in four years in the 1A girls race.
Tabi Henrie finished second in 19:35.8 for Panguitch, which out-paced second place Bryce Valley by 19 points. Monticello, Intermountain Christian and Wayne rounded out the top five.
Top 10 individuals
Adelaide Englestead, Panguitch (Jr.) — 19:35.7
Tabi Henrie, Panguitch (So.) – 19:35.8
Lily Long, Monticello (Sr.) — 20:40.5
Shandi Syrett, Bryce Valley (Jr.) — 21:03.3
Lilly Burton, Monticello (Fr.) — 21:18.1
AnDee Vandyke, Wayne (Jr.) — 21:19.9
Lacey Marshall, Panguitch (Sr.) — 21:35.4
Elaine Lunsford, ICS (Fr.) — 21:35.9
Hope Edmunds, ICS (So.) — 21:36.3
Bradi Gates, Bryce Valley (So.) — 21:45.0
Team scores
Panguitch 21, Bryce Valley 40, Monticello 45, Intermountain Christian 68, Wayne 107, Piute 121, Rich 146, Valley 151, Altamont 158, Tintic 169, Pinnacle 185, Manila 148.
1A Boys
Brock Syrett's 12-second victory in 17:04.2 helped Bryce Valley edge Milford for the 1A boys title.
Ben Jensen finished 10th for the Mustangs, who held off Milford 46-48. Monticello, Water Canyon and Piute rounded out the top five.
Top 10 individuals
Brock Syrett, Bryce Valley (Sr.) — 17:04.2
Ashton Arnold, Altamont (So.) — 17:16.7
Weston Manygoats, Whitehorse (Sr.) — 17:33.4
Robby Levy, Telos (So.) — 17:37.1
Theil Cooke, Water Canyon (So.) — 17:40.7
Micah Autry, ICS (So.) — 17:46.5
Taiven Cluff, Milford (So.) — 17:49.2
Tyler Bonham, Valley (Jr.) — 17:51.8
Boston Freestone, Monticello (Sr.) — 17:54.0
Ben Jensen, Bryce Valley (Sr.) — 17:57.3
Team scores
Bryce Valley 46, Milford 48, Monticello 76, Water Canyon 78, Piute 91, Panguitch 127, Intermountain Christian 129, Valley 174, Altamont 188, Whitehorse 189, Escalante 222, Telos 233, Wayne 244, Rich 263, Pinnacle 278, Tintic 325, Monument Valley 373.
×
Photos
Related Stories