Estimated read time: 4-5 minutes
This archived news story is available only for your personal, non-commercial use. Information in the story may be outdated or superseded by additional information. Reading or replaying the story in its archived form does not constitute a republication of the story.
ROSE PARK — As the newcomers to 6A, Farmington's boys cross country team knew it would take a Herculean effort and consistent running to win a state title this year.
So when American Fork's Nathan Jaster made his push with just over a mile remaining at the Salt Lake Regional Athletic Complex, the Phoenix didn't panic.
The defending 6A champion ran for the nine-time team champs, so Farmington knew to stick close to him and sticking together would go a long way toward claiming their first championship in Utah's top classification.
The strategy paid off perfectly.
Matthew Neuenschwander placed sixth in 15:24.6, and teammates Britton Austin, Ethan Peterson and Isaac Halverson added finishes of seventh, ninth and 10th place to lead the Phoenix to their third consecutive state title after winning back-to-back in 5A each of the past two seasons.
"We always focus on being united as a team, and emphasize pack running," Neuenschwander said. "We're not just racing as a competition, but as a team. We want to stay together as a team and lift each other up.
"When we saw (Jaster) going up, we just knew that we had to stay with him. We had to keep him in check, and make sure he was in striking distance."
Jaster finished first in 14:55.5, followed by Lone Peak's Jaron Hartshorn 11 seconds later and teammate Jayden Fitzgerald in third (15:08.6).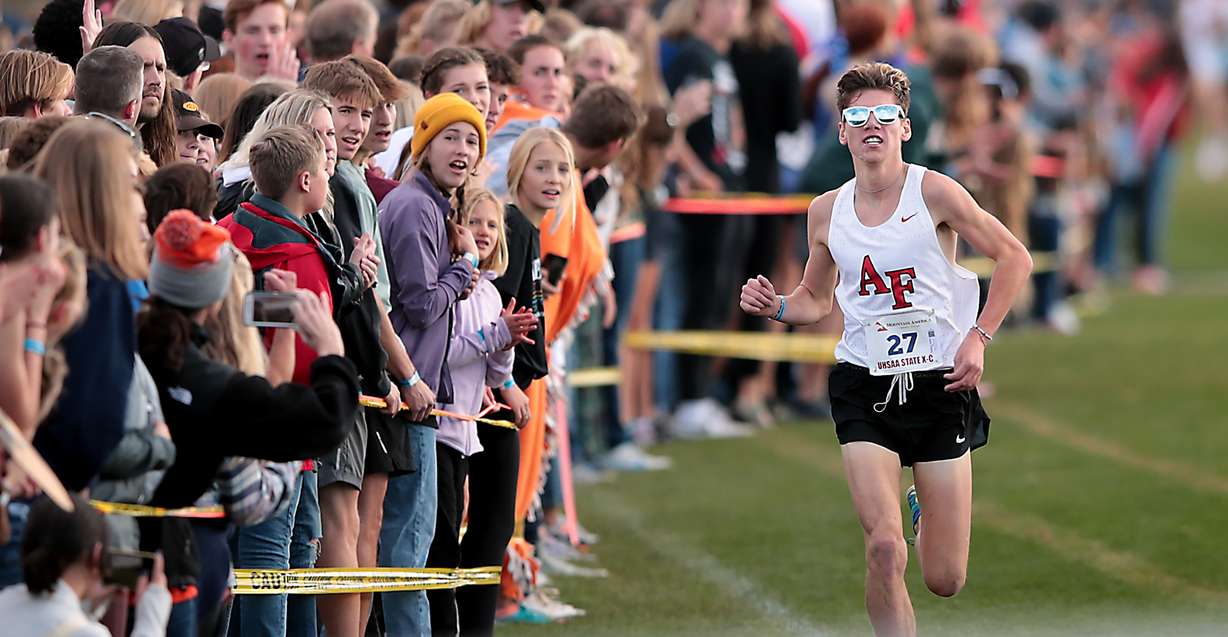 After being held off by four runners in the top 10, the Cavemen finished second with five scoring runners in the top 25.
"There was definitely some pressure to repeat because of last year," Jaster said. "But I haven't run super good all season, and there wasn't a ton of pressure.
"I would say there were more favorable individuals in this race. But I was pretty confident. I just decided to hang behind the pack, and if I could make a surge with a mile left and try to keep it."
Riverton, Corner Canyon and Skyridge rounded out the top five behind the two divisional champions.
"I think this it's a good omen for what's to come, for younger generations at Farmington," Neuenschwander said.
6A Boys
Top 10 individuals
Nathan Jaster, American Fork (Sr.) — 14:55.5
Jaron Hartshorn, Lone Peak (Jr.) — 15:06.6
Jayden Fitzgarrald, American Fork (Sr.) — 15:08.6
Seth Wallgren, Herriman (Jr.) — 15:16.3
Noah Jenkins, Herriman (Jr.) — 15:18.3
Matthew Neuenschwander, Farmington (Sr.) — 15:24.6
Britton Austin, Farmington (Sr.) — 15:26.6
Tyler McDougal, Riverton (Jr.) — 15:27.3
Ethan Peterson, Farmington (Sr.) — 15:27.4
Isaac Halverson, Farmington (Sr.) — 15:28.7
Team scores
Farmington 49, American Fork 68, Riverton 127, Corner Canyon 137, Skyridge 167, Lone Peak 172, Weber 215, Davis 216, Herriman 254, Mountain Ridge 274, Pleasant Grove 302, Bingham 328, Fremont 336, Copper Hills 357, Westlake 382, West Jordan 449, Taylorsville 452, Layton 513.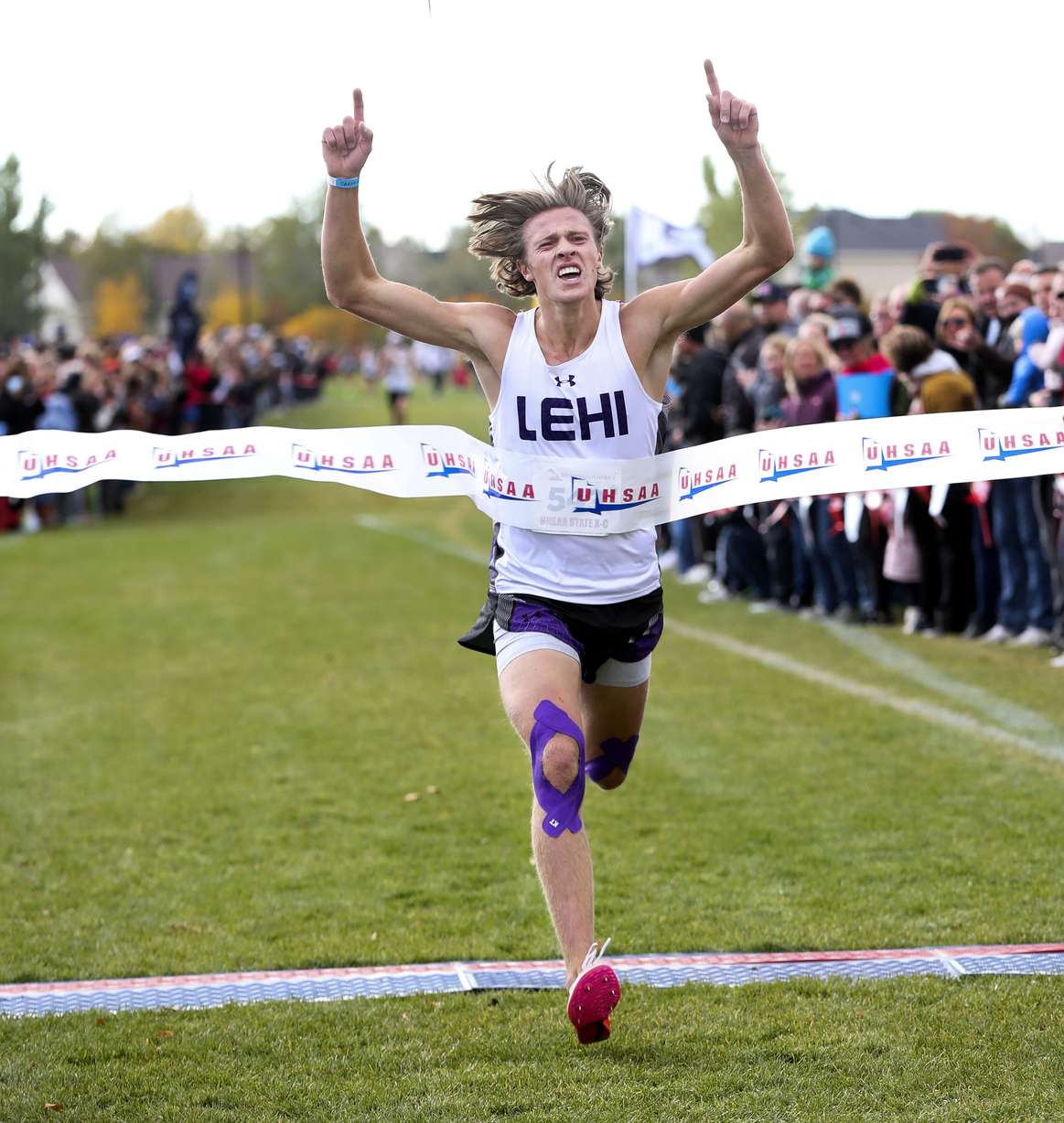 5A Boys
Liam Heninger's fourth-place finish paced former power Mountain View to its first state title since 2011 in the 5A boys final.
Lehi's Jefferson McMullin finished first in 15:06.8, followed by Orem's Tayson Echohawk in 15:22.1 and Woods Cross' Sam Hansen (15:36.8). Logan Garnica from Springville rounded out the top five in 15:47.3.
The Bruins held off fellow Orem schools Timpanogos and Orem, with Lehi and Park City rounding out the top five.
Top 10 individuals
Jefferson McMullin, Lehi (Sr.) — 15:06.8
Tayson Echohawk, Orem (Jr.) — 15:22.1
Sam Hansen, Woods Cross (Jr.) — 15:36.8
Liam Heninger, Mountain View (Jr.) — 15:37.0
Logan Garnica, Springville (Sr.) — 15:47.3
Britton Moffitt, Timpanogos (Sr.) — 15:48.0
Isaac Hedengren, Timpview (Sr.) — 15:53.4
Henry Christiansen, Skyline (So.) — 15:54.1
Luke Anderson, Cedar Valley (So.) — 15:56.5
Jojo Jourdon, Olympus (So.) — 15:57.1
Team scores
Mountain View 88, Timpanogos 156, Orem 167, Lehi 188, Park City 235, Springville 236, Timpview 248, Woods Cross 250, Bountiful 263, Olympus 275, Viewmont 278, Northridge 291, Wasatch 303, Maple Mountain 343, Skyline 362, Stansbury 363, Tooele 397, Brighton 425, Box Elder 427, Cedar Valley 485, Hillcrest 554, Highland 602, Cottonwood 632, Jordan 685.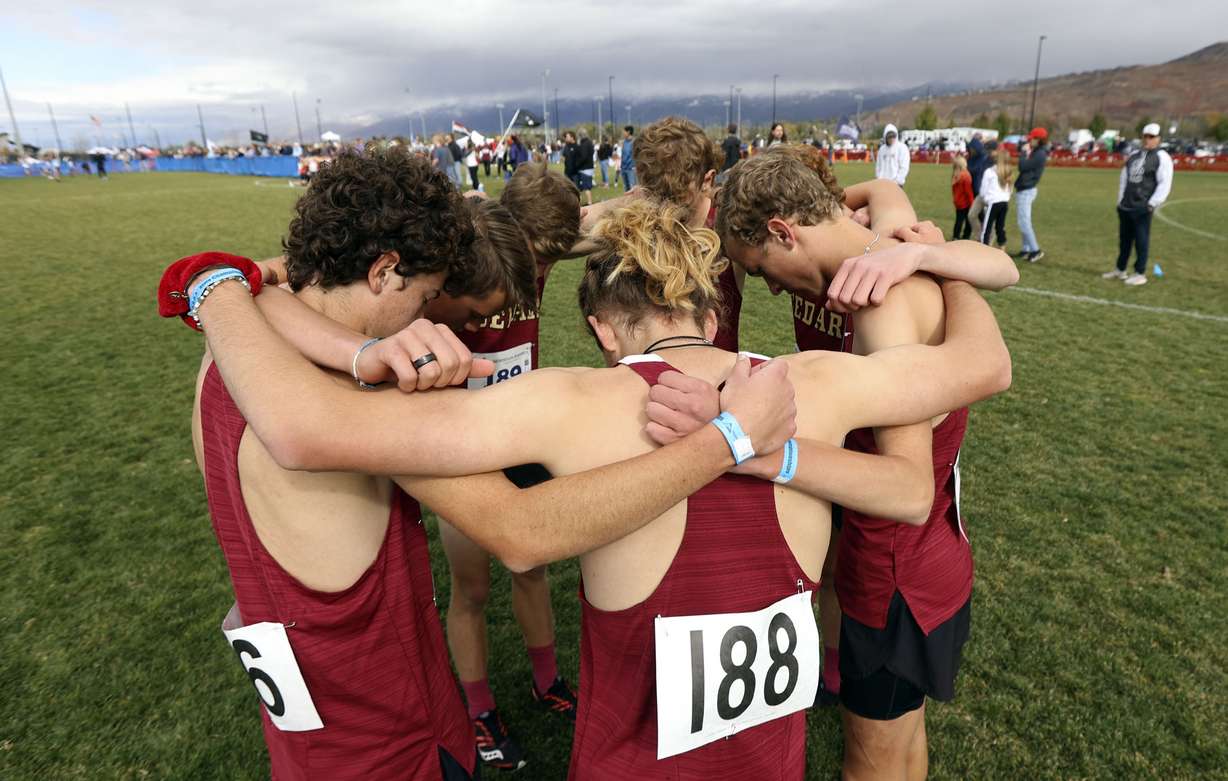 4A Boys
Top finisher Logan Peel posted a winning time of 15:36.7 as Cedar rolled to the 4A boys title.
The Reds posted 35 points to out-pace Desert Hills' 53, Snow Canyon's 96, Pine View's 166 and Crimson Cliffs' 173 for the team title.
Top 10 individuals
Logan Peel, Cedar (Jr.) — 15:36.7
Spencer Smith, Snow Canyon (Jr.) — 15:47.7
Carson Wall, Desert Hills (Sr.) — 15:57.5
Trey Despain, Pine View (Jr.) — 16:03.8
Caleb Simmerman, Cedar (Sr.) — 16:06.5
Payton Wilkins, Desert Hills (Jr.) — 16:06.8
Braxten Gifford, Cedar (Jr.) — 16:08.9
Thomas Wirthlin, Crimson Cliffs (So.) — 16:09.4
Justin Dodds, Cedar (Jr.) — 16:09.7
Isaiah Crookston, Sky View (Jr.) — 16:10.8
Team scores
Cedar 35, Desert Hills 53, Snow Canyon 96, Pine View 166, Crimson Cliffs 173, Green Canyon 176, Hurricane 198, Bear River 200, Sky View 222, Ridgeline 240, Logan 272, Mountain Crest 291, Dixie 338.
×
Photos
Related stories
Most recent High School stories