Estimated read time: 3-4 minutes
SANDY — In two previous meetings in the 2021 season, Ogden and Morgan's girls soccer teams split a pair of one-goal matches.
Why would Saturday's 3A state championship be any different?
Neveah Peregrina scored on an unassisted free kick, and goalkeeper Emily Blackford made it stand up to lift Ogden to its second state title in three years with a 1-0 win over region rival Morgan at Rio Tinto Stadium.
"I just feel so overwhelmed right now. Last year was such a crazy year; we got all the way here and then lost it in the finals at the last second," said Peregrina, who started as a freshman on Ogden's runner-up team in 4A that fell to Ridgeline in last year's title match. "Being able to win like that today was absolutely amazing — after all of the things we've been through as a team.
"Morgan are such great opponents. But in the end, we just fought more than we knew we had to."
Blackford made eight saves, including stopping a penalty kick with a 1-0 lead in the final 10 minutes, to claim the shutout — the 12th of the year for Ogden (16-4).
"There were at least three saves that should've been goals," Ogden coach Ryan Robinson said. "She stepped up big today — played better than she's ever played in the biggest game. She's a stud."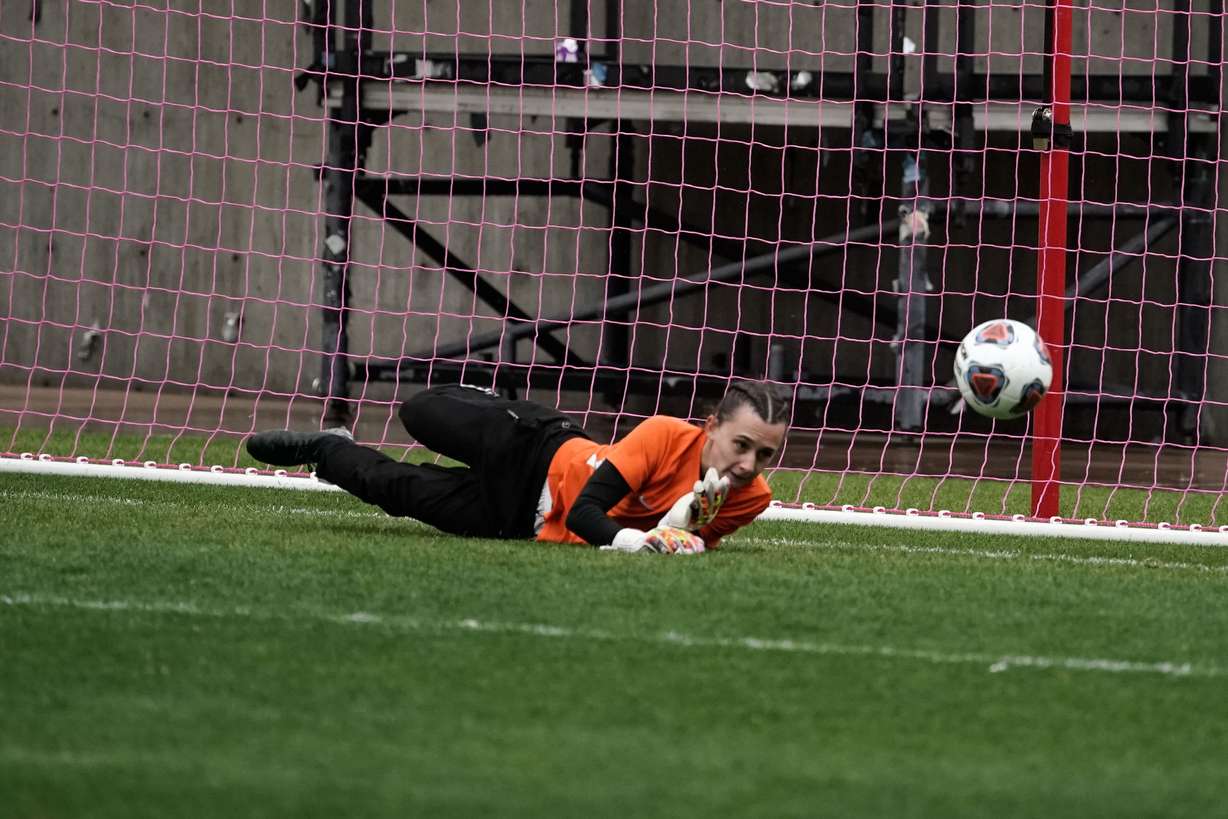 Ogden opened the game on the offensive, but Morgan goalkeeper Miya Turner made four first-half saves to keep the Tigers at bay. The freshman keeper also got help from her best friend — the post — when Peregrina saw her free kick from 25 yards out kiss the far post before rattling out.
But she needed just six minutes of the second half to leave her mark.
The sophomore lined up a free kick from near the corner flag in the 46th minute, and bent an Olympico underneath the crossbar with a perfect shot to give the Tigers a 1-0 advantage.
Peregrina knew the shot was good as soon as she let it fly; that's why she ran nearly 40 yards upfield, toward the Ogden student section, and pointed to the No. 13 on the back of her jersey.
"We've had a few opportunities to that," said Peregrina, who also moonlighted as the team DJ on the bus ride from Ogden High to Rio Tinto Stadium earlier Saturday morning. "I guess our hard work paid off there; we've just got to keep practicing."
Moments earlier, Peregrina had a similar look at goal, but she put her shot off the near post. As she was jogging back after the play, she told Robinson she should've attack the far post.
"Then she got the next foul five minutes later, and put it on the back post," said Robinson, who estimated Peregrina makes that same shot "eight times out of 10" in practice. "She's a phenomenal player; we're lucky to have her.
"I've never coached anyone like here in my life."
From there, it was up to Blackford.
The diminutive sophomore made seven second-half saves, including back-to-back stops in the 55th minute, as the top-seeded Trojans (17-3) searched for the equalizer.
But Blackford saved her best for last, when she stood against Morgan's Lacie Poll at the penalty spot in the 72nd minute.
The keeper dived to her left, put a mitt on the ball, and her defense did the rest with a brilliant clearance for a corner kick that ultimately went nowhere.
"I can't believe that just happened. I'm so happy," Blackford said. "I can't believe I have two more years left with this club.
"It's just a really fun club and for the next two years, it's going to be great."
×
Photos
Related Stories