Estimated read time: 3-4 minutes
ST. GEORGE — A Utah lawmaker accused of shooting a doe in a southern Utah neighborhood in August has now been charged with poaching.
Travis Max Seegmiller, R-St. George, is charged in Washington County Justice Court with unlawful taking of protected wildlife and two counts of unlawful discharge of a firearm, all class B misdemeanors.
On Aug. 13, Seegmiller, 47, took "protected wildlife using any method, means, process, or practice not specifically authorized in Utah Code Title 23 or a rule, proclamation, or order of the Wildlife Board," according to the charges.
Seegmiller also discharged a firearm "without written permission to discharge the dangerous weapon from the owner or person in charge of the property, within 600 feet of a house, dwelling, or any other building" and "from an automobile or other vehicle, from, upon, or across any highway," the charges state.
The charges were originally filed in Millard County last week but were transferred to Washington County on Monday. It wasn't clear why the charges were initially filed in another county.
The Division of Wildlife Resources confirmed in September that it was investigating an incident after residents of the Blackridge Ranches development near Old Highway 91 in New Harmony reported seeing Seegmiller shoot a doe and retrieve it from someone's yard.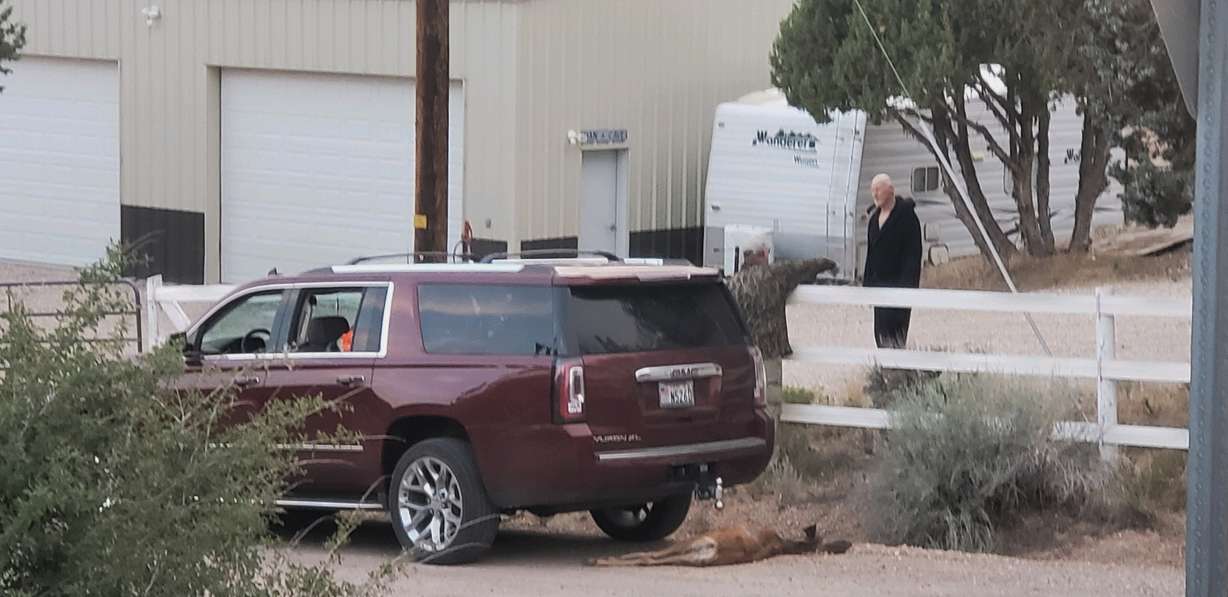 Utah Division of Wildlife Resources spokeswoman Faith Heaton Jolley said Monday that on Aug. 13, a man identified as Seegmiller was standing near a roadway when he fired from a shotgun that ultimately killed a doe. While she said Seegmiller did have a valid hunting permit and shot the doe during a legal hunting period for the boundary he was in, she said he did not receive permission from residents in the area to hunt on their private land.
"It's illegal to hunt on private property or to enter private property to harvest an animal without receiving written permission from the landowner previously," she explained, adding it's also illegal to hunt within 600 feet of a house or dwelling as the charges state.
Jolley said Seegmiller was immediately confronted by a homeowner in the area who had heard the gunshot.
Residents told St. George News in September that the man identified himself as Seegmiller and was seen pulling a deer toward his vehicle. Neighbors said they had heard a gunshot just before that.
A resident also told St. George News that Seegmiller had said he was out of work and needed deer meat for his family, and he said he had gotten permission from the private property where he retrieved the deer.
The homeowner reported the incident to local police, but Seegmiller left the scene with the deer before officers arrived, according to Jolley.
DWR's conservation officers began investigating the incident after they were informed about it by the Washington County Sheriff's Office. Not receiving permission to hunt on private land and also shooting near buildings, Jolley said, made the taking of the deer illegal, prompting the poaching charge. The meat from the animal was later seized and donated to a family living in the area.
Seegmiller said he had no comment on the incident when contacted by reporters in September.
The Division of Wildlife Resources reports that over 1,000 animals valued at more than $387,000 were illegally killed in Utah last year.
Per Utah law, a nontrophy deer illegally killed has a minimum restitution fee of $400 in addition to any other penalties associated with a misdemeanor. Utah's poaching laws range in severity based on the animal killed; the severity ranges from class B misdemeanors to third-degree felonies.
Jolley said DWR officials are appreciative of the homeowner who contacted authorities. People who witness possible wildlife crimes are encouraged to contact the division by calling 800-662-3337, text 847411, or by reporting it through the division's website.
"Poaching and wildlife crimes are something we take very seriously," she said, "so we do encourage people to report that."
×
Related Stories