Estimated read time: 5-6 minutes
PROVO — Friday night's Midnight Madness was two years in the making for BYU basketball.
A year after preseason celebrations and regular-season crowds were stripped from the 2020-21 schedule due to the COVID-19 pandemic, the Cougars brought BYU students back to the Marriott Center in incredible style.
The fan-friendly event that kicked off at midnight and ran until after 1 a.m. had a little bit of everything.
BYU women's basketball star Paisley Harding rappelled from the rafters to center court. Senior center Sara Hamson stuffed her 6-foot-7 frame into a miniature toy car, drove it onto the court, and began emptying the trunk filled with t-shirts, toys and candy into the student section.
Utah Jazz owner Ryan Smith sat courtside next to the daughters of men's coach Mark Pope and his wife Lee Anne, sliding into his chair with family — after the Jazz had dispatched Sacramento 110-101, that is.
And of course, Cosmo and the Cougarettes busted out another 🔥 routine.
Then to finish off the night, Pope took the mic — just like he did when he took over in 2019, when he had the student section visualize storming the court after a big win, a precursor to the Cougars' dramatic victory over top-ranked Gonzaga months later.
On Friday night, after he had pulled out his credit card and told the crowd to meet him at CHOM burger for dinner "on me," he had them do it again. A season with championship expectations — take that for whatever it is or is not supposed to mean in the Cougars' penultimate season in the West Coast Conference before joining the Big 12 — began with another practice court storming. The students were ready, too.
"We practice the same things every day. You guys came here tonight, and we practiced a lot," Pope said. "But there is one more thing we've got to practice. That's when we've won some of the biggest games in the history of the Marriott Center, so I am going to ask you to safely do this, but we have got to come out here and join together on this court."
Sitting on the front row of it all with his family, just right of the center stage that housed the BYU men's and women's basketball programs, was Collin Chandler, the 6-foot-4 four-star shooting guard from Farmington who took his third of four official recruiting visits Friday night to Provo.
In addition to BYU, Chandler has visited Oregon and Stanford, with Utah remaining in a week. The shooting guard who averaged 22.6 points, 5.0 rebounds and 2.8 assists per game a year ago for the Phoenix also had offers from Gonzaga and Arizona, among others.
Friday was one of many stops, but taking the visit with his parents and siblings in tow was a clear highlight for the Phoenix swing man.
"It's been busy," Chandler told KSL.com prior to Friday. "The recruiting process gets kind of highlighted now that it's coming to an end, when you can see the light at the end of the tunnel. It's a little more stressful — you start reading into things a little bit more, seeing what you're looking for and stuff."
Chandler has one final visit to Utah — one of the coaching staffs that first started recruiting him when Craig Smith and Co. were at Utah State — next week. That's one group that he wants to take his time — but he's been recruited the whole way, including when Marco Anthony led a half dozen Utes into the bleachers during one of Chandler's club games during the Great Western Classic in Lehi.
The group showed up late, marched down the sideline, and saddled into the bleachers, barely talking outside of their circle. They didn't say anything to Chandler, nor did the coaching staff — contact is limited between coaches and prospects by NCAA regulations, and coaches cannot speak publicly about recruits until they sign a national letter of intent.
But the Runnin' Utes definitely made their presence known.
"They make it known who they want," Chandler said. "They do a good job of making it known. I love their staff; they came to all my stuff in the summer, all the games, everything.
"Craig made it known that I was a priority from the start. He offered me right off the bat when he got the (Utah) job."
All four teams on Chandler's official visits list have "been with me since the beginning," he was quick to say after a return trip to Stanford's campus near Palo Alto, California, where arguably the most prestigious academic university of the bunch impressed him.
"Stanford is obviously amazing academically; they've got an amazing campus," he said. "I love the feeling there, and they have a world-class school and university."
Ditto for Oregon, the self-proclaimed Nike U. whose "beautiful campus" and "record of winning" has stood out to Chandler.
Then there's BYU — and in many ways for Chandler, the Cougars start with Pope and his staff.
"Pope's amazing. Their whole coaching staff, really, are awesome," he said. "They've all shown big interest in me and have made me a priority, which is a big thing in recruiting. They're amazing."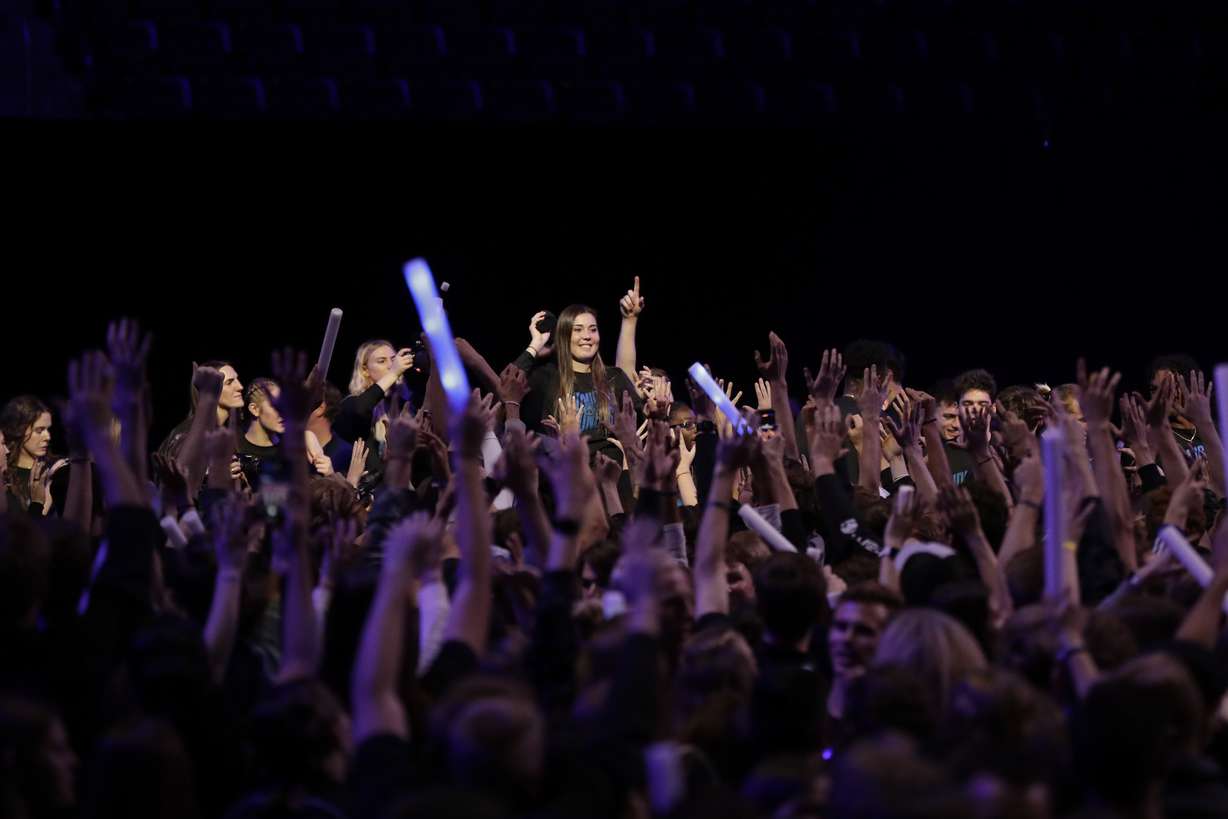 Chandler hasn't set a timetable or decision day for his commitment, but would prefer to do so in early November and sign during the early signing period Nov. 10.
But Chandler won't be enrolling early; he plans to serve a two-year mission for The Church of Jesus Christ of Latter-day Saints out of high school — and before that, he wants to lead the reigning 5A runner-up Phoenix to a big run in their first season in Class 6A.
"I think it's gonna be a big year," Chandler said. "We're playing with a big chip on our shoulders after making it through the semis and taking second last year. We've got one last step that we need to take; that's the ultimate goal for us, but we know it's a process.
"It's exciting, moving up to 6A. The competition every night will be awesome."
×
Photos
Related Stories