Estimated read time: 6-7 minutes
PROVO — The goal is always a championship.
If you don't want to win a title, then why play the game?
But for this year's BYU basketball team, such expectations may be warranted.
One year after the Cougars made the NCAA Tournament for the first time in five years, expectations are sky high for a program entering the third season under coach Mark Pope, just two years removed from beginning play in the Big 12.
The Cougars return eight players — including five with significant starters' minutes — from last year's team that went 20-7 with a 10-3 mark in West Coast Conference play. That team was a No. 6 seed in the NCAA Tournament in Indianapolis, albeit one that lost to eventual Final Four squad UCLA via first-round upset.
"It sucked losing; I mean, it hurt. It really did," said Caleb Lohner, BYU's top offensive rebounder a year ago who should be transitioning to a bigger role as a sophomore. "It was something I think a lot of guys on the team took very personally. But besides that, it was such a learning opportunity, to be one one of the biggest stages of basketball in a historic gym.
"And now I'm craving for more. Since we lost last year, there's so much room for improvement."
Among the returners are Alex Barcello, who led BYU with 16.1 points, 4.3 assists and 0.9 steals per game while shooting 47.7% from 3-point range — the 10th-best mark in the nation — en route to All-WCC first team and Associated Press All-America honorable mention honors.
So if not now for high expectations, then when?
"Especially with a fan base like BYU, fans have super high expectations and that goes down to coaches, to players, and to a belief with the team. I think we can feel that belief on the team," Baxter said. "The expectations are there. I think everybody on this team is used to having those high expectations put on them.
"Everybody's got that goal right now. The expectations are there to motivate us to meet super-high goals."
High goals are one thing, but championship?
Why not? Outside expectations are one thing, but no one has bigger expectations for this BYU basketball team than the players themselves — even just one day removed from the unofficial start to preseason with Friday's Midnight Madness fan event at the Marriott Center.
The Cougars were picked to finish second in the WCC, the only team not named Gonzaga to receive a first-place vote in the league currently dominated by the top-ranked Bulldogs.
And since coaches can't vote for their own team, it's pretty easy to assume that Gonzaga coach Mark Few selected BYU with his courtesy vote for all-conference selections.
The Cougars had a taste of success a year ago. They want more — and there's only one place to go from the second-place finish they had in the league in 2020-21, so "championship" is an appropriate-if-not-lofty goal for a program that hasn't won a title since leaving the Mountain West in 2011 (and hasn't won a conference tournament since 2001 in that same league).
Add to it the final year of eligibility for Barcello — not even a global pandemic could find a way to get another season for the emotional leader taking advantage of a fifth season of eligibility due to COVID-19 — and one can imagine why the senior guard said "championship" with a straight face and without hesitation when asked about his goals for the year.
"Nobody likes to lose," Barcello said "But we want to win championships. We want to bring a championship back to Provo. This school and this fanbase deserves it."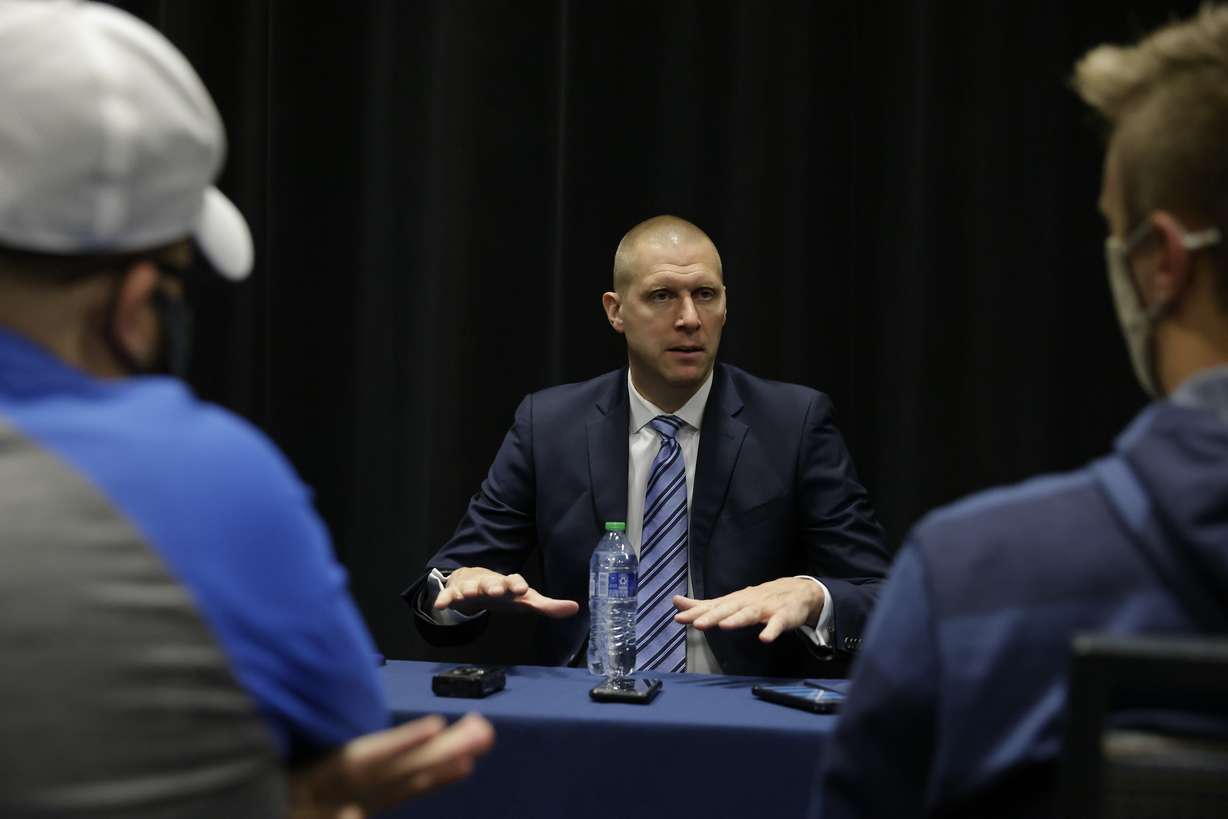 It's more than just a goal, too.
"We have different pieces, and I think every year you have to adjust to that. But I've been really happy with how hard we've been working hard in practice. It's always tough when transfers come in, learning the system, but I've been happy with the growth that we've all seen. Obviously, we have to do something differently. But as long as we stay together as a unit, I think we have the pieces to accomplish that."
Of course, to win a title one has to get past the small Jesuit school in Spokane, where Mark Few has built a veritable dynasty on the eastern border of Washington.
The top-ranked Zags, who went 31-1 last year that included a perfect 15-0 mark in WCC play and a winning streak into the national championship against Baylor, lost three All-Americans and two NBA first-round draft picks. But Few reloaded, led by the return of All-WCC first-team selections Drew Timme and Andrew Nembhard and the best recruiting class in program history that included the nation's top recruit in Chet Holmgren and former Wasatch Academy standout Nolan Hickman.
No one is calling an upset yet. But the Cougars believe they have the pieces to contend with such a team — or at least give them their best shot.
"Obviously, coach Few is a great coach with great players that come in every season and reload," Barcello said. "But we don't think that luck is going to be needed in our favor; we're a really good team, and people are going to need to respect us.
"I think it's about how hard we work, how well we mesh together, and how we work together as a unit when we do have losses and we face adversity. It's a long run, trying to make the tournament and then the tournament. It's a long season, but I do believe we have the pieces."
The Cougars have beaten Gonzaga before — though not all-too recently in Pope's tenure. But that's not saying it won't take a herculean effort to beat a team of that caliber.
Brick by brick, step by step, BYU can only try to get better every day.
But they aren't starting from scratch, either.
"We're knocking on the door," Pope said. "When you watch the trajectory of teams over a decade, and you see teams that are knocking on the door for two or three or four years in a row, you see that across the country. You saw that in the NBA, with the old-school Celtics and Lakers, and then the Pistons finally got in the way, and Chicago finally got in the way. I think that can still exist in college basketball — and these guys are knocking on the door.
"We're knocking on the door hard. We need to keep our national relevance, we need to finish the season in the AP top 25 again … It's a huge goal for us, and in the process, you just keep pounding on the door and trust that you're going to break through."
A top-25 finish would be the third consecutive season finishing with such a mark — and hard as it may be for Pope to believe, such a finish would be the first in BYU history.
One day at a time. One game at a time.
But with big goals.
"I think that's how you have the breakthrough," Pope said. "I think you try to get better every single day, and then keep knocking on the door until you get those moments when you finally break through. That's what we're thinking about."
×
Related Stories