Estimated read time: 7-8 minutes
PROVO — For more than the first month of the 2021 season, and even the first six years under head coach Kalani Sitake, BYU football hasn't always been able to count itself as the fastest, most athletic or most skilled team on the football field on any given Saturday.
There are recruiting limitations at the flagship school of The Church of Jesus Christ of Latter-day Saints, which is high academic standards and other extra stipulations placed on incoming students — football players included — that other schools don't have to manage. BYU head coach Kalani Sitake and his staff have handled those challenges as well as anyone in the country could, but they've also occasionally had to make some tradeoffs: speed for size, or blunt force for sheer athleticism, for example.
That's not to say the Cougars don't have fast players, or athletic players, or skilled players. But above all else, BYU has had physical players — a key cog in their 11-1 season in 2020 that ended with the No. 11 national ranking, and meteoric rise through 2021 that soared as high as No. 10 in the Associated Press Top 25 with a 5-0 start.
"Physicality, especially. We pride ourselves on that," BYU linebacker Payton Wilgar said.
After back-to-back losses to Boise State and Baylor — both unranked at the time, though the Bears (6-1) jumped to No. 20 in the AP Top 25 after Saturday's 38-24 win over the Cougars — the mythos of the BYU physicality has flittered away.
It's evaporated like the fourth-quarter rain that dried up in an instant during BYU's home opener over Utah in September. Gone, like the numerical markings of a Top 25 team that once fit beside the BYU moniker.
It's a mindset, a mentality; and for whatever reason, BYU hasn't had it for back-to-back games.
"The mindset has got to change," Wilgar said. "Everything has got to change, even off the field. Hopefully we can get everyone on the same page and get that done."
It's not just the lack of production from the running game, which offensive coordinator Aaron Roderick said was a conscious choice against Baylor after falling behind early. The Bears were tough up front, sure, but BYU's early deficit and a pass game that was work — even to a career-high 342 yards from Jaren Hall and 168 yards from Puka Nacua — made running the ball almost lower on the Cougars' list of priorities.
"We are a physical team; we've proven that in our five wins this year. I don't feel like we didn't play physical on offense in the two games we lost," Roderick said.
"The circumstances of the game required for us to throw it more. We didn't have the grace period of establishing the run, and figuring things out in the run game. The clock was bleeding away from us pretty quickly, and we couldn't just sit there and work through our run game. We had to throw."
Still, playing physical football is a priority, Roderick added. The run game will return; he's confident in it.
Injuries have certainly played their role in limiting the team's physical play, too — though no player or coach is using them as an excuse.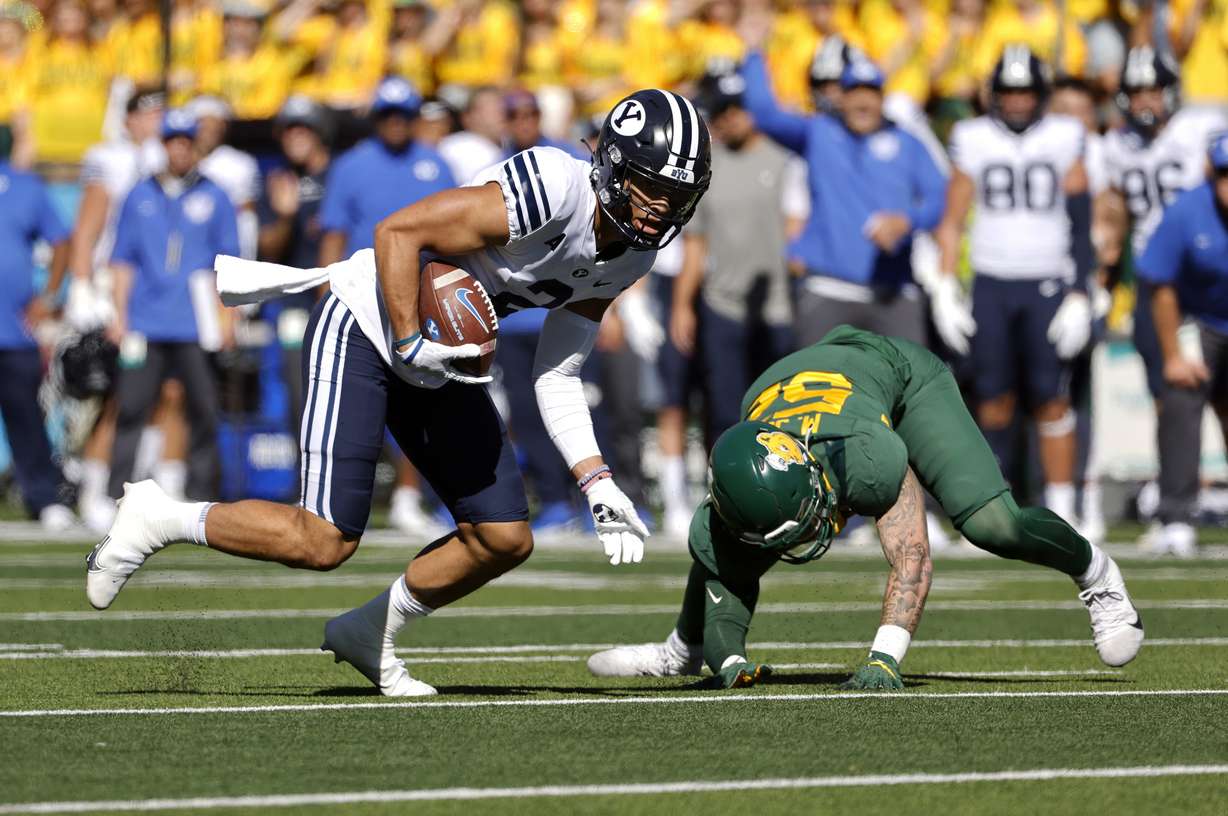 BYU (5-2) could really use a bye week, but won't get one until the week of Nov. 13, sandwiched between FCS Idaho State in the home finale and a trip to currently 2-4 Georgia Southern. What the Cougars are getting instead is a motivated Washington State squad playing without its head coach, looking to extend a three-game winning streak Saturday at home (1:30 p.m. MT, FS1).
BYU has been playing without its top tackler Keenan Pili, and though Ben Bywater has performed admirably — even more than such, with a team-high 58 tackles — in his stead, it's clearly taken a toll on the defense. Wilgar has had to move into the middle of the field on occasion, as he did against the Bears, and Chaz Ah You has once again been called up from safety to linebacker to fill the void, as well.
Sitake, like his players, refuses to use it as an excuse.
"There are guys who are banged up, playing through some injuries, or aren't 100%. That's the game of football," he said. "We're depending on depth, but it's time to grow up.
"We're not 100%, but neither is Washington State, and neither was Baylor."
When the Bears — led by a spirited effort and meticulous game plan by former BYU offensive coordinator Jeff Grimes — went with a larger lineup, even occasional 12-personnel sets straight focused on the run game, BYU had no response. Some of that can be attributed to injuries.
Other lapses in focus were more obvious and stinging, though, Sitake said: BYU wasn't good enough to stop them.
"Baylor decided they were going to go big, and shove the run down our throat. We didn't respond the right way," he said. "If Washington State decides to do that, we're going to have to figure out. If you can get a team to be more one-sided and more predictable, and can shut down the run by just being more physical, it's a huge advantage."
Defensive tackle Lorenzo Fauatatea didn't play for the second-straight game against Baylor, though he's expected to return this week. When Gabe Summers, Earl Tuioti-Mariner and Jacob Palu all went down against the Bears, the Cougars were throwing brand new freshmen into the game, a baptism by fire against the Cougars' soon-to-be Big 12 rivals from the Baptist university.
Fortunately, only Palu may have a long-term injury of the three, Sitake said. But physical play always starts in the trenches.
Harris LaChance and Joe Tukuafu are also expected to return after missing at least two games, though Sitake was hesitant to proclaim the two fit before he saw them in practice for several days.
Hybrid linebacker George Udo didn't finish the game against Baylor after an undisclosed injury, but Sitake said test results confirmed it wasn't a re-aggravation of his previously injured ACL from a year ago and that "it's not long term," even if it could keep him out against the Coogs.
"Good solid defense always starts with shutting down the opponent's running game, no matter how much the run game is the feature of the opponent's offensive style," assistant head coach and linebackers coach Ed Lamb said. "It all begins with being sound up front, and taking care of the run game."
So rather than a bye week, Wilgar offered up a few tips from Sitake and the other coaches to help the Cougars recover, ones that Bywater also stated nearly verbatim a day later: be dialed in, get eight hours of sleep, get your meals in with proper nutrition and calories, and lift weights according.
"If you do that stuff consistently and you are dedicated to that," Bywater said, "you can make it without a bye week."
BYU won't go back and find ways they displayed and flexed their physical presence from the first five games of the season — that's in the past, and they need to adapt, like their opponents have.
What they can do, though, is focus on the run.
"I could list many things that would encourage our guys to play more physical," Lamb said. "One is to get more people at the point of attack, and obviously there are tradeoffs and risks and rewards — anyone that plays video-game football understands that.
"I think there are always underutilized players on the bench that should play bigger roles. We have to keep an eye on that. I think as coaches, we have to make sure … that we don't forget that the technical part of the game is still the basic fundamentals of block shed and tackling well. We have to reward the guys who are doing it well."
×
Related Stories