Estimated read time: 6-7 minutes
PROVO — Baylor knew it had to take away something from BYU's offense, and the most likely candidate was the run game.
The Cougars were one of the top teams in college football at pushing the rock, led by a top 10 rusher in Tyler Allgeier and an offensive line that paved the way to well over 200 rushing yards per game, and closer to 300 on most occasions.
The strength of BYU's offense was on the ground. And Baylor attacked it head on, loading up the tackle box and limiting the Cougars to just 2.8 yards per carry, a pedestrian 67 net yards of rushing offense that included a 56-yard scramble for a touchdown from quarterback Jaren Hall.
Baylor soundly defeated BYU 38-24 Saturday afternoon in the future Big 12 rivals' first meeting in Waco since 1983. But in doing so, the Bears (6-1) knew they had to take away one piece of the game and leave the Cougars' offense one-dimensional.
In so doing, someone had to step up. That someone was wide receiver Puka Nacua.
The Washington transfer from Orem High had a star-aligning breakout game, catching five passes for a career-best 168 yards and a touchdown, including a 52 yarder in the game's final quarter to help make the Cougars' offense look — at the very least — middle respectable.
Nacua was ready when his number was called, and — when combined with the steady playmaking abilities of Neil Pau'u and Gunner Romney — could provide another vital weapon for a BYU team now reeling with back-to-back defeats for the first time since the end of the 2019 season and looking to clinch a sixth win, and bowl eligibility, Saturday at Washington State (1:30 p.m. MT, FS1).
"We knew they were going to put guys in the box, and see one-on-one matchups," Nacua recalled. "They were giving us the looks that we wanted.
"I just tried to do the best that I can when the ball came my way. I love these guys."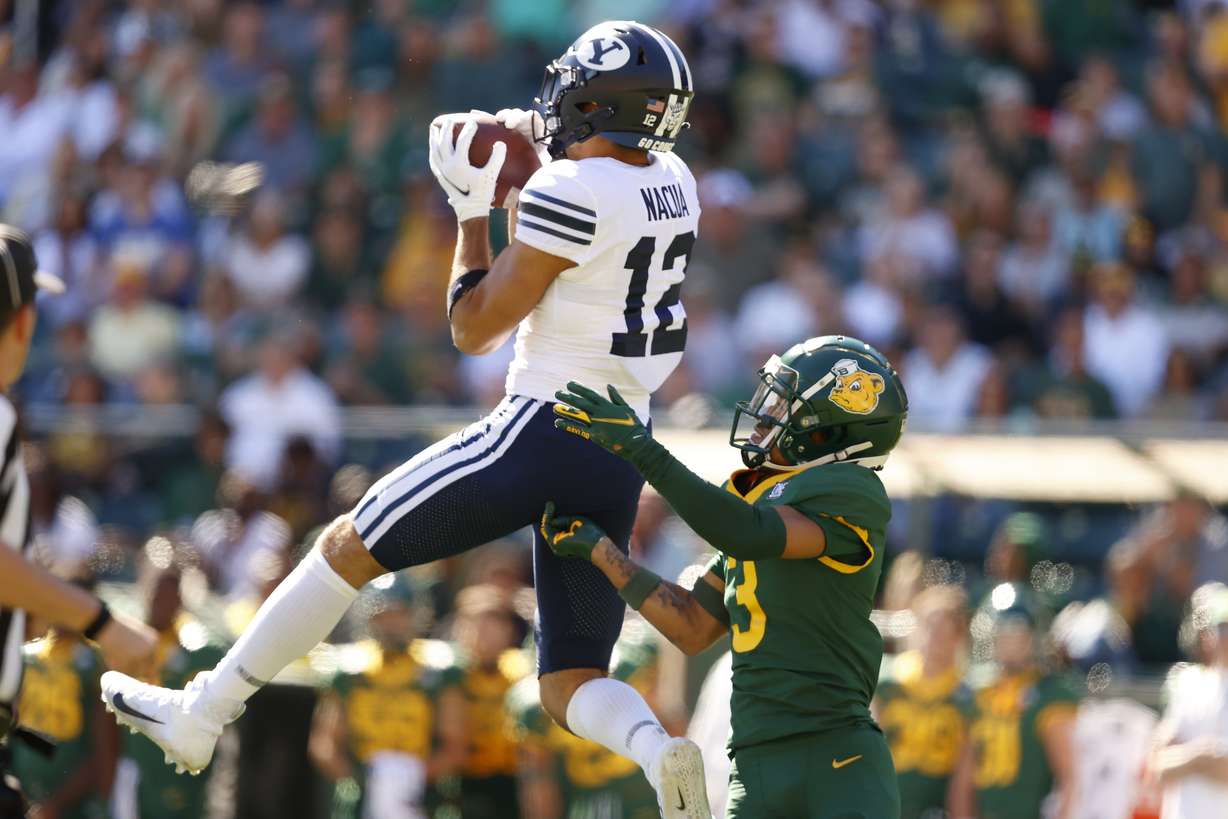 Of course, even Nacua knows he wasn't perfect. Of the Cougars' four plays of at least 45 yards, three of them went to Nacua — and none of them went for touchdowns, as much as he would've preferred with such a deep ball.
"When we take long shots, you want to come down with touchdowns, so I feel like I could've made some guys miss better," Nacua said. "But we were able to get those deep passes, and I was able to take advantage. When Jaren threw me the ball, I wanted to take advantage of it.
"There's definitely room for improvement. There are definitely a lot of things to clean up."
BYU (5-2) got a polite-but-rude introduction to Big 12 football Saturday afternoon with a masterclass in the high-scoring, sometimes pinball-like numbers put up by schools across the conference. It has caused many national observers to refer to the Big 12 as the "No Defense League" — though that can be debated with teams like Iowa State, which ranks No. 3 in total defense, and Oklahoma State, which ranks 19th.
A former Power Five signee, Nacua showed he belongs in that group of Power Five ranks, though. The 6-foot-2, 210-pound sophomore who grew up a short walk from BYU campus in Provo may not always be as open as he was Saturday against the Bears, but showed he deserves coverage among the remainder of scouting reports that still dot the Cougars' schedule.
The more he's covered, the less pressure should be applied to Allgeier and the run game, and vice versa.
"He's just a physical presence out there in all areas," BYU offensive coordinator Aaron Roderick said Monday morning of Nacua during his Coordinators' Corner show. "He can block any player on the field. You throw him the ball down the field, he's so physical and can box out and use his body to make the catch. He's a complete player."
Baylor is the 36th best defense in college football, allowing 5.02 yards per play for 333.3 yards per game, while bending to only 18.71 points per game — a top 16 mark.
The Bears did all that Saturday by limiting the Cougars' biggest strength — the running game — and leaving Hall limited to eight run plays, including five sacks.
"Anybody we had out there, we were ready to throw the ball," Hall said. "All week on film, we knew they'd be ready."
Given the opportunity, Nacua was ready. BYU needed a big-play receiver — perhaps preferably somebody other than Romney, Pau'u or tight end Isaac Rex, who have come up clutch for the past two years in a BYU uniform.
And they got it in Nacua, who scored his first receiving touchdown in a BYU uniform on a 16-yard strike from Hall with 1:51 left to pull the Cougars within the final margin of 14. Always the emotional leader on the BYU team since transferring alongside his brother, Utah's former leading touchdown receiver Samson Nacua, Puka heard his name called and was off and running.
It didn't lead to victory in Waco on Saturday. Too many other things went wrong — the aforementioned ground game, five sacks, and a 10-minute deficit in time of possession as former BYU offensive coordinator Jeff Grimes ate up large swaths of clock with a Baylor offense that mirrored BYU's scheme through the breakout 2020 season.
Abram Smith and Trestan Ebner combined for 283 yards and three touchdowns, and former linebacker Dillon Dooyle had a touchdown rushing and receiving from previously interception-free quarterback Gerry Bohanon. It was as thorough of a licking in the trenches as BYU has taken in two seasons — perhaps more.
"We really like our weapons within our skill positions, all of our receivers and our tight ends," BYU coach Kalani Sitake said. "I just don't know if we gave our offense enough plays. We got sacked too many times, and give them credit because they made the plays on us — but we put ourselves in a bad spot."
BYU also revealed a new weapon in the Cougars' air assault, one that produced eight plays of 15 yards or more and four of at least 45 yards. If the Cougars can offer more production like that, the best could be yet to come for Nacua.
"He's really proven to be a great playmaker down the field," Roderick said. "We found some things out about ourselves.
"We lost two games in a row, and we're all disappointed in that. But we found some real positives … that I think we can build on these next few weeks. Puka is a big part of that."
Injury update
Roderick said he's "hopeful" that offensive linemen Harris LaChance and Joe Tukuafu can return to BYU's lineup this weekend in Pullman after sitting for two or more weeks with injuries. The first-year offensive coordinator added he'll know more by the end of Monday, but Sitake confirmed at least a hopeful glance of a prompt return.
"I know there's a chance they'll play, so that's good," Sitake said. "But we have to see what they look like in practice, too. We want them back. They're two starters for us. But we have to see."
Three defensive linemen also went down against Baylor, leading to the emergence of several freshmen like John Nelson along the front. But Sitake said only one — former Timpview standout Jacob Palu — has a chance at a long-term injury. Even that is still awaiting some tests, though.
And while Sitake doesn't talk much about injuries that aren't season ending, he did confirm that George Udo did not re-injure the ACL that caused him to miss large chunks of last season.
"We're looking at a different injury," Sitake said. "He might be out for this week, but we don't think it's going to be long term, either."
×
Photos
Related Stories