Estimated read time: 3-4 minutes
SALT LAKE CITY — Salt Lake City police officer Nephi Pierce was shot and killed in the line of duty nearly a century ago.
Tragically, his wife took her own life three months after his death. The couple had no children and today there are no known descendants of Pierce.
"That's why we are here, because we will never forget him," Salt Lake City Police Chief Mike Brown said Thursday as he unveiled a bronze plaque honoring Pierce.
As part of the Salt Lake City Police History Project — the department's continuing effort to preserve its history and commemorate officers who have made the ultimate sacrifice — the city unveiled its latest fallen officer plaque on Thursday.
For the past 10 years, the department has erected bronze plaques in honor of officers killed in the line of duty, placing the memorials near the sites where the officers were killed. The first was placed on the side of the Judge Building, at Broadway and Main Street in 2011.
Each plaque contains a short summary about the officer killed. Brown said the memorials are an important reminder for all citizens and for those who are currently police officers of the history of the department.
"When I was in high school, history was not my thing. But when I became a police officer, history became everything to me. And the rich history of this police department is unmatched," said Brown, who noted that he encourages new recruits to walk around the city and read the plaques.
"We have a commitment to these officers who gave their lives, and that commitment is that we will never forget them," he said.
On Nov. 27, 1922, Pierce was on foot patrol in the area of 525 S. Main Street, near where the current Salt Lake County District Attorney's Office stands. Pierce and another officer confronted two men suspected in a recent robbery when one of the men pulled out a gun and shot Pierce. The other officer was pistol-whipped and pretended to be dead until the suspect left. He survived the attack.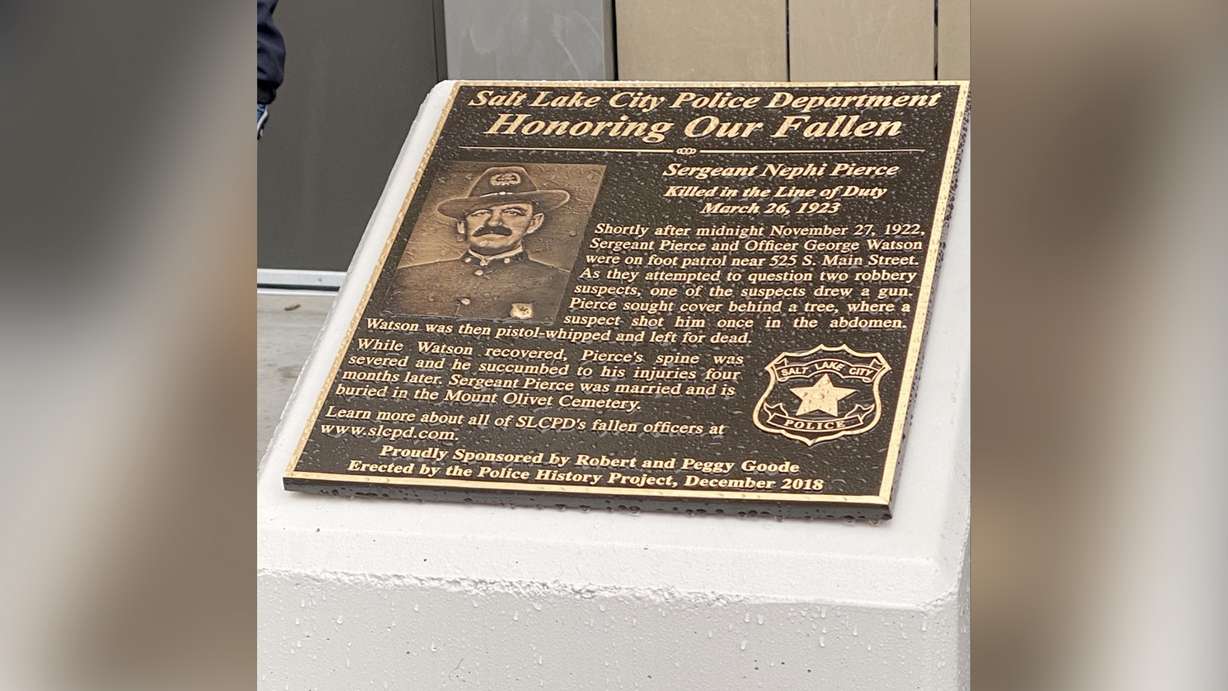 Pierce, whose spine was severed in the shooting, succumbed to his injuries on March 26, 1923. He and his wife, Marie Pierce, are buried next to each other at the Mount Olivet Cemetery, 1342 E. 500 South.
Since the Salt Lake City Police Department was established in 1851, 25 officers have lost their lives in the line of duty. The department's annual memorial to honor those officers was also held on Thursday. The ceremony is traditionally held in May but was delayed this year due to Covid-19 precautions.
Salt Lake County District Attorney Sim Gill, who studied history in school, said it was important that Pierce's plaque wasn't attached to his building. Rather, it was given its own cement pedestal next to the sidewalk along 500 South near the corner of Main Street. That way, it catches the attention of those walking by who will take time to read it.
Gill said there is a lot that the men and women of the police department do every day that goes unnoticed.
"But when that ultimate sacrifice is done, I think we owe it, as the living and as the future, to recognize it," he said.
Gill acknowledged the hard work and sacrifices of all officers while speaking before a group of Salt Lake City police administrators and officers at Thursday's ceremony.
"I know that we have been through some really trying times. But the art and the professionalism, the sacrifice and the dedication to go out there, by our law enforcement, to do good in our community … is unmatched," he said.
×
Photos
Related Stories