Estimated read time: 4-5 minutes
SALT LAKE CITY — A Utah legislator is proposing a goal to reduce Utah's emissions by 50% before the year 2030 by addressing pollution from cars, buildings and point sources like factories or power plants.
Senate Majority Assistant Kirk Cullimore, R-Sandy, said that air quality is the No. 1 issue his constituents reach out to him about and is consistently the top issue in surveys he sends to them. Because the issue is important to him and his constituents, Cullimore is introducing a legislative framework he is calling "Prosperity 2030" to help alter Utah's reputation when it comes to air quality.
"Some of these proposals will probably be some of the most ambitious ever introduced in Utah, but it will put our state in the forefront of addressing air quality and taking actions," Cullimore said.
Cullimore shared health and economic data from Isabella Errigo, a BYU graduate student, which shows that the average Utahn loses two years of their life expectancy because of air quality, and about 25% of Utahns lose more than 5 years. Additionally, Cullimore cited a University of Utah study which determined that there is a 16% increase in miscarriages after a short period of poor air quality.
"No family should ever lose a baby because our air is too dirty," Cullimore said.
The proposed legislation includes a fund to help people afford clean vehicles, a tiered car registration system, the creation of new building standards, programs to improve existing buildings, incentives for energy efficiency, a simplified permitting system for industrial polluters, and a fund to pay for medical expenses caused by pollution.
Cullimore said that in the past there have been good ideas for addressing this issue, but that the Legislature has not had the funding to be able to implement the solutions. He said having clear goals this year is particularly important because there is a likelihood that there will be federal funds that will be allowed to be used to address air quality.
"Ultimately, it's up to us as Utahns to address our own dirty air, for too long we've relied on federal programs and efforts to make this progress, but it's just not happening fast enough," Cullimore said. "Now is the time for us to take control of our own destiny as it relates to air quality."
The approach presented by Cullimore involves incentivizing the free market solutions, which he said is addressing the issue "the Utah way."
Errigo's study also showed that investing in the environment will lead to economic growth, contradicting the idea that investing in the environment harms the economy. She said that right now the state needs to take aggressive action, like the Prosperity 2030 proposal, in order to see any change.
---
"What we see when people enact change to reduce air pollution, it's relatively rapid. ... We see results very quickly, especially compared to other environmental movements."
–Isabella Errigo, BYU graduate student
---
Right now poor air quality, according to Errigo, is costing the state over $2 billion each year in lost opportunity costs and health costs and spending a fraction of that money to address it; however, she said each dollar spent on the air quality will lead to $32 of economic growth.
"What we see when people enact change to reduce air pollution, it's relatively rapid. ... We see results very quickly, especially compared to other environmental movements," Errigo said.
Bryson Garbett, CEO of Garbett Homes, said that buildings and homes are on track to become the No. 1 pollution source in Utah, but that he has seen that there is technology available to alter this trend. He said the legislation presented by Cullimore gives people in the industry time to adjust but also takes bold action to address the issue.
"Clean homes will actually save homeowners money, in the long run, and it will make our communities healthier," Garbett said.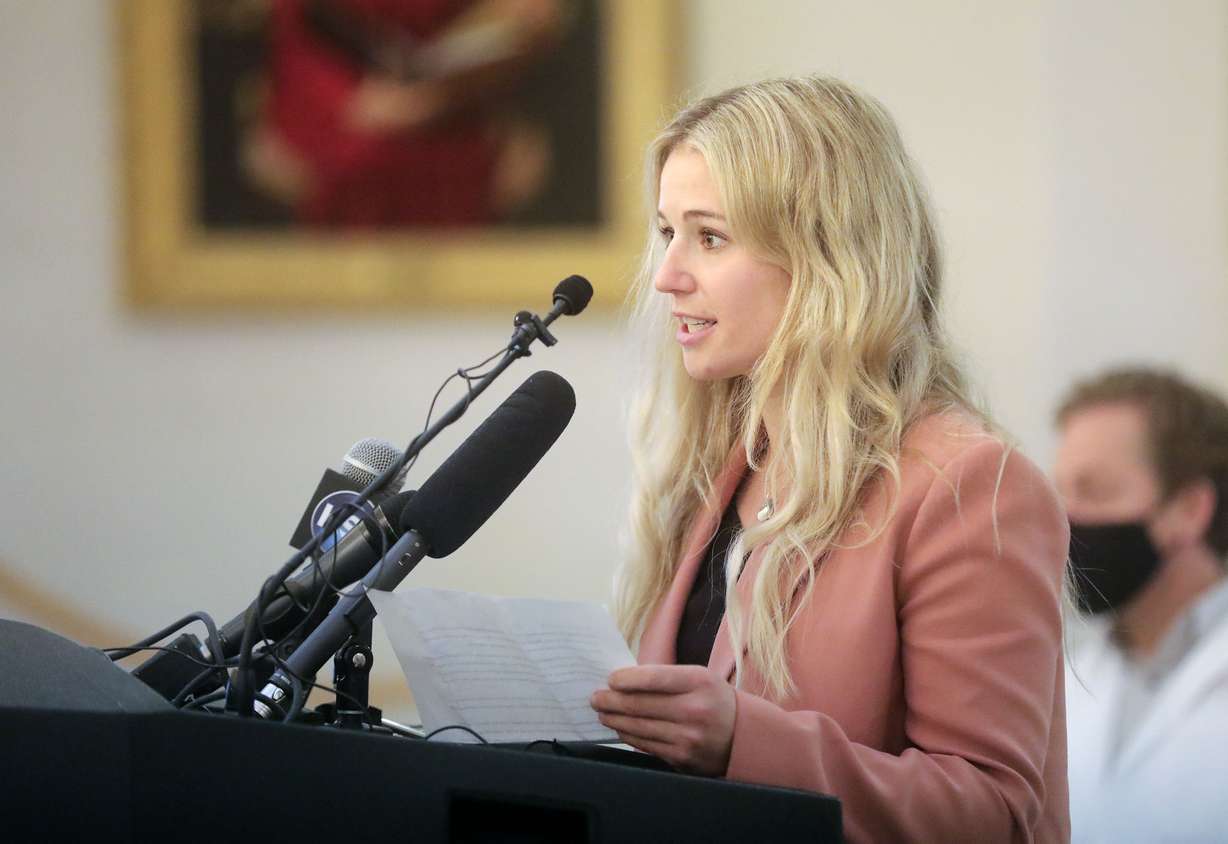 Professional skier Caroline Gleich said these steps to address Utah's air quality should have happened 10 years ago. She said improving air quality is important for the outdoor recreation industry and for health, including mental health. Gleich said that being outdoors helps her and others with mental health issues.
"We must take action to improve Utah's air quality for a vibrant thriving outdoor industry, and for the health and well-being of future generations. For too long Utah's politicians have ignored the health crisis from bad air days, I'm hoping that's going to start to change now. It's time to take action," Gleich said.
Cullimore said he is not optimistic that the whole Prosperity 2030 package he is introducing will be passed by the Utah Legislature because bills are often altered in the process of passing legislation. But he said that even enough to create a 25-30% reduction in emissions would make a huge difference.
×
Photos
Related stories
Most recent Politics stories