Estimated read time: 7-8 minutes
SALT LAKE CITY — It took until the penultimate week of the regular season, but the top of the rankings finally got a shake up.
Lone Peak's 41-16 win over top-ranked Corner Canyon sent shockwaves across the Wasatch Front, not only because it was the Chargers' first loss of the year but also because it ended a state-record-tying winning streak at 48 games.
Duchesne, your record is safe — for now.
So who should be the new No. 1 in the KSL.com Top 20+1? That's the question we've struggled with all weekend?
Should it be Lone Peak, after the Knights pulled off the biggest upset in nearly four years, dethroning a local power (at least temporarily) on their home turf?
What about Skyridge, the previously ranked No. 2 team in the state? The Falcons (8-1, 3-1 Region 4) are only a week removed from a win over Lone Peak, after all. But they also lost 38-23 to Corner Canyon in a game where the closest part of the second half was the margin of victory.
Or maybe Corner Canyon should stay No. 1. Every team deserves a mulligan, after all, and the Chargers have proven across 48 consecutive wins and three state titles in two different classifications to be the team to beat. They still are, with the No. 1 spot in the Deseret News' latest 6A RPI projections — though by the slimmest of margins over Lone Peak.
In the end, one team is going to be No. 1 — and one team is going to feel slighted because they beat the No. 1 team. Somebody has to stand atop the rankings — there are no ties at the top in the Top 20+1.
So here's where we landed after a seismic Week 9.
1. Lone Peak (5-2, 3-1 Region 4)
The Knights have the most impressive win on their resume, not only beating Corner Canyon but traveling to Draper to hand Thursday's senior night class its first loss of their high school career. Corner Canyon has questions, especially on the line of scrimmage after giving up 141 yards and two touchdowns to Lone Peak tailback Jaxson Willits.
Lone Peak's only in-state loss is to Skyridge, but the Knights held the Falcons to 7 offensive points in a 14-9 road defeat that was decided on Dalton Young's 22-yard pick six. Skyridge fully deserved the win that night, but Lone Peak deserves the No. 1 ranking — at least until Wednesday's regular-season home finale against Westlake.
2. Skyridge (8-1, 3-1 Region 4)
The Falcons stay at No. 2 after a win over teams outside the Big Four in Region 4, when they were able to watch the conclusion of Lone Peak's historic win on the KMYU broadcast after dispatching Region 4 foe Pleasant Grove. Skyridge has been winning games with defense — dating back to a 7-point win over 5A contender Timpview on Sept. 10, holding Westlake to a late safety a week later, and shutting out the Vikings 31-0 most recently.
Because of that, they also have the most to prove in the final week of the regular season. No. 4 American Fork hosts Skyridge in a potential statement game — for both sides — Wednesday night.
3. Corner Canyon (8-1, 3-1 Region 4)
Yes, the Chargers' lone loss since Nov. 9, 2017, drops them two spots in the rankings, but by the slimmest of margins. Corner Canyon was out-classed in the trenches, held to 14 yards on the ground, and kept to 6 points in the second half.
USC commit Devin Brown's 388 passing yards for two touchdowns (with an interception) and BYU commit Cody Hagen's 167-yard game could only do so much. The Chargers have questions to answer, but the beauty of the game is that they still can. A fourth consecutive state title is still within reach — just maybe with a little more drama than was once originally thought.
And those answers start Wednesday at Pleasant Grove (sorry, Vikings).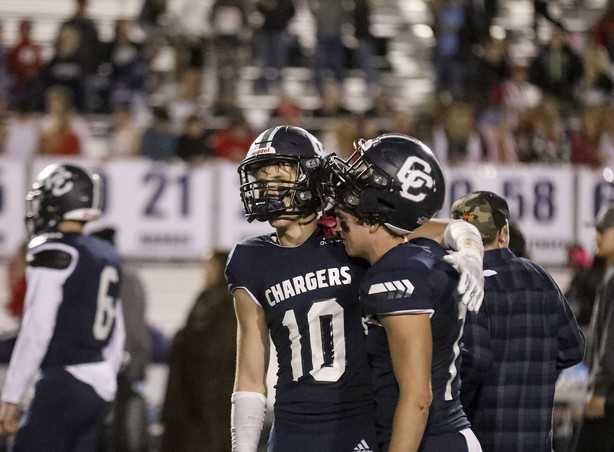 4. American Fork (6-2, 2-2 Region 4)
The Cavemen's 41-0 win at Westlake did nothing to show they don't belong in the top four, but previous results also keep them outside of the top three.
Wednesday's finale against Skyridge is just as big for American Fork as it is the Falcons.
5. Timpview (7-2, 3-0 Region 8)
The best team in 5A got better with a 28-14 win over Lehi that stretched its winning streak to four games. Liu Aumavae threw two touchdown passes to BYU target Tei Nacua and ran for another for the Thunderbirds, who finish the regular season Wednesday at Jordan.
6. Bingham (6-3, 4-0 Region 3)
The Miners were challenged to win a Region 3 title, and held off an onslaught from Mountain Ridge and West Jordan like Fury-Wilder 3.
But Riverton (6-3, 3-1 Region 3) has quietly won three in a row and can make things interesting Thursday night in the Silverwolves' home finale.
7. Ridgeline (9-0, 5-0 Region 11)
Still undefeated and still the top team in 4A after a 49-7 win at Logan. Next.
(Meaning, the regular-season home finale Wednesday against Box Elder).
8. Weber (7-2, 5-0 Region 1)
After an 0-2 start to the season, the Warriors set out to win a region title and did that with a 35-9 win over Davis.
Aisea Moa's commitment to BYU wasn't the only big news out of the program this weekend. Senior night will be a celebration Wednesday against rival Fremont.
9. West (6-1, 5-0 Region 2)
The Panthers fended off a late, goofy rally from Kearns to claim their fifth win in a row and can finish unbeaten in Region 2 with Wednesday's home finale against Granger.
10. Springville (8-1, 4-1 Region 9)
The Red Devils wrapped up a share of the Region 9 title with a 28-7 win over Salem Hills, and they also share next-best challenger to Timpview honors in 5A through the bye week.
11. Brighton (7-2, 4-1 Region 6)
The Bengals are tied atop the region with a suddenly resurgent Skyline but can put a lot of speculation to bed with a win Wednesday at region-winless Murray.
12. Farmington (6-3, 4-1 Region 1)
A new challenger has emerged in Region 1, rising from the ashes with a five-game winning streak after a 21-7 win at Fremont.
The Phoenix are 3 points away from being unbeaten in region play and can cement their stamp on their first season in 6A with a home win Wednesday over Syracuse.
13. Mountain Ridge (7-2, 2-2 Region 3)
It's been a rough few weeks for the Sentinels, who learned how far they've come in only three years with a six-game winning streak and an overtime victory over West Jordan, mixed with loss to Bingham and a 24-21 loss to Riverton last week.
Mountain Ridge can prove itself again in Thursday night's regular-season finale at rival Herriman.
14. Lehi (6-3, 2-1 Region 8)
The Pioneers close the regular season with their two toughest games of region play, having already lost 28-14 at Timpview. What will Wednesday night's road clash with Orem look like after the Tigers' bye week?
15. Desert Hills (8-1, 5-0 Region 10)
The Thunder outlasted Cedar 34-33 to roll to their fifth consecutive win. But a challenge from preseason Region 10 favorite Pine View, led by Virginia commits Dominique and Marcus McKenzie, looms in the regular-season finale.
16. West Jordan (6-2, 2-2 Region 3)
Bingham handed the Jaguars their second-straight loss 42-0. But West Jordan can rebound Wednesday at Copper Hills to start the playoffs with momentum.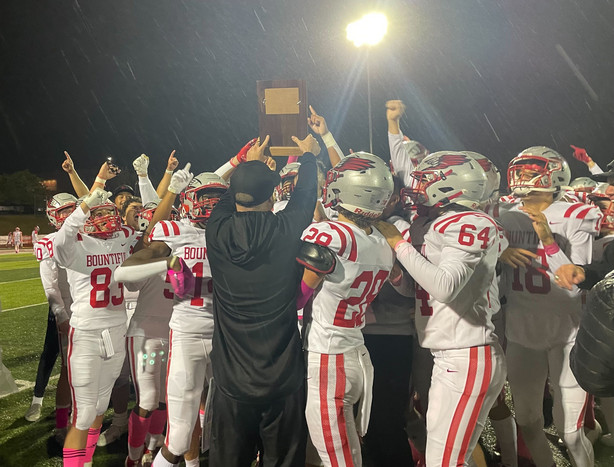 17. Bountiful (6-2, 5-0 Region 5)
These aren't your grandparents' Braves; actually, they aren't the Braves at all, any more.
The Redhawks picked up their fifth consecutive win Friday, blasting Northridge 59-14 to clinch their first region title since 2012 to open a new era on Orchard Drive. They'll close the season with a non-region game Wednesday at Sky View.
18. Stansbury (7-2, 6-0 Region 7)
The Stallions beat up on Payson 41-16 to set up a region championship match Wednesday against Timpanogos. Stansbury still has a loss to give over the Timberwolves (8-1, 5-1 Region 7), who can make things interesting in their best season in a generation of high schoolers.
19. Riverton (6-3, 3-1 Region 3)
The Silverwolves can force a tie in the Region 3 standings with a win over Bingham. Tough task, for sure, but so was winning three-straight to set up Thursday night's home tilt.
20. Alta (5-4, 2-2 Region 8)
The Hawks fell behind Lehi with a loss, but rebounded in their regular-season finale to put up a 50-burger in a 58-24 win at Jordan.
---
Plus-1. Juab (8-1, 4-0 3A South)
The top 3A team in the projected RPI ratings are the defending champs from Nephi after the Wasps' collected their sixth-straight win with a 44-6 win over Carbon. Juab has only allowed more than two touchdowns once during that span, after skating by Richfield 28-27, and can put a bow on a 3A South championship with a win over Manti (3-5, 2-2) on Wednesday.
×
Related Stories