Estimated read time: 7-8 minutes
PROVO — Morgan Pyper wants to be clear about one thing: He was never a Boise State fan.
But growing up in Idaho Falls, the son of Darla and Lon Pyper could never escape the Broncos, especially as he watched them bust BCS bowls and break through from quiet former junior college program to a big-time college football brand over his lifetime.
Everywhere Boise State went, the state of Idaho followed. And as a proud son of Idaho, the 2015 Eastern Idaho Player of the Year at Hillcrest High followed them.
Except, of course, when it came to one game.
"I grew up always supporting BYU, but I grew up around a lot of Boise State fans," Pyper said.
"I have lots of friends back home who root for Boise State, and it will be good to pull out a win against them.
"It's something I've always dreamed about since I was a little kid, to play against Boise State."
Pyper will get to live out that dream when the sophomore defensive back runs out Saturday afternoon against the Broncos, leading the No. 10 team in the country in its attempt to defend LaVell Edwards Stadium (1:30 p.m. MT, ABC) in what has become one of the top regional rivalries the Cougars face on a near-annual basis.
BYU and Boise State has been something akin to a rivalry since the two teams started playing each other 18 years ago. But for many of the good people of the Gem State — at the very least, many of the nearly 500,000 members of The Church of Jesus Christ of Latter-day Saints in Idaho, it's always been one of the biggest games on the schedule.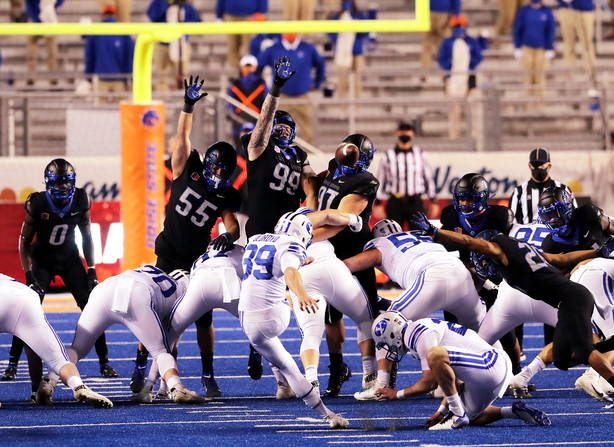 BYU has already dispatched in-state rivals Utah and Utah State, claiming the Beehive Boot for the first time since 2009 and opening 5-0 in back-to-back seasons for the first time in program history.
But as the Cougars catch the attention of the national media — a potential spot in the New Year's Six slate of bowls, or even a potential dark horse College Football Playoff candidacy has been debated following BYU's 34-20 win last Friday night in Logan — their sole focus has turned to the other tilt with the team located just 380 miles away.
BYU would love nothing more than to go 3-0 in its "rivalry games," a three-headed rivalry monster that head coach Kalani Sitake has emphasized since taking over a little more than five years ago.
None of that changes with a Broncos squad led by quarterback Hank Bachmeier, running back George Holani and electric wide receiver Khalil Shakir.
"This is a rivalry game for us, something that we're very familiar with," Sitake said. "Bachmeier is a really good quarterback, efficient, and he knows how to spread the ball out. He has great targets to throw to, and he's also athletic; he can run.
"They have a core of guys who can run the ball and are going to get carries. I think they have one of the most dynamic receivers in college football; Shakur is a really good player."
A glance at the box score may confuse a lot of non-Boise State supporters this year. The Broncos are 2-3 through five games in 2021, but haven't lost consecutive games since the final two contests of 2016 — a 27-20 loss to Air Force on Nov. 25 in the regular-season finale before a 31-12 loss at Baylor in the Cactus Bowl a month later.
Boise State's three losses are by a combined 16 points, including last week's 41-31 home defeat to Nevada that boasts likely NFL draft pick Carson Strong at quarterback. Boise State also lost 21-20 to Oklahoma State in a game marred by poor officiating.
During one play with just over three minutes remaining, Riley Wimpey forced a fumble from former East High running back Jaylen Warren, and J.L. Skinner scooped it up and returned it 41 yards for an apparent touchdown — not realizing the refs had previously blown the play dead after calling Warren down.
After a review, the officials overturned the fumble — but not the touchdown — and Boise State was awarded possession but no score.
With that context, it makes sense for the Broncos to be "a lot better than their record," as BYU offensive coordinator Aaron Roderick said in citing the cliche earlier this week.
"Everybody is surprised by what their record is, but you look at who they played, losing a close game to Central Florida, a very good Oklahoma State football team, and then Nevada — they've had a couple of tough losses," Roderick said. "They're very well coached, they're still the same Boise guys. They are tough guys who do everything right. I think the ball just hasn't bounced their way a couple of times this season. They've got our full respect, and full attention."
The Broncos are 7-4 all-time against BYU in a series that only dates back to 2003, but the last six meetings have been split at three wins each, including the Cougars' 3-2 record under Sitake. That includes last year's 51-17 win in Boise, the Cougars' first-ever win on the blue turf and one that dropped the then-No. 21 Broncos from the Associated Press Top 25.
Boise State would love nothing more than to return the favor to No. 10 BYU in a series that has become one of the best in the western United States since 2015, with an average margin of victory of 7.4 points before last year's rout.
Boise State holds the all-time average advantage, 27.2 points to 25.1.
"There have been unbelievable games, and a lot that have come down to the last minute," Boise State first-year coach Andy Avalos told the Idaho Statesman. "It's been an unbelievable series, and not just since we've been playing every year. It goes back to the early 2000s where it's been that way."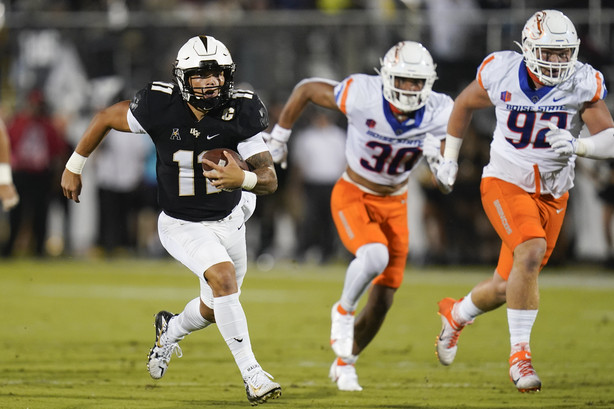 But if rivalries aren't forged until both teams win on the opponents' home soil, then 2020 became the birthplace of the Battle of Blue (or whatever else one refers to a yet-unnamed series).
Prior to Zach Wilson's 360-yard, three-touchdown game where BYU led by as much as 45-3 in the fourth quarter, the only road wins were in the Broncos' favor: 2003 and 2017.
"Always this game is a big game, for both parties, regardless of where it's at, who's the ranked opponent, whatever," said BYU linebacker Max Tooley, a Bountiful High product. "We beat them when they were ranked a couple of years ago, too.
"That's the cool thing about rivalry games. Anything can happen — it can be like last year, and it can be like two years ago. That's the cool thing about football."
But there's also the local element. Pyper is one of three players from Idaho on BYU's roster; fellow safety Hayden Livingston and long snapper Austin Riggs are the others, and scout-team quarterback Cade Fennegan originally played at Boise State. Meanwhile, the Broncos count two Utah-born prospects in former Davis High kicker/punter Will Ferrin and Timpview defensive tackle Jackson Cravens.
Each are a group of players who grew up in the shadow of the other team, but now find themselves pulling against them. That's a chip on each shoulder that is bigger than the one owned by most players of two of the Group of Five's top brands for nearly three decades.
The future of the series is up in the air, too. Saturday's meeting is the 10th game of a 12-year contract through 2023 between BYU and Boise State, with the Cougars and Broncos scheduled to begin a new 10-year home-and-home agreement following a one-year hiatus in 2024.
But that could be thrown up in the air with BYU's forthcoming move to the Big 12 — a conference that reportedly has also eyed the Broncos for future expansion.
Administrators from both sides have said they want the series to continue. How that will happen is anyone's guess.
At the very least, we know where BYU players and coaches stand.
"If I could play Boise State every year, I absolutely would," Pyper said. "Because it's fun, and it's always a quality game with two quality teams going at it."
And for Pyper — along with thousands of other BYU fans in Idaho — it's personal.
"If Boise State was playing in a bowl game, I'd root for them; I love for Idaho to get some recognition, because I'm an Idaho boy," Pyper said. "But I've always bled BYU blue. I rooted for them when they weren't going against BYU.
"Right now, I'm excited to get out there this weekend and rep the Y."
How to watch, stream, listen
No. 10 BYU (5-0) vs. Boise State (2-3)
Venue: LaVell Edwards Stadium, Provo
Kickoff: 1:30 p.m. MT
TV: ABC (Dave Pasch, Dusty Dvoracek, Tom Luginbill)
Streaming: WatchESPN
Radio: BYU Radio Sirius XM 143, KSL 1160 AM/102.7 FM (Greg Wrubell, Riley Nelson, Mitchell Juergens)
Series: Boise State leads, 7-4
Last meeting: BYU, 51-17 in Boise
Long-term series: Saturday's game is the 10th in a 12-year series that began in 2012 and will end in 2023. The two schools announced a series extension last year, and are contracted to resume a 10-year home-and-home agreement after a one-year hiatus in 2024.
Just a number: Boise State is 15-21 all-time against ranked opponents, but has lost each of its last four games against a team in the AP top 25. The Broncos are 5-3 all-time against the top 10, including last year's loss to then-No. 9 BYU at home that ended a four-game winning streak over top-10 teams.
×
Related Stories