Estimated read time: 2-3 minutes
OREM — Moo-ve over phragmites.
State wildlife biologists are again turning to a unique tool in their fight against the pesky plant creating issues across Utah Lake: cows.
Yes, grazing cattle may end up being the solution to getting Utah Lake closer to its native habitat.
Non-native phragmites are an issue to Utah Lake, Great Salt Lake and other marshes in northern Utah — in addition to other parts of the United States. "They're really prolific," said Eric Ellis, executive director of the Utah Lake Commission.
As noted by the Utah Lake Commission, the species can spread quickly, damage important bird nesting areas, increase the number of mosquitos and crowd out native plants.
They can also make it difficult to access Utah Lake and, at 10 to 15 feet tall, can ruin views and make it difficult to walk through.
"It just creates this jungle of vegetation that's really unuseful for anything," Ellis said.
While its invasive origins in the U.S. date back to the 19th century, experts at Utah State University say it became a problem along the Great Salt Lake wetlands sometime after flooding in the 1980s, according to Utah Public Radio's "Wild About Utah."
State wildlife officials and conservation groups have tried to stop the species ever since then. The Utah Division of Wildlife Resources and The Nature Conservancy have used vehicles that help mow down the weed; however, their extensive root system makes it difficult to finish off the invasive foe.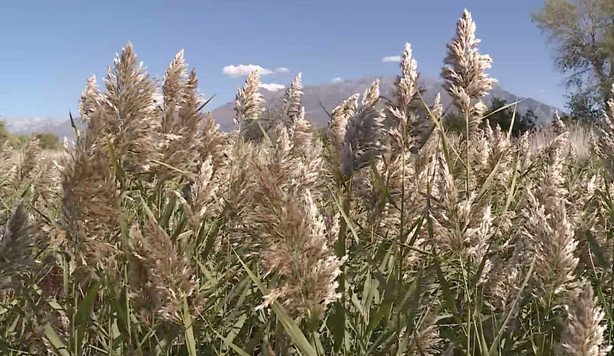 A few years ago, the Utah Division of Wildlife Resources tried using cows to help clear out phragmites and found some success in doing it. It's a tactic that's been used in recent years along the Ogden area and Farmington Bay, said Robby Edgel, a habitat restoration biologist for DWR's central region.
The cows have proven to be successful around Utah Lake this year, too. Over the past few months, about 40 cows were brought in to clear out rows and rows of phragmites on land by the lakeshore. The land is to be donated from a local family and will one day become an open legacy park.
"We've been amazed by how successful this project has been," Edgel said.
The cows will be wrangled up later this year and state wildlife biologists will return to reseed the land with native plants. Edgel added that they plan to use similar cow-based tactics in other areas by Utah Lake in the future.
That's good news for the future of wildlife and recreation in the area.
"Now we'll see more waterfowl and more shorebirds," Ellis said.
In other words, the area is slowly returning to what it used to be before the phragmites invaded.
Contributing: Mark Wetzel, KSL-TV
×