Estimated read time: 4-5 minutes
This archived news story is available only for your personal, non-commercial use. Information in the story may be outdated or superseded by additional information. Reading or replaying the story in its archived form does not constitute a republication of the story.
OGDEN — Weber County Commissioners, the Weber Prosperity Center of Excellence and Western Governors University signed a resolution on Tuesday announcing a partnership that is expected to support more than 7,000 children impacted by intergenerational poverty in the county.
The Weber Prosperity Center of Excellence was created in 2019 by the Weber County Commission, Weber-Morgan Health Department and Weber Human Services as a part of an inter-agency effort to confront intergenerational poverty within the county. Intergenerational poverty is a situation of poverty and public assistance use that carries from one generation the next.
The multi-agency effort of addressing a problem is important, said Melissa Freigang, director of the Weber Prosperity Center of Excellence.
"A lot of times we try to address poverty through singular agencies; and singular agencies are really really important for various services, but to have the county involved at the commission level, having them drive the investment, allows us to pull all of the agencies together in a customized way so that these families get exactly what they need for the right duration, the right time to solve problems and really into the root cause," Freigang said.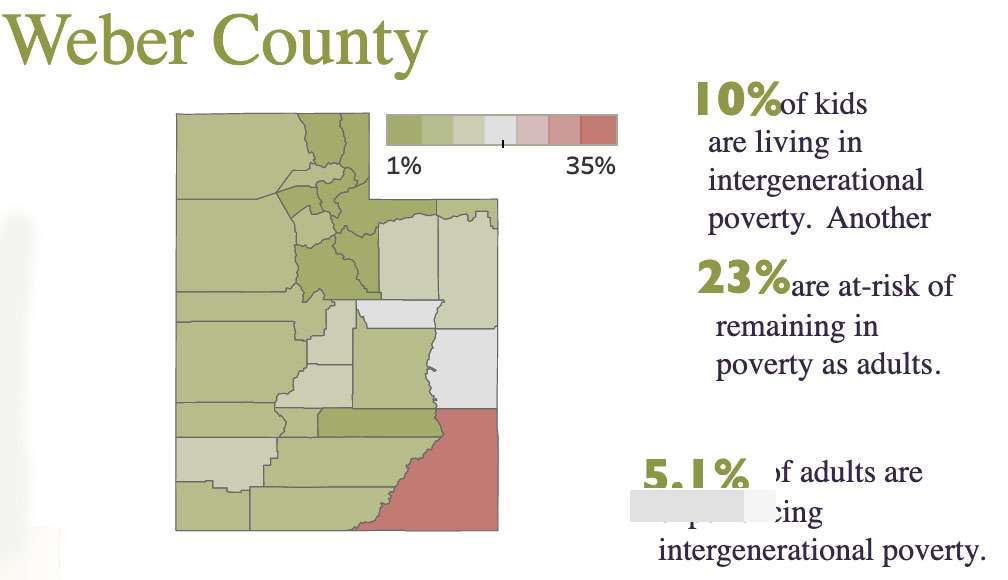 In Weber County, 5.1% of adults and 10% of kids are experiencing intergenerational poverty. Of those children, 23% are at risk for remaining in poverty as adults.
Intergenerational poverty is thought to have many roots. The Weber Prosperity Center of Excellence addresses the cycle of poverty through a "child-centric approach with two-generational strategies," using resource integration coaches, expands families' access to resources through partnerships, builds family resilience, and works to increase educational attainment for parents to help provide future opportunities for their children.
"We started with the concept of: How do we introduce post-secondary opportunities to families that may never have considered this as an option for themselves? And how do we introduce it to third graders, fifth graders and seventh graders, so that they can have an eye towards post-secondary and not remaining in poverty?'" Freigang said.
That concept is what put Weber County on the map for Western Governors University leadership.
"We looked at Weber County and thought this is a great place to partner with the community," said Wesley Smith, the university's senior vice president of policy and public affairs. "Clearly, there's momentum and there's a desire to drive work and solve intergenerational poverty. We thought that this would be a great place to pilot and to begin injecting education into intergenerational poverty cycles to solve these cycles."
Western Governors University has pledged to contribute $100,000 per year for the next five years toward the project, with the center being in its second year of that grant. The money has allowed the center to hire a resource integration coach, which will impact approximately 200 families.
While the resolution focused on the partnership between the county and the private institution, it also furthered other community partnerships within the Weber Prosperity Center for Excellence.
"But we don't just use this opportunity for Western Governors University as an institution, which is a phenomenal partnership and a great gateway," Freigang said.
About 28% of residents in Weber County have less than a high school diploma, which is 2% higher than the state percentage, according to the Utah Department of Workforce Services. The county's population rate of attaining a high school diploma or a GED is tied with the state at 62%, the same data reveals. The different data points set up opportunities for partnerships.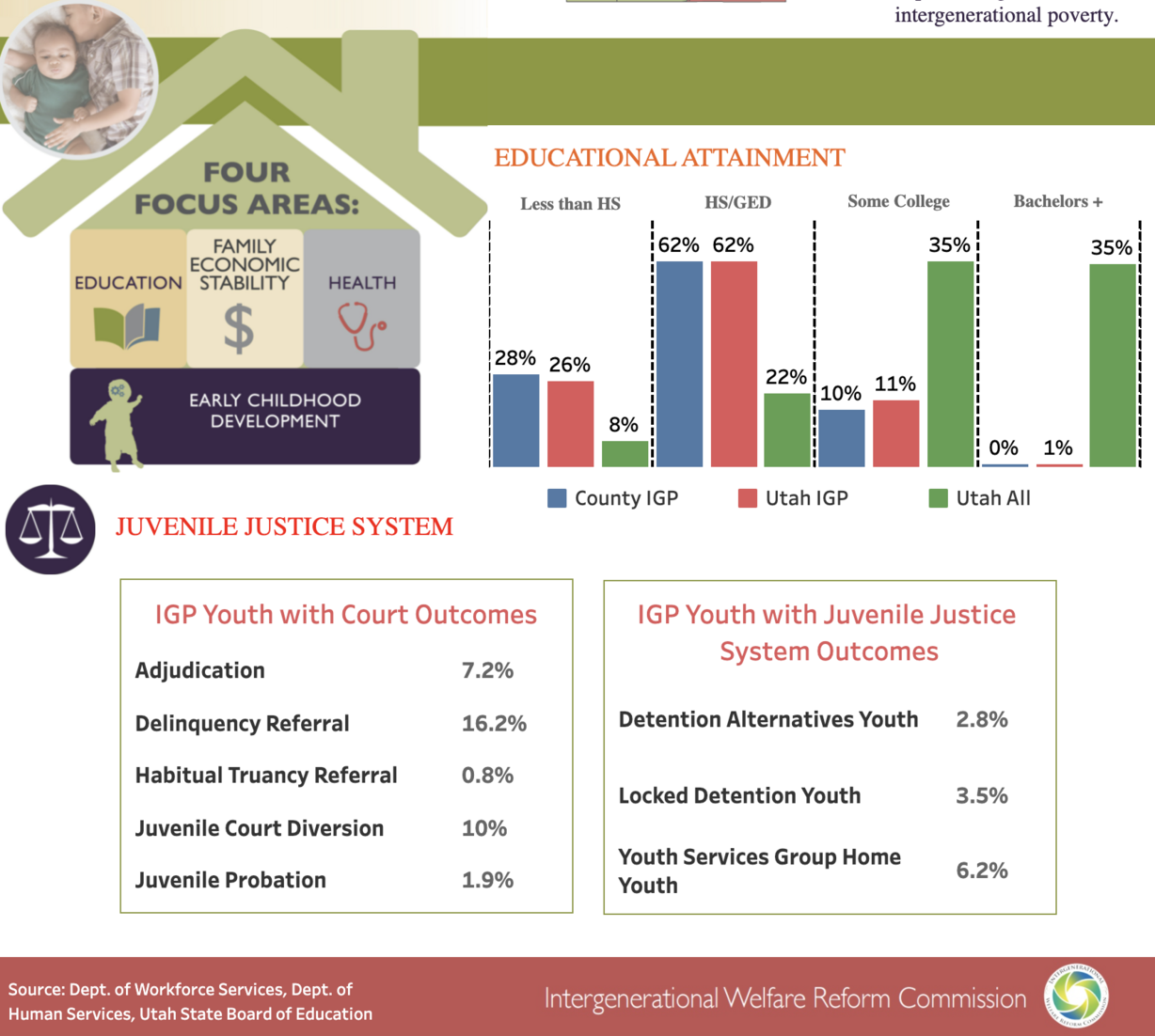 To help address the population without high school diplomas or the equivalent, the center works with both the Ogden-Weber Technical University and Weber State University. Both institutions have programs to help an individual attain their high school diploma or equivalent along with a certification.
"We have a lot of high-wage, high-demand jobs in Weber County. We just need to make sure the individuals have the skills for those opportunities," said James R. Taggart, president at Ogden-Weber Technical University.
The commission agreed.
"We've had a lot of jobs coming to Weber County in the near future. And without that education, I agree they're not going to have that path forward to get to the higher-paying jobs. We need these people in our community to have first access to these jobs that will be coming out, with your help," County Commissioner Gage Froerer said.
The investment into higher education will carry for years, Freigang said.
"This will pay dividends for years to come," she said. "The ripple effect and the number of individuals both directly and indirectly there will serve is really beyond venture of success that we've had so far."
×
Related stories
Most recent Utah stories