Estimated read time: 4-5 minutes
POLLIN' — BYU keeps moving up in the polls.
The Cougars inched up two spots to No. 13 Sunday morning in the latest Associated Press Top 25 after its win over South Florida that moved BYU to 4-0 for the second consecutive season.
The Cougars' 748 votes were just ahead of No. 14 Michigan (4-0), which jumped up five spots, and behind No. 12 Ole Miss (3-0), which moved up a spot following a bye week due to significant upheaval in college football's Week 4.
The top three remained unchanged in Alabama (4-0), Georgia (4-0) and Oregon (4-0), while Penn State entered the top four for the first time this season following the Nittany Lions' 38-17 win over FCS opponent Villanova Saturday.
Iowa (4-0) and Oklahoma (4-0) both fell slightly after less than impressive results — but still wins — Saturday afternoon. Cincinnati (3-0), Arkansas (4-0), Notre Dame (4-0) and Florida (3-1) round out the top 10.
Playing with a backup quarterback (albeit one with starting experience who threw for 305 yards and three touchdowns) with an injury-riddled roster, the Cougars' 35-27 win over a lowly South Florida team that hasn't beaten an FBS opponent since Oct. 26, 2019, was also the 15th victory in the past 16 games.
The Cougars opened back-to-back seasons at 4-0 for the first time in program history, and finished the mark on a college football Saturday marked by upsets — or near-losses — across the Top 25.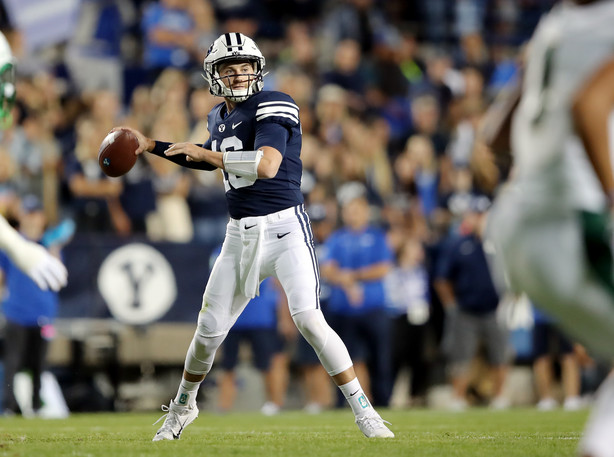 No. 4 Oklahoma nearly lost to West Virginia, while No. 5 Iowa used a 17-0 second half to edge past Colorado State 24-14. Ninth-ranked Notre Dame struggled for three quarters against Wisconsin before a 31-point fourth quarter put the Irish up for good 41-13.
Texas A&M took a 20-10 loss to Arkansas, dropping the Aggies eight spots in the Top 25 and causing the previously No. 16 Razorbacks to surge to No. 8 after beating its second former Southwest Conference foe from the state of Texas.
Clemson took its second loss of the year, a shocking 27-21 double-overtime defeat to North Carolina State that likely ended the Tigers' College Football Playoff hopes for just the second time in CFP history, and the first since the playoff's inaugural season in 2014.
Of course, it's still early, and such proclamations must come with an automatic asterisk. But it was not a good Saturday for plenty of playoff contenders, and Clemson's aspirations took a hit to No. 25 in the AP poll.
Formerly No. 14 Iowa State took its second loss of the season, and first in Big 12 play, when it couldn't complete a late rally against Baylor 31-29.
There were plenty of clunkers Saturday, and a few teams lost them. BYU was one of the Top 25 programs that just happened to win their clunkers.
"We found a way to grind it out and win the game," said BYU coach Kalani Sitake, while also adding that the Cougars need to get better quickly before Friday night's kickoff against in-state rival Utah State, especially on defense. "Wins are really hard in college football. I'm disappointed in some of the things that happened tonight, but we have to be grateful to get the wind. And you have to give credit to some of the things that South Florida did."
Sitake was ready to dish out criticism on his team, especially a defense that was outscored 21-7 in the second half by a maniacally clock-controlling Bulls offense that produced scoring drives of 14 and 19 plays in the second half. But as he does regularly, he also complimented South Florida for their strategy, and finding something that worked.
"Jeff Scott did a great job getting his team ready," Sitake said. "They were excited to play in front of this crowd, and they made a game of it. But we have to play a lot better, especially on defense."
The Cougars also stayed at No. 15 in the weekly USA Today Coaches Poll, coming in a spot behind Michigan and Texas A&M, which dropped eight spots after the loss to Arkansas.
BYU moved up two spots to No. 14 in the FWAA-NFF Super 16, the weekly top-16 poll of the Football Writers Association of America and the National Football Foundation. Unbeaten Alabama, Georgia, Oregon and Iowa lead that poll, with Penn State rounding out the top five.
Oklahoma, Cincinnati, Notre Dame, Florida and Arkansas make up the top 10 of the Super 16.
See the complete AP Top 25 below. If you can't see the poll, click here.
×
Related Stories