Estimated read time: 2-3 minutes
This archived news story is available only for your personal, non-commercial use. Information in the story may be outdated or superseded by additional information. Reading or replaying the story in its archived form does not constitute a republication of the story.
ST. GEORGE — Dixie State University leaders hope a new art installation in honor of 43 students massacred in Mexico seven years ago will prompt conversations about power and political violence.
A somber feeling permeated the Eccles Fine Art Center Friday as Stephen Lee, dean of the College of Humanities and Social Sciences, and students unveiled the 43 silhouette figures that will make their way across campus for two weeks, each with a victim's name and description.
The 43 students from the Ayotzinapa Rural Teachers' College are believed to have been kidnapped in September 2014 as they took buses to Mexico City to commemorate the anniversary of the 1968 Tlatelolco massacre, during which hundreds were killed by the government during demonstrations.
The students were stopped by local police officers working with organized crime and then turned over to a crime syndicate. The remains of a few were later found, but most are still missing and believed dead.
Lee said a "strong personal connection" has made him want to draw attention to the massacre. He grew up in El Paso, Texas, just miles from the Mexican border.
"I pondered for much of my youth why being on one side of a muddy lake of water afforded you certain opportunities to education, economically, and being on the other side didn't," the dean said.
"And when you think about what that means to live in Mexico and to be indigenous in Mexico, which is where all these kids came from — southern Mexico — this just became a profoundly unjust situation. Obviously being killed and disappearing is terrible, but to have no justice at all is such a painful lack of resolution," Lee added.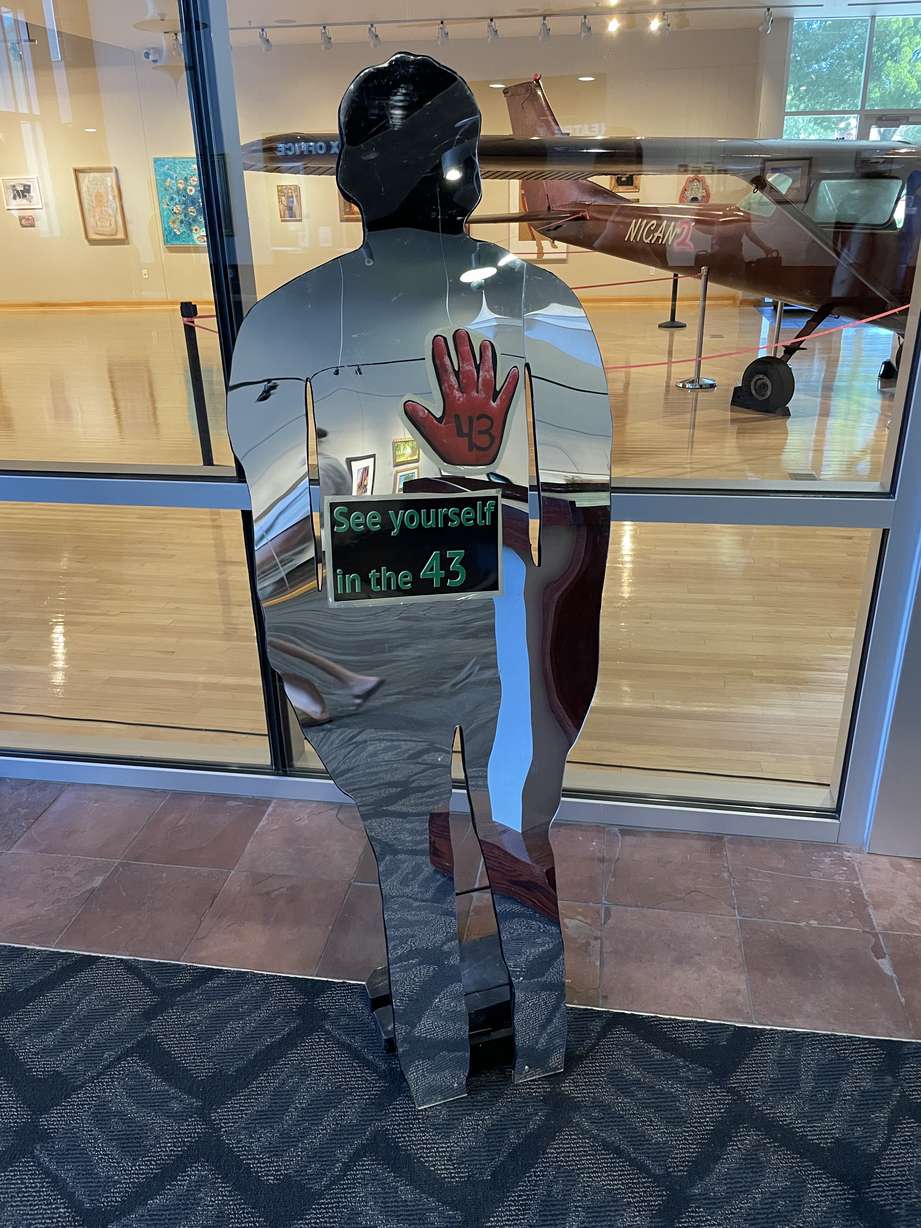 In 2020, the Mexican government issued numerous arrest warrants for those they believe might have been involved. This January, the president of Mexico said a witness implicated soldiers in the students' disappearance. The witness said soldiers detained the students and then gave them to a drug gang, Reuters reported.
Lee said he hopes students at Dixie will see themselves in the 43 silhouettes "because but for the grace of God, this could have been them."
The installation will remain in place for two weeks. The university will also hold a conversation with journalist John Gibler on Sept. 23, and a candlelight vigil on Sept. 26, the seventh anniversary of the disappearance.
Lee said he hopes the installation will start a "powerful" two weeks of conversation and promote empathy for people around the world during National Hispanic Heritage Month.
"This installation will raise difficult questions. It will raise questions about power and security and cruelty," as well as political leaders with "impunity" whose actions won't be prosecuted, Lee said.
×
Photos
Most recent Utah stories