Estimated read time: 6-7 minutes
This archived news story is available only for your personal, non-commercial use. Information in the story may be outdated or superseded by additional information. Reading or replaying the story in its archived form does not constitute a republication of the story.
SALT LAKE CITY — If you are among the millions of Americans who have received a COVID-19 vaccine, you may have experienced some minor side effects: headache, chills, fever and body aches. Those reactions have been common and well-documented. But worries about more serious side effects are keeping many from getting the vaccine.
The U.S. Census Bureau started keeping tabs on vaccine hesitancy through its Household Pulse Survey in July. In its data release for the period of Aug. 4 through Aug. 6, 428,944 Utahns were surveyed. Of those, 53.2% (+/-10.2%) listed "concerned about the side effects" as a reason they were "definitely not" or "probably not" getting a COVID-19 vaccine.
Those hesitations increased during the following two weeks.
Between Aug. 18 and Aug. 30, there were 314,826 Utahns surveyed. This time, 63.1% (+/-10.1%) listed side effects as a reason for not getting the shot.
The Pfizer COVID-19 vaccine received full approval from the U.S. Food and Drug Administration within the time frame of that most recent survey.
Reporting and investigating serious side effects
Many of the side effect concerns online point to data found at the Centers for Disease Control and Prevention's Vaccine Adverse Event Reporting System, or VAERS.
It's a site where anyone can report negative reactions they believe might be caused by any vaccine. VAERS is an important tool. The reports can help provide an early warning of a vaccine-related safety problem. But think of it like a social media: anyone can post, but that doesn't mean the information has been verified or is actually linked to a vaccine.
An important disclaimer on the landing page of the website states, in part, "VAERS reports alone cannot be used to determine if a vaccine caused or contributed to an adverse event or illness. The reports may contain information that is incomplete, inaccurate, coincidental, or unverifiable. In large part, reports to VAERS are voluntary, which means they are subject to biases."
"Basically, it's a national early warning detection for any vaccines that are out in the country," said Rich Lakin, immunization director at the Utah Department of Health. "It's self-reported, so that means that someone can self-report it, that means a physician can report it. So really, it's just a way for the CDC to review data and see if there's any adverse events coming through."
The CDC deems this information so important users must agree they understand the disclaimer and limitations twice before they are able to access the VAERS datasets.
Lakin told KSL-TV they receive weekly reports of vaccine side effects from Utah respondents through VAERS. He said despite limitations, the VAERS events reported are useful.
"If there's a severe adverse reaction to the vaccine, then we may look into it further with the physician," he explained.
So far, Lakin said they have not had to investigate any severe cases within Utah. "We've had no deaths within the state of Utah due to (COVID-19) vaccines," he stated.
According to a joint study by doctors from Johns Hopkins, the CDC, the FDA and Vanderbilt University, only three of the 7,653 deaths reported to VAERS have been confirmed as plausibly caused by the Johnson & Johnson COVID-19 vaccine. In these cases, the deaths occurred from a rare condition of blood clotting with low platelets.
Regardless of VAERS' limitations, the reports are useful to public health officials.
As of Sept. 10, 3,665 Utahns reported adverse COVID-19 events to VAERS. There are 17,525 events, which can include multiple side effects for one person making the report.
Related:
The top five most common side effects listed for Utahns include:
Headache (726 events)
Pain (597 events)
Fever (594 events)
Fatigue (574 events)
Chills (535 events)
All of these have been widely reported by those receiving one or more doses of the vaccine. Far less prevalent were conditions or side effects the CDC deemed "serious." In an email, the CDC told KSL those would include death, a life-threatening illness, hospitalization or prolongation of hospitalization, permanent disability, congenital anomalies or birth defects.
In Utah, 6.93% of people reported serious side effects to VAERS.
Nationally, 42,211 out of 497,262 event reports, or 7.82%, were considered serious.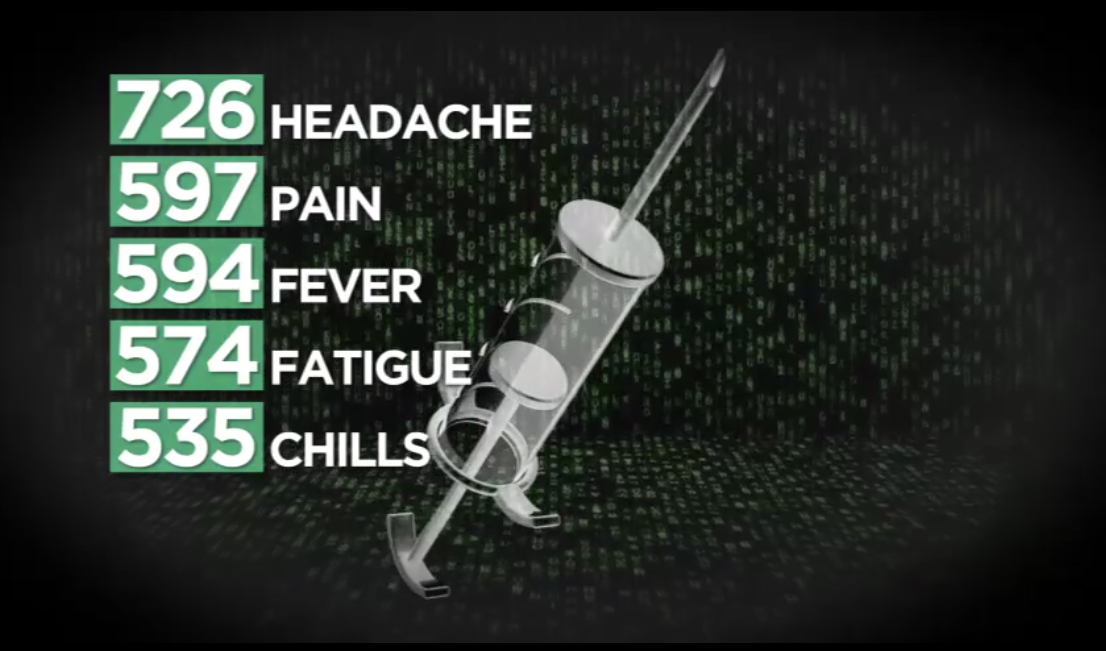 According to Bloomberg, 382 million vaccine shots have been given in the U.S. as of Sept. 15. Using that number, reported serious side effects account for 0.01105% of all shots.
So how does the CDC determine if the vaccine did cause those more serious issues?
The KSL Investigators asked the CDC what steps they take to verify VAERS reports. In an email, its spokesperson told us anything that is classified as a serious event is investigated. They "request and review all the available medical records: hospital records, clinic records, death certificates and autopsy reports to better understand the adverse event."
So far, VAERS reports have shown a few patterns the CDC is closely watching and researching related to the COVID-19 vaccines. These include:
Anaphylaxis or severe allergic reactions.
Thrombosis with thrombocytopenia syndrome — a rare condition of blood clots with low platelets.
Guillain-Barre Syndrome — a rare disorder where the body's immune system damages cells in the nervous system, causing muscle weakness and sometimes paralysis.
Myocarditis and pericarditis — inflammation of the heart muscle and the thin tissue lining around the heart.
Effects of COVID-19 on the heart
The CDC said myocarditis and pericarditis are primarily occurring in adolescent and young adult men. As of Sept. 8, VAERS had received 1,413 reports of these illnesses in people aged 30 or younger.
Its website reports "the CDC and FDA have confirmed 854 reports of myocarditis or pericarditis," and are "investigating" to see if they relate to the COVID-19 vaccine.
"These cases are, and definitely should be, reported," said Dr. Damian Domanski, a cardiologist with Lone Peak Hospital.
Domanski reported his practice had seen about eight to 10 people with myocarditis linked to vaccines, which he is required by law to report to VAERS.
"Luckily, an excellent majority of them have very mild symptoms that are resolved within a few days, to maybe a few weeks," said Domanski. "Yes, there are patients that the symptoms are more prolonged, indeed, but luckily none of these patients develop any actual significant damage to the heart or hasn't been left with any permanent damage."
Statistically, roughly five to six people out of every 100,000 exhibited myocarditis after the vaccine. That's compared to 150 of 100,000 who get myocarditis as a result of contracting the COVID-19 virus.
"COVID affects the heart dramatically more often than the vaccine itself," explained Domanski. "I've seen a lot of patients here having severe cardiac complications following COVID infection. Unfortunately, some of these patients passed away."
At the end of the day, Lakin encouraged anyone getting a vaccine that results in side effects — even minor ones — to report them to VAERS to be analyzed and investigated, saying "all of those things ensure that we can watch and make sure that there's nothing out of the ordinary."
He and Domanski encouraged anyone still having doubts about COVID-19 vaccines and possible side effects to speak with a trusted family medical practitioner.
×
Related stories
Most recent Utah stories