PROVO — Some are calling it the greatest weekend in BYU football history since the 1984 championship. Some are calling it the end of the curse. Some are calling it the beginning of a new era.
You can call it whatever you want to, but here are the facts: BYU is joining the Big 12, the team is starting its season 2-0 and it beat Utah for the first time in 11 years.
The Cougars welcomed their storied rival Utah into Provo Saturday night, and there were few outside of the BYU faithful that thought they had a chance. BYU's last win, as you all know, came 11 years and nine games ago when Max Hall beat the Utes 26-23 in overtime with a touchdown pass to Andrew George in 2009.
Since then, the Utes have had their way. Some games were blowouts and many were close; but none of that mattered in the end because when the clock expired, the points were always in favor of Utah.
Then 2021 came. The Cougars were invited to join the Big 12 Conference on Friday, which signaled the end of its independence era and the long-awaited chance to become a Power Five program. Then, nearly 40 hours later, the Cougars finally beat their rival, a team that has enjoyed the fruits of P5 classification for a decade.
BYU played a complete game, but there were plenty of mistakes on the field. Fortunately for BYU, there were not enough to derail a rivalry win.
Here are three lessons from BYU's win against Utah:
BYU has a new style of defense
Kyle Whittingham has consistently put one of the best defenses in college football out on the field, which has earned them the moniker "Sack Lake City."
Utah's defense is often ranked as one of the best in the country and wreaks havoc on opposing offenses, especially BYU's in the last 11 years. But it wasn't the defense in red that impressed Saturday night, but rather the boys in blue.
BYU held Charlie Brewer and the Utah offense to only two first downs on nine tries on third down, as well as 0 for 2 on fourth downs. The Cougars also forced two fumbles (one was taken back when the refs ruled the player's knee was down) and sacked Brewer twice along with five tackles for loss.
The BYU defense looked dominant and it wasn't by rushing three.
Against Arizona, BYU brought more pressure than they had in previous years under defensive coordinator Ilaisa Tuiaki. But Tuiaki brought the pressure in a whole new way on Saturday night: The Cougars ran blitz schemes that caused disruption for a talented Utah offense.
Brewer was 15-of-26 for 147 yards, one touchdown and one interception. The Utes gained 193 yards on the ground, with Micah Bernard racking up a game high 146 yards. But a lot of Utah's rushing yards came off of big chunk plays and not consistently running it down BYU's throat like they have in the past. BYU defense was more aggressive than they have been in year's past, and it resulted in a dominant performance against a good team.
The Cougars defense has many more challenges ahead of them in the 2021 season, but this new style of aggressive play looks good on them.
Let the Jaren Hall era begin
At first glance, starting BYU quarterback Jaren Hall had a good night against Utah, but not a great one. Hall was 18-of-30, with 92 yards — including a team-high 23 yards on one rush — on the ground. But when you start breaking down the numbers and the efficiency, you realize he was much better than the stats.
Those 149 yards came off of competitions to eight different receivers and four tosses over 10 yards: 33, 17, 16 and 13 yards. Hall made smart decisions and threw three touchdowns with zero interceptions; he also knew when to tuck and run, when to stay poised and patient in the pocket and gave his receivers a chance to catch the ball.
Hall didn't put up Heisman numbers, but he also didn't become a game manger, either. Hall had an impressive night and his performance has the eager faithful excited for the future.
Building upon his momentum from last week against Arizona, Hall had the best game of his BYU career against Utah. Two plays in particular showed off how much Hall has grown and why he will continue to get better.
One was his 4-yard touchdown pass to Gunner Romney. Hall ran toward the sideline on a designed rollout, but no one was open on that side of the field, so Hall cut back in and, with pressure coming, stayed poised as he looked for a break in coverage. While on the run, Hall delivered a bullet to Romney at the back of the end zone, splitting two Utah defenders.
The other play was just before half when BYU was marching down the field in an effort to extend their lead before the break. With 15 seconds left in the half from Utah's 35-yard line, Hall was flushed from the pocket — it looked like Utah may get their first sack of the night. Instead of panicking or running into a wall of Utes, Hall stayed in the backfield and surveyed the field.
His offensive line gave him incredible protection and his receivers kept fighting. Finally, Keanu Hill broke free and Hall found him for a 33-yard gain to put the Cougars on Utah's 2-yard line, which set up the 2-yard touchdown pass to Samson Nacua.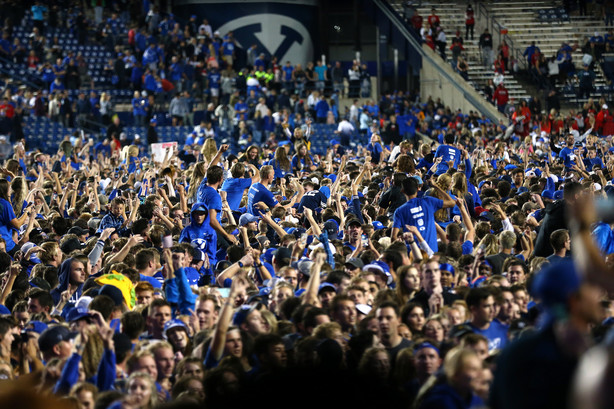 The Nacuas are game changers
Brothers and Pac-12 transfers Puka and Samson Nacua had good nights Saturday. Puka, a transfer from Washington, had four receptions for 37 yards. His brother, Samson, a Utah transfer, had two catches for 10 yards and a touchdown.
Combining for 47 yards and one touchdown wouldn't seem too terribly impressive for a pair of receivers, but the Nacuas were X-factors in the game — but it didn't have so much to do with their play on the field.
Both brought an intensity and swagger to the BYU team that most of Cougar Nation has not seen in a long time. During the John Beck and Max Hall eras, it felt like BYU walked into every rivalry game knowing they would win. Did they? No, but they had the confidence they would. Even when BYU was grossly outmatched in 2004 and 2008, Cougar Nation had hope because of the way the team carried itself.
The Nacuas showed up Saturday night with the same swagger, and it electrified both the team and the crowd. From the opening kickoff the game felt different. Even though the Utes were ranked, favored by more than a touchdown and were riding a nine-game win streak over the last 11 years, anyone in attendance knew this BYU team believed it would win this game.
The brothers' enthusiasm resulted in a 15-yard penalty and a missed point after touchdown, but it was the shot of intensity and tenacity the Cougars needed.
Samson scored a touchdown from 2 yards out, seconds before halftime break. His brother, Puka, ripped his own helmet off on the field to celebrate with his teammate and kin. Samson then took his own helmet off and they both yelled to the crowd. The gesture earned BYU a 15-yard personal foul, but it also fired up the crowd and got them believing.
The Nacuas are talented football players who bring depth to a strong receiving corps at BYU, but the intangibles these transfer brothers add to BYU with their intensity and swagger will help the Cougars win some games this season.
×
Related Stories