Estimated read time: 9-10 minutes
This archived news story is available only for your personal, non-commercial use. Information in the story may be outdated or superseded by additional information. Reading or replaying the story in its archived form does not constitute a republication of the story.
SALT LAKE CITY — As global temperatures continue to rise at rates much faster than scientists originally forecast, many countries have looked at options to reduce the main factor blamed for the dangerous spike in warmth: carbon.
The United States rejoined the Paris Agreement — a global accord aimed at jointly reducing carbon emissions — earlier this year but experts point out the nation lags its top trading partners when it comes to policies curbing carbon emissions. It's a practice that's emerged as a leading incentive for businesses to adopt different forms of energy that produce fewer carbon levels into the atmosphere.
But is it possible that U.S. could implement stronger climate policies if Utah — or other states — enacted them first? For one Utah legislator, the answer is a simple "yes."
"A look at U.S. history shows that a fair amount of federal actions occurs after pressure from states to do something — and pressure from the states to do something can be applied by the state as legislation," said Rep. Joel Briscoe, D-Salt Lake City.
Briscoe, a long-time history teacher, points to the other movements pushed forward by states, including women's suffrage and anti-tax movements. For instance, Utah was among the first states to approve the right for women to vote and did so well before the 19th amendment was ratified.
"Politicians didn't start those parades but when they see a parade going somewhere, they get in front of it," he continued, during a virtual roundtable hosted by University of Utah's Kem C. Gardner Policy Institute Tuesday regarding carbon taxes and other policies that could be used to handle growing climate concerns.
He's not alone in that thought.
Tuesday's event featured Utah legislators from both parties as well as scientists. That's because more and more Utah lawmakers — regardless of party — are pushing for climate change to be taken more seriously with government leaders playing a bigger role in reducing the amount of carbon produced annually.
A change in climate attitude
Prior to a question and answer session during the hour-long roundtable, Logan Mitchell, a research associate at the University of Utah Department of Atmospheric Sciences, and Thomas Holst, a senior energy analyst with the Gardner Policy Institute, recapped the global climate situation and everything put in place to address it so far.
Earth is warming much faster than it should be, which causes a greater risk for natural disasters such as more fires and drought in Utah. Mitchell said some of the impacts there, such as worsened air quality, are happening much sooner than scientists predicted, too. Seeing those changes, he added, is getting more people interested in the issues.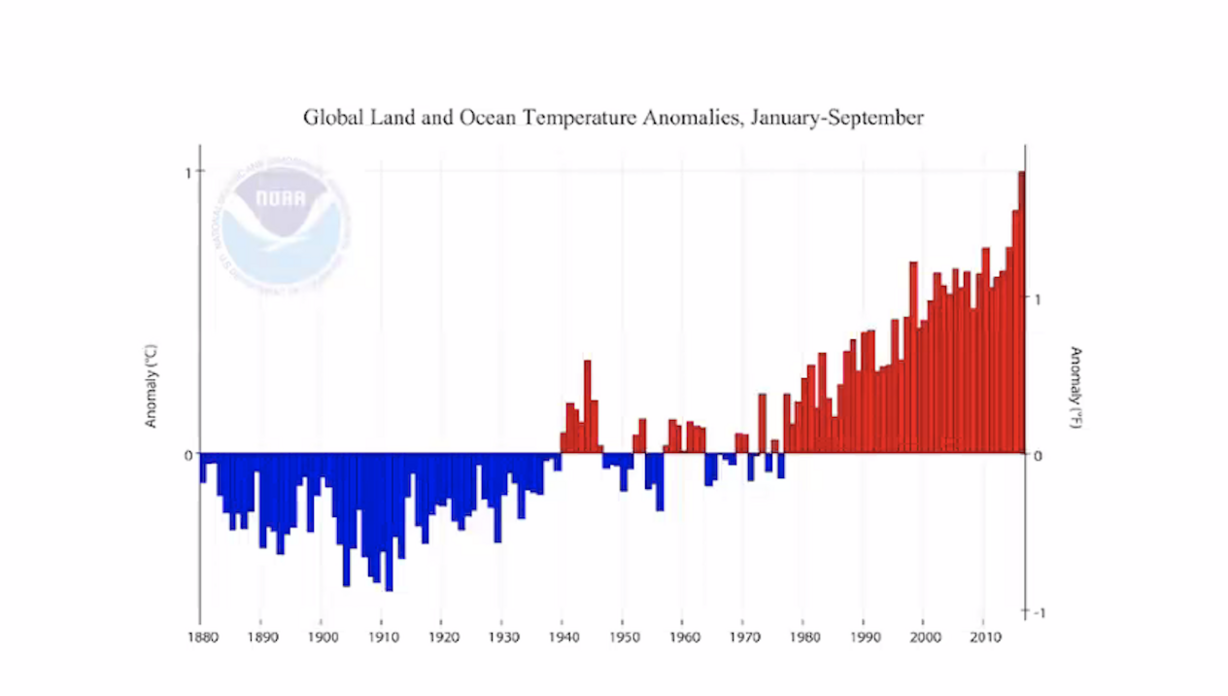 It's clear that climate change, which had been a partisan topic for many years, is a topic almost everyone can agree needs to be addressed. To that point, about two dozen Utah Republican legislators signed a Deseret News op-ed in June that called for Republicans to take on the issue more seriously. Later in the month, Utah Rep. John Curtis, a Republican, helped launch the Conservative Climate Caucus in Washington, D.C. that included Utah's three other Republican congressmen.
It's not just Utahns regardless of political party who agree that the issue needs to be addressed. The Pew Research Center last year conducted a poll that found two-thirds of Americans agreed the U.S. isn't doing enough to address the climate.
While the poll found Democrats or those who lean Democrat strongly favored solutions that included tax credits for businesses who develop carbon capture technology, tougher restrictions on power plants producing carbon, taxing corporations based on how much they emit carbon and creating tougher fuel efficiency standards for cars, they also found more than half of those surveyed who reported being Republican or lean Republican supported those same tactics.
Rep. Ray Ward, R-Bountiful, who signed the op-ed and is a key member of the Legislature's bipartisan Clean Air Caucus along with Briscoe, said he believes attitudes have shifted for many Republicans because they are "coming around" to the science that links climate change to human factors. He said the op-ed was intended to help get other conservatives to agree on the issue and get everyone on board to discuss solutions.
But very little has happened since that poll came out. Much like Briscoe, Mitchell believes it's states like Utah that could adopt carbon reduction policies before they become federal laws.
To be clear, Utah can't do it on its own and tip the scale; that said, states could once again influence the nation to change.
"States are laboratories for democracy," he said. "States are where we should be trying things out."
Finding solutions: Not a clear answer — yet
The top ideas mentioned Tuesday include carbon dividend plans (especially ones that aim to help lower- and middle-class residents), carbon taxes and carbon capture. While Republicans and Democrats may agree there's a need to address climate change, not everyone necessarily agrees on solutions to address climate change.
For instance, the Pew Research Center poll found nearly two-thirds of Republicans agreed on power plant restrictions and close to 80% supported tax credits for carbon capture technology but just 55% supported a carbon tax.
Meanwhile, the group of Republican Utah legislators wrote in June that Republicans need to spend more time promoting solutions that "are effective and consistent with our values" such as ideas that promote free markets without much government intervention instead of spending time opposing ideas they don't agree with.
During Tuesday's discussion, Rep. Kera Birkeland, R-Morgan, who was among the state lawmakers that signed the op-ed, explained that Republicans or those who lean toward fiscally conservative views can become concerned with high costs associated with switching technologies and also wary of the government's transparency about it.
"What we have to do is put something forward that's 100% transparent and it's accountable to the people who are going to be profiting from it, so it makes sure we aren't being damaged in the long run — our grandchildren aren't suffering from terrible air quality because of our desire to make things as cheap as possible right now," she said. "I think we can come together — Democrats, Republicans — and find the most transparent, the most healthy, the most beneficial long-term (solution) that's out there. And I really believe Utah can help lead the way in doing this."
Ward added he believes the simplest solution is pricing carbon because that'll influence a free market the fastest. People will switch to sources that produce fewer emissions if they are the cheaper option. He asserts that alternative fuel industries are becoming more efficient, reliable and cheaper. With more advancements still on the horizon, that and carbon prices have the ability to nudge the market toward measures that make the environment cleaner.
"We did not exit the Stone Age because we ran out of stone, and I don't think we'll exit the fossil fuel age because we run out of fossil fuels," he said, paraphrasing a quote that's made the rounds online over the past several years.
---
I think we can come together — Democrats, Republicans — and find the most transparent, the most healthy, the most beneficial long-term (solution) that's out there. And I really believe Utah can help lead the way in doing this.
–Rep. Kera Birkeland, R-Morgan
---
Briscoe said he's delighted to see Republicans join the discussion, especially since he pushed for a carbon reduction tax incentive bill a few years that didn't pass the legislature; however, he doesn't believe it's an issue settled with one solution. He argues the environment has already improved over the past 50 years because there are rules in place that fine companies that pollute water and land, so why not carbon dioxide too?
"I think we need regulation, I think we need incentives, I think we need pricing," he said. "When I look at how we're trying to get cleaner air and a better environment, we've put most of our apples in the regulation basket. We have some incentives and very little pricing. I'd like to see it balanced out."
Carbon incentive dividends, he contends, should also go toward those in poorer communities who often pay a higher percentage of their income toward electricity and are more likely to live in areas polluted by carbon emissions. Ward said dividends can also go toward areas of Utah that have historically thrived on producing fossil fuels.
Of course, the issue isn't as simple as Utah or the U.S. making a change, adjustments need to happen globally. But the U.S. jumping into the market still requires more help from other countries also producing high levels of carbon dioxide, such as China and India.
"Border adjustments" were another policy discussed Tuesday. Those are fees companies have to pay if they move their business to another country without the same carbon emission laws in an effort to protect jobs that would be lost by carbon emission laws. Again, much like Utah, the U.S. can't act alone and solve the issue but it can tip the scale globally.
While all of it may sound expensive, the three legislators said they can even out carbon prices by issues tax cuts elsewhere. Mitchell added many of those who worry about the cost of changing energy infrastructure often overlook the cost of natural disasters that become more frequent with rising global temperatures tied to higher levels of carbon. There are larger and more devastating wildfires in the West and more catastrophic and damaging storms in the East as a result of climate change. That's on top of an ongoing "megadrought" in the West that puts constraints on farmers and food production.
"You have to take a more holistic picture of the economic costs and incorporate the impacts as well as the cost of transition," he said. "Regardless if we address climate change or not, we're going to make huge improvements in our infrastructure. And the question is, do we build the infrastructure and make those investments with climate in mind and the future of energy and technology in mind? Or do we make it trying to protect the energy production of the past?"
That's why he likens investing in fossil fuels now to investing in Kodak film or Blockbuster just as digital recording formats and streaming services arrived. That belief is based on the growing number of countries, including trade partners and rivals, not just creating carbon policies but consumers there jumping to clean alternatives.
From his perspective, it's practically inevitable that it'll latch on in the U.S., too, because it has already started. So why not have Utah lead the way?
"Whoever develops that technology can then sell it to the rest of the world," he said. "I'd rather have those types of innovations be built and invented here in Utah and then sell it to the rest of the world rather than be buying stuff from everywhere else."
×
Related stories
Most recent Politics stories