PROVO — With no practices scheduled for Sunday, BYU head coach Kalani Sitake's first chance to review the game tape available after Saturday's 24-16 win over Arizona came Monday morning.
And what the sixth-year head coach saw impressed him more than he thought it might immediately after the game when he met with a handful of local media underneath 54,000 fans at Allegiant Stadium in Las Vegas.
There are still plenty of improvements that need to be made — Sitake noted poor open-field tackling and missed assignments on defense, specifically. But overall, the Cougars' coach seemed more upbeat about where his team is than might be expected after a win over what many consider to be the worst team in the Pac-12.
"I feel really good about the game, and getting that win last weekend," Sitake said. "We've moved on and are trying to learn from the mistakes we made. We're trying to improve, and improve as much as we can from Week 1 to Week 2.
"It's been a crazy week in college football, with so-called upsets in all the games over the week.I heard a lot about our week schedule, but those teams seemed to be pretty well over the weekend. That's college football; it's why we watch."
The next chapter involves turning the page to Week 2, which needs no introduction: a rivalry game Saturday against archrival Utah in LaVell Edwards Stadium (8:15 p.m. MT, ESPN).
But it's easier to make adjustments and improvements, break down film and focus on the weaknesses after a win.
​​"We absolutely can improve," said quarterback Jaren Hall, who completed 64% of his passes for 198 yards and two touchdowns with no interceptions in his first start since 2019. "By no means have we made; I think most teams are still improving. We definitely have some things we can improve on this week, and we're ready to make some strides."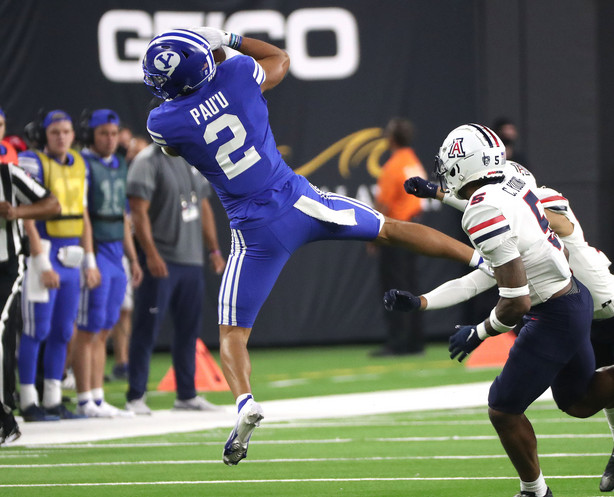 Perhaps one of the biggest adjustments comes in the ugly form of injuries.
Keenan Ellis, who suffered what looked to be a "scary" head or neck injury against the Wildcats, was no longer listed on the depth chart. Ellis remained overnight at a hospital in Las Vegas, where he was awake and walking around his room by Sunday morning.
Still, the redshirt junior cornerback was not listed on BYU's pregame depth chart as he entered concussion protocol, and Sitake noted it's "highly unlikely" he'll play Saturday. That's hardly a surprise, and frankly, the least of his or anyone else's concern.
"Football is not a thing we were worried about with him right now," Sitake said, after also noting, "The scariest thing was not knowing, because he was out (unconscious). But I'm really thankful the trainers and doctors took him in, ran all the tests, did everything we could, and he's going to be OK."
Ellis was replaced on the depth chart by Las Vegas native Isaiah Herron, Oregon State transfer Kaleb Hayes, and former East High standout Jaylon Vickers.
Seeing Ellis' injury was a stark reminder of the dangers a game like football represents, especially as it happened to a teammate.
"We love our guys. We're all really close on this team, and it was scary," BYU defensive end Tyler Batty said. "But I'm really happy that he's recovering, that he's doing well, that it wasn't so serious. We're really happy that he's doing well.
"It's football. It's a violent game, and you really never know what's going to happen. That's exciting, but it also can be not-so-exciting. It's a little scary, but it's football."
Even Arizona coach Jedd Fisch was happy to see no long-last residual damage from Ellis' injury, he said as he opened his own Monday press conference in Tucson, Arizona.
"I was really happy to see that Keenan Ellis was doing well," Fisch said, unprompted. "I know that's what coach Sitake told me about the game, but it was nice to see that was confirmed that there was no significant injury there. That was a scary time on the field."
Jedd Fisch opens his press conference talking about BYU's Keenan Ellis, who exited the game with a scary injury. pic.twitter.com/bRrvMV7Pv0

— The Wildcaster (@TheWildcaster) September 6, 2021
Also unlikely to play Saturday is Gunner Romney. The junior wide receiver who ranked 15th nationally with 19.67 yards per game a year ago and compiled four 100-yard receiving games left Saturday's game against Arizona early with what appeared to be a severe ankle or lower leg injury.
Romney left the team's medical tent with crutches in the first half and did not return, but Sitake said the receiver's injury is not expected to be season-ending.
"We'll see how he goes day-to-day through the week," the coach said. "He's doubtful for the game, but you never know what can happen in the next 4-5 days."
That, too, is part of football, Hall noted — even as he lamented the injury to his friend and weapon Romney.
"Those guys play hard and sacrifice their bodies every play for the team," the quarterback said. "I'm confident in our training staff … but as far as the game plan goes, we've got to always move forward. There are always guys who can fill in, and they just have to give their best efforts."
If Romney isn't available, Chris Jackson was listed as a co-starter at his receiver position. The junior college transfer caught two passes for 20 yards against Arizona.
Pac-12 transfers Puka Nacua (Washington) and Samson Nacua (Utah) are also listed as co-starters at the receiver spot next to Neil Pau'u, who had a career-high 126 yards and two touchdowns against the Wildcats.
×
Related Stories