OREM — Former Real Salt Lake star Kyle Beckerman won't stay unbeaten during his entire collegiate coaching career. But he'll stay that way through at least next week with Utah Valley.
Aaron Nixon had two goals and two assists, including a fabulous bicycle kick in the first half, to help Utah Valley to a 5-1 win over Cal State Northridge in the Wolverines' home opener Thursday night at Clyde Field.
The five goals scored matches a single-game record in UVU's program history, which dates back to 2014.
"It was incredible. He actually worked on it in practice yesterday and today he got it. It really felt like the goals were coming. It was just a matter of time. It was really good to get them off the mark and now we just keep improving," Beckerman said of Nixon's kick, which landed at No. 2 on SportsCenter's Top 10.
Nixon's bicycle kick, which was off his right foot in the 22nd minute, highlighted a three-goal first half for the Wolverines, who took a 3-0 goal at the break before Edson Palos pulled one back for CSUN off his left foot in the 50th minute.
Sup, @UVUmsoc? 👀 #SCTop10 | #Golazopic.twitter.com/J0pGTZmudw

— KSL.com Sports (@KSLcomSports) September 3, 2021
Carter Johnson added a goal and an assist for Utah Valley, which improved to 2-0-1 under first-year coach Beckerman.
Jojea Kwizera and Diego Castillo also scored for the Wolverines, and goalkeeper Joe Wheelwright made three saves in the win.
Utah Valley, which plays seven of its first nine matches on the road, travels to Evanston, Illinois, to face Northwest on Sept. 9 to start a two-match Illinois swing that includes Bradley on Sept. 12.
The Wolverines return home Thursday, Sept. 16 to face Pac-12 foe Washington. Kickoff is scheduled for 7:30 p.m. MT.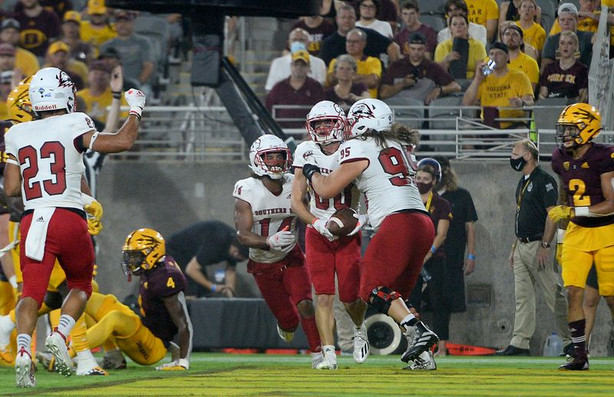 No. 25 Arizona State opens with 41-14 win over Southern Utah
TEMPE, Ariz. (AP) — Darien Butler had two interceptions and No. 25 Arizona State used its punishing run game to overcome some sloppy moments in a season-opening 41-14 win over Southern Utah.
The Sun Devils (1-0) were a bit rusty to start a season of high expectations, committing numerous miscues on special teams and 13 penalties for 135 yards.
Arizona State still proved to be too much for the FCS Thunderbirds, forcing four turnovers and running for six touchdowns to win its 22nd straight home opener.
Rachaad White and DeaMonte Trayanum each ran for two scores.
Justin Miller threw for 146 yards with three interceptions for SUU. David Moore ran for 26 yards and a touchdown, and Judd Cockett added a 7-yard touchdown run for the Thunderbirds (0-2).
WIN.#BYUWVB#GoCougspic.twitter.com/ek4voKMZ5N

— BYUtv Sports (@byutvsports) September 3, 2021
No. 13 BYU edges Weber State in five sets
PROVO — Utah transfer Kenzie Koerber poured in a team-high 17 kills and 13 digs, and the 13th-ranked BYU women's volleyball team served 11 aces to fend off the Wildcats 25-23, 23-25, 25-18, 19-25, 15-4 to open the BYU Invitational in the Smith Fieldhouse.
Taylor Ballard-Nixon and Erin Livingston each put down 12 kills for the Cougars, and Heather Gneiting and Kennedy Eschenberg supplied 10 each.
Whitney Bower dished out 55 assists and 13 digs for BYU, which improved to 4-0 ahead of Saturday's doubleheader with Dixie State and Michigan State.
Rylin Adams tallied a match-high 25 kills and 14 digs for the Wildcats, and Dani Nay added 22 kills and 19 digs for a Weber State team that out-hit BYU .258 to .251.
×
Photos
Related Stories