Estimated read time: 6-7 minutes
This archived news story is available only for your personal, non-commercial use. Information in the story may be outdated or superseded by additional information. Reading or replaying the story in its archived form does not constitute a republication of the story.
OREM — What Chase Tuatagaloa did on the field during No. 4-ranked Orem's 42-16 win over Pleasant Grove was, in many ways, less important than what he did on the sidelines.
Moments after completing 11-of-16 passes for 164 yards and two touchdowns, and with the Tigers holding a more-than-comfortable lead against the Vikings, Tuatagaloa made way for backup quarterback Lance Reynolds III.
The sophomore completed just two passes for 13 yards and guided the offense during the final moments of the fourth quarter, but for Tuatagaloa, they might as well have been the two most important passes of the night.
The 6-foot-4, 210-pound signal caller stood on the sidelines, headset on, helmet off, and threw in a pair of signals to help call the plays. He cheered raucously every time Reynolds completed a pass and clapped harder when the play looked to break down to an outside observer.
Even without his helmet, with a comfortable lead and a seat on the sideline, Tuatagaloa had a role to play. It's a role he's happy to play even now, with his commitment to Utah State ensured and the starting role belonging securely to him.
"Coach Gabe always tells us if we're on the sideline, we've got to support our teammates. That's just who we are," said Tuatagaloa, a three-star recruit by 247Sports and the No. 34 recruit in the state. "We have a strong relationship on this team, and we try our best to be there for each other — even if we get pulled out when we don't want to.
"A lot of guys who go in don't get a lot of time on varsity, so it's for them to come in."
Tuatagaloa has been in Reynolds' shoes, sitting behind Division I-bound athletes at quarterback in Cooper Legas (Utah State) and Micah Fea (BYU) the past two years. He was one of Fea's favorite tight ends a year ago when the Tigers won their fourth consecutive state championship. But with the starting job all to himself, he still feels no more important than the backups where he used to be.
"Cooper and Micah really set a high standard, and I have some big shoes to fill on and off the field," he said. "I just try to match them; I want to be a good leader for the younger guys coming up."
Orem has had its share of big shoes over the last few years — some of the greats in Utah high school football: Legas, Fea, Puka Nacua, Kingsley Suamataia, Noah Sewell.
A Utah State commit since March, Tuatagaloa may not be the same household name that those other guys were, but he hopes that by the end of the season, his name rolls off the tongue like those others.
"He sat for the last two years behind some good QBs, and was part of some really great teams," said Orem coach Gabriel Sewell Sr., who served as an assistant on those past teams before taking the interim role last year. "All that watching and learning is paying off, as you can see the last three weeks.
"We've been very fortunate to have some really good quarterbacks at Orem. It's always good when you have upperclassmen who are team guys, so that when the cliche of "next man up" happens, it happens like we are watching right now."
Three games into the 2021 season, Tuatagaloa is averaging 157 yards per game with seven touchdowns in wins over East, Mountain View and Pleasant Grove. The athletic quarterback will lead the Tigers into their biggest challenge of the season Friday when they face No. 2 Skyridge in the KSL.com Game of the Week.
But that challenge is just one of many Tuatagaloa and the Tigers will face this season. Perhaps the biggest, with all due respect to the Falcons, is the weight of expectations.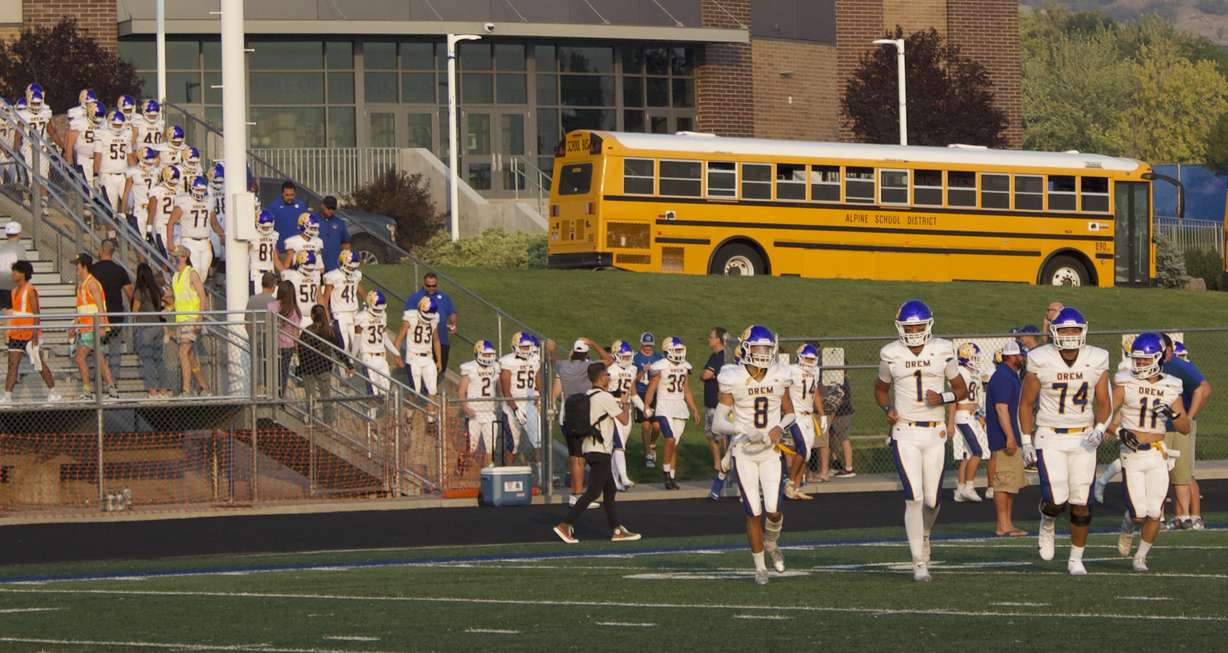 Orem are four-time defending state champions, and face a monumental task in search of a historic accomplishment: the first five-time consecutive champs since Skyline in 1999.
Only three schools have won five or more consecutive titles in Utah High School Activities Association history. One of them was the old Salt Lake High School — now West High — a run of eight straight from 1898-1905 — and the old East High from 1917-23 (after the championship game was canceled in 1918).
The Tigers hope to be the fourth. And they know the significance of the achievement.
"Everyone on the team knows about the five-peat, and we're definitely trying to go get another," Tuatagaloa said. "But coach Gabe really set us up to take one game at a time. We can't let the pressure get to us. Just go play the game, and enjoy it. One day, the game isn't going to be there."
One game at a time, which is what every coach repeats to his players and some follow. But for Tuatagaloa, the weight of those words is a little more serious. He had to wait for his one game, which turned into two and then three, before being allowed to settle in as a starting quarterback.
It's one reason why the offer to play at Utah State is a big one for the quarterback who has always dreamed of playing Division I football. Most recruiting services like 247 Sports label the 6-foot-4 pocket passer as an "athlete" due to his time at tight end a year ago, when he caught seven passes for 81 yards and a touchdown in a limited campaign.
But it was enough for the Tigers to hand the reins of the offense to him as a senior, and enough for new Utah State coach Blake Anderson to extend a scholarship offer shortly after he took over in Logan — and in between texting Tuatagaloa Bible verses.
"Those guys up there show a lot of love to me," said Tuatagaloa, referring to both Anderson and Utah State tight ends coach DJ Tialavea who helped recruit him. "The biggest thing for me was how real he is. On the field, people look for that, but off the field, he's even more real. Coach Anderson will send me Bible verses a lot, and he inspires me as a coach."
Indeed, the Aggies like Tuatagaloa's athleticism — but they're also willing to let him try to be a quarterback. Legas was in a similar mold in high school, when he turned down offers to BYU and other schools to play safety for a chance to play quarterback in Logan.
And if there's one thing Tuatagaloa has shown early in his senior campaign, it's that he can throw the ball. He still hasn't thrown an interception, even in an offhand, casual or accident toss.
The athleticism is still there, but it's not everything for the senior. Besides, he's been able to rely on the athleticism of several play-making teammates like sophomore dual thread Mack Hixson, senior Kolton Brown, and leading receivers Roger Saleapaga and Isaac Yokota.
"He hasn't had to use his athleticism much; our O-line has given him clean pockets to throw in, and he's able to step in and sling it," Sewell said. "We want him to work on his fundamentals as a quarterback, but if we need him to extend plays and move it down the field, he's more than capable."
×
Photos
Related stories
Most recent High School stories