This archived news story is available only for your personal, non-commercial use. Information in the story may be outdated or superseded by additional information. Reading or replaying the story in its archived form does not constitute a republication of the story.
PROVO — BYU athletic director Tom Holmoe ventured into the Cougars' postgame locker room after a 42-10 win over Idaho State and accepting a bid to the SoFi Hawaii Bowl, as he and many athletic directors do after a football game.
This time was a little bit different, though.
Holmoe spoke for a few moments to the players who were still reveling in the win and news of a trip to Aloha. Then he pulled at his dress shirt, flipped it aside, and revealed a royal blue T-shirt with two words (and a hashtag) scrawled across the front of it: Extend Kalani.
Then coach and AD embraced. And the players went wild, as captured on BYU receiver Neil Pau'u's Instagram account.
Did BYU quietly extend Kalani Sitake's contract, which expires next season?
Likely so, as first reported by the university's on-campus newspaper The Daily Universe and the Locked on Cougars podcast. But nothing is official.
A spokesman for BYU Athletics did not respond to a request for comment from KSL. The writing on the wall seems imminent, though, according to sources with indirect knowledge of the contract negotiations.
Sitake's contract has been the subject of much repute this season, from talks of a potential "hot seat" prior to the season, to a possible extension after wins over Tennessee and USC, to the opposite end of the spectrum following losses to Toledo and South Florida.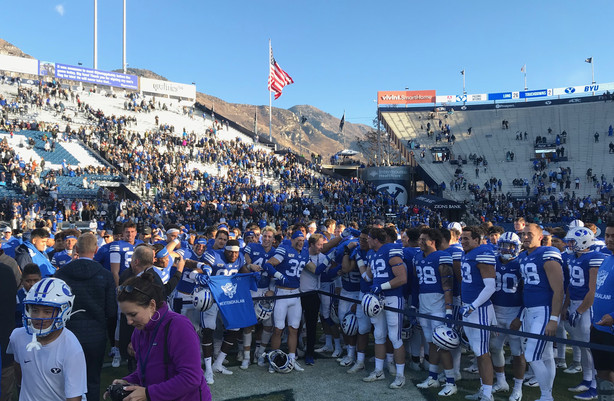 Holmoe has not commented on Sitake's contract but did say during his annual media roundtable last January that the two are on good terms and speak "often" about things like salaries and contracts. Sitake has basically said the same thing when asked during the year about his status, though he prefers not to address it in favor of focusing on his players.
Those players, though, know his situation. Senior defensive end JJ Nwigwe stoically waved a similar "Extend Kalani" T-shirt during the Hawaii Bowl presentation, and linebacker Chaz Ah You — whose father Jasen works on Sitake's player personnel staff — voiced his support for his coach several weeks ago.
"When a coach steps up and takes the blame for the players, that shows a lot of love and humility. As a player, it makes you want to step up more," Ah You said on Oct. 14, before the Cougars' season-changing win over Boise State that sparked the current four-game winning streak. "He doesn't have an extension right now, and his job is on the line. For him to put himself under the bus like that and to take the blame for the way that we are playing shows a lot of love. It makes me want to go out there and work harder for him."
Contract extensions are essential for recruiting, too. The Cougars currently have 20 commitments for the Class of 2020, headlined by three-star quarterback Sol-Jay Maiava of St. John's College High School in Washington, D.C.; American Fork edge rusher Bodie Schoonover; and Corner Canyon linebacker Josh Wilson, the younger brother of BYU quarterback Zach Wilson; among others.
The No. 70-rated recruiting class in the nation by 247 Sports — up 11 spots from last year — can add a player via a national letter of intent in the early signing period, which runs Dec. 18-20.
There's a minimum standard at BYU, and that includes its teams playing in the postseason like the college football bowl season. The Cougars failed to reach that standard after a 4-9 season in 2017, leading to the firing of offensive coordinator Ty Detmer and the release of most of his offensive assistants. But under new coordinator Jeff Grimes and passing game coordinator (and current Broyles Award nominee) Aaron Roderick, the Cougars have rebounded for back-to-back bowl games — last year's Famous Idaho Potato Bowl in Boise and the forthcoming SoFi Hawaii Bowl.
With Saturday's win, Sitake improved his record at BYU — his first head coaching job — to 26-23 in four seasons. The Cougars have two remaining games, at UMass (1-10) and San Diego State (8-2) to conclude the regular season.
×
Related Stories