PROVO — In eight days, real, live college football will be back in BYU-supporting households across the country.
But it is not this day. This day is for more conference realignment reports, which change by the moment, and the Cougars are already on the top of expansion for the one Power Five league that still has interest in adding to its base.
The decision to expand and who to add is still in the early stages, but The Athletic reported Friday morning that BYU is already the front-runner for Big 12 expansion less than a day after the league's "Leftover Eight" were snubbed for inclusion by a Pac-12 Conference that declined to entertain expansion further.
Texas Tech athletic director Kirby Hocutt told the Lubbock Avalanche-Journal and other local media Thursday that he was part of a Big 12 expansion sub-committee that also included Baylor athletic director Mack Rhoades, Iowa State President Wendy Wintersteen and Kansas chancellor Douglas Girod.
That group is intriguing for BYU because it represents a favorable lot for the Cougars, whose recent run at Big 12 expansion in 2015 was undone in part by a consortium of LGBTQ advocacy groups calling for the conference to bar BYU from membership over its honor code policies that they said were fracturing of an inclusive community.
Hocutt said, "Right now, our complete focus is to make the Big 12 as strong as it can possibly be. And I expect that Texas Tech will play a leadership role in that. Going to continue to be part of power-5 structure in college athletics. We're going to continue to be proactive." https://t.co/AT9O1GZghS

— Don Williams (@AJ_DonWilliams) August 26, 2021
But half of the Big 12's board members have been replaced since then, and Hocutt and Rhoades have seemed to be less antagonistic toward BYU, in general. The Cougars and Bears even have a home-and-home series scheduled for Oct. 16 in Waco, Texas, followed by the return game on Sept. 10, 2022, in Provo.
"Right now, our complete focus is to make the Big 12 as strong as it can possibly be," Hocutt told the paper's Don Williams. "And I expect that Texas Tech will play a leadership role in that. We're going to continue to be part of the Power Five structure in college athletics. We're going to continue to be proactive."
Hocutt declined to confirm how many schools have already contacted the Big 12 about membership — some reports have already pegged the number at over a dozen. But the Red Raiders athletic director did admit there's been interest in the league, despite the forthcoming departures of Texas and Oklahoma.
"There is a lot of interest in the Big 12 Conference," he said. "There is a lot of interest for people to be associated with us, to join with us. We will take our time, be diligent, and make sure we make the right strategic decisions for the long-term future."
Hocutt on interest from other schools in the Big 12 conference. pic.twitter.com/H5ZN8HcZsT

— David Collier (@CollieronTV) August 26, 2021
In the Cougars, interest makes a lot of sense.
BYU's place among the Big 12's non-Texas and Oklahoma schools seems obvious for a conference seeking to engage new media partners. The Cougars' averaged 1.64 million television viewers across 16 games on ABC, FOX and ESPN from 2015-19, compared to 1.786 million in 36 broadcasts involving the Leftover Eight schools.
Interestingly enough, in games broadcast on secondary channels such as ESPN2 and Fox Sports 1, the Cougars out-drew Big 12 viewership with a median audience of 682,000 viewers compared to 482,000. That suggests that the Cougars have a more involved fan base — one willing to search out BYU games on less-than-ideal networks not named ABC, FOX or prime ESPN — than schools such as Oklahoma State, Iowa State and TCU.
That's exactly the kind of school a league like the Big 12 should be identifying in a conference realignment cycle driven less by cable boxes and subscriptions and more by overall brand awareness.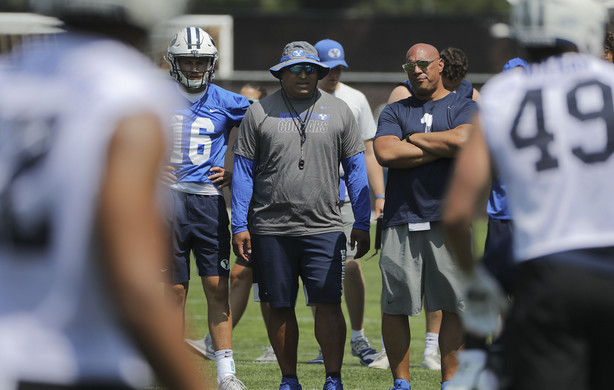 Part of the question over the summer, though, has involved BYU's interest in the Big 12 as much as the other way around. After all, the conference is significantly less stable without the draws of Texas and Oklahoma, who are expected to leave for the Southeastern Conference when the league's Grant of Rights agreement expires in 2025 — if not earlier.
But a Big 12 move would also enhance BYU's earning potential, an overall earnings figure that athletic director Tom Holmoe has spoken openly about with local media in the past. When asked during one of his annual media roundtables if the Cougars going back to the Mountain West Conference was ever an option, the tenured athletic director cited finances and BYU's exclusive television deal with ESPN as reasons why such a move did not make sense.
The Cougars reported $75 million in overall athletic department revenue to the Department of Education in 2019, including a football rights deal with ESPN that is estimated to be between $6 million and $10 million (because BYU is a private institution, there are limits to their overall reporting breakdown for things like TV contracts).
Big 12 members received around $28 million in media rights money in 2020-21, if Big 12 commissioner Bob Bowlsby's address to the Texas state Senate recently is to be believed. But that number will likely decrease significantly — some have argued by as much as half per member school — without the Longhorns and Sooners.
Still, adding BYU to the Big 12 makes sense for two other key reasons. As an FBS independent, the Cougars don't have to navigate an exit from another conference or worry about things like exit fees and grant of rights. They're essentially able to join a conference at the behest of the school's sponsoring institution, The Church of Jesus Christ of Latter-day Saints, though likely with some input from ESPN, as well.
The Worldwide Leader has included language in BYU's contract that allows for flexibility in joining another conference, sources have told KSL.com over the years. The same is true for the Cougars' myriad bowl contracts, which include a spot in the Independence Bowl in Shreveport, Louisiana in 2021 if BYU wins at least six games and doesn't earn a higher payout bowl (i.e. New Year's Six or playoff bid).
"I don't think this is necessarily going to be a quick situation, but I do think the decision will come quickly... it just makes too much sense for both sides"@BerryTramel joins #BYUSN to share his opinion on today's BYU to the Big-12 reports.#GoCougspic.twitter.com/wsO4ParusS

— BYU Sports Nation (@BYUSportsNation) August 27, 2021
And while football is the primary — in many ways, only — driver behind the current round of expansion, the Cougars also present an attractive athletic department to the Big 12. With most of its sports playing in the West Coast Conference of like-minded religious and private institutions, BYU finished the 2020-21 season ranked 17th in the Learfield Directors' Cup standings, the third-best finish in school history. In five years since 2015, the Cougars' average ranking of No. 30 nationally would rank second in the new Big 12 behind only Oklahoma State's 24th, according to The Athletic.
But perhaps the biggest reason that BYU makes sense for the Big 12 has less to do with football and athletics, in general. The conference's board members have rotated enough that many of the issues presented by BYU's admittance in the past seem to have less forbearance on the new group of leaders.
As one source put it to The Athletic: "The people who didn't want BYU before are leaving the conference."
Oklahoman columnist Berry Tramel told BYUtv that a marriage between BYU and the Big 12 seems likely, even if it's not imminent. The Cougars might easily wait to join the conference until 2025, or the year after Texas and Oklahoma have departed for the SEC.
"I don't necessarily think it will be quick. The Big 12 is not in a hurry, because frankly the Big 12 wants to slow-play the exodus of OU and Texas," Tramel said. "They want Oklahoma and Texas to stay in the league four more seasons, for that television contract to remain intact.
"They're going to play the long game. I think any talks with Brigham Young will not have to be expedited."
×
Related Stories