Estimated read time: 6-7 minutes
AROUND THE SHIELD — Dax Milne was the 258th pick in the 2021 NFL Draft, the second-to-last pick of the seventh round by the Washington Football Team during a year when prospects were limited, and faced an uphill battle to make his first NFL roster.
Seventh-round selections are cut regularly in the NFL, and in a season following the COVID-19 pandemic that turned college football and NFL scouting on its head, the average seventh-rounder was valued no more than a priority free-agent pickup.
But don't bet against "Mr. Penultimate."
Milne earned a spot on the 53-man roster with Washington, securing his position after the Football Team waived Tony Brown, Isaiah Wright and Antonio Gandy-Golden on the final day of roster cuts Tuesday.
The 6-foot-1, 190-pound slot receiver went from Zach Wilson's favorite target, amassing 1,255 yards and nine touchdowns on 75 catches as a junior during BYU's 11-1 season to becoming one of head coach Ron Rivera's favorite projects for his work ethic — and "flashes" of moments during Washington's three preseason games that helped turn him into a pro prospect much like his father Darren did with the Detroit Tigers' organization after an all-conference career at BYU.
"For me, it's a dream come true to play out there," Milne told Washington team media during the preseason. "It was frustrating for the offense when we couldn't move the ball, at times. But there have definitely been flashes of good things from a lot of guys."
"It's just a pride thing. You've got to make the most of your opportunities, especially for guys like me who are trying to make the team. I think we did that."
Washington signed all but one of their draft picks, including Milne, and have 25 guys on the active roster with three years of experience or less. But wide receiver is one of those young rooms that head coach Ron Rivera noted for its depth, and also added that Milne will see time returning punts and kicks, as well.
"With Dax, you've got a guy who has dual return ability," Rivera said. "Having four guys who have some return ability individually gives you some depth at that position."
Former Utah quarterback Tyler Huntley will be the top backup to Lamar Jackson after his five-touchdown performance in Baltimore's preseason finale. The Ravens waived fellow quarterback Trace McSorley to make it happen.
"He's gotten a tremendous amount of work this spring and summer, and we really like where he's going," Ravens offensive coordinator Greg Roman said of Huntley. "He played a great game the other night, and he just came back to work looking to get better."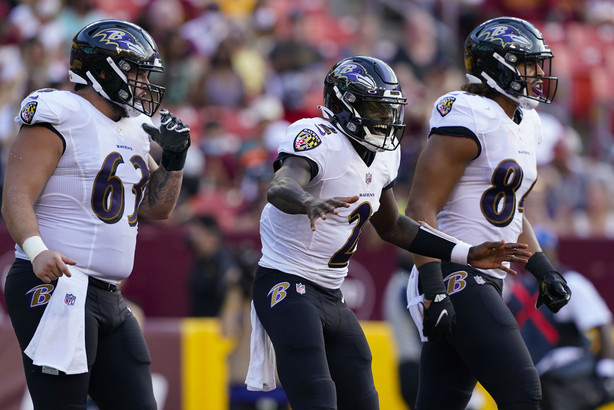 Huntley will be joined on the roster by Ty'Son Williams, the former BYU running back named to the Ravens' 53-man list after the devastating injury to J.K. Dobbins.
"Since we signed him last year, he's been doing a great job in practice," Ravens running back Gus Edwards said of Williams, who spent 2020 on the practice squad and playing sporadically on special teams. "Everybody gets to see how hard he runs now. He makes a lot of good decisions, and he's going to do a lot of good things for us this year."
Not every local football player was as lucky as Milne or Khyiris Tonga, the former BYU nose tackle who earned a spot on the Chicago Bears' 53-man roster as likeminded seventh-round pick. Fellow seventh-round pick Chris Wilcox, the cornerback out of BYU, was waived Tuesday by the Tampa Bay Buccaneers, for example.
Some players were waived because of injury, like former Utah lineman Sam Tevi and Hunter High tight end Noah Togiai, who both came off the Colts' roster with an injury designation.
Here are the former high school and college football standouts from Utah who were waived or release during the 2021 preseason, including Tuesday:
LeShaun Sims, CB, Southern Utah (waived by Bengals)
Dax Raymond, TE, Utah State/Timpview (injury/waived by Steelers)
Dayan Lake, CB, BYU/Northridge (waived by Rams)
Aleva Hifo, WR, BYU (waived by Cardinals)
Micah Simon, WR, BYU (waived by Panthers)
Hunter Thedford, TE, Utah (waived by Lions)
Pita Taumoepenu, LB, Utah/Timpview (waived by Broncos)
Noah Togiai, TE, Hunter (waived by Colts)
Branden Bowen, OT, Corner Canyon (waived by Cardinals)
Tristen Hoge, OG, BYU (waived by Jets)
Dominik Eberle, K, Utah State (waived by Raiders, Panthers)
Kai Nacua, S, BYU (waived by 49ers)
Zayne Anderson, CB/S, BYU/Stansbury (waived by Chiefs)
Isaiah Kaufusi, LB, BYU/Brighton (waived by Colts)
Chandon Herring, OL, BYU (injury/waived by Titans)
Siaosi Mariner, WR, Utah State (waived by Ravens)
Porter Gustin, DE, Salem Hills (waived by Browns)
Zac Dawe, DE, BYU/Pleasant Grove (waived by Falcons)
Chris Wilcox, CB, BYU (waived by Buccaneers)
Brian Allen, CB, Utah (waived by Browns)
JoJo Natson, WR/PR, Utah State (waived by Browns)
Bronson Kaufusi, TE, BYU/Timpview (waived by Packers)
Jared Norris, LB, Utah (waived by Washington)
Jackson Barton, OT, Utah/Brighton (waived by Giants)
Sua Opeta, OG, Weber State/Stansbury (waived by Eagles)
Andrew Vollert, TE, Weber State (waived by Colts)
Darrin Paulo, OL, Utah (waived by Lions)
Darwin Thompson, RB, Utah State (waived by Chiefs)
Marcus Kemp, WR, Layton (released by Chiefs)
Matt Bushman, TE, BYU (waived by Raiders)
Jeremiah Poutasi, OL, Utah (waived by Raiders)
Dallin Leavitt, S, Utah State (waived by Raiders)
Jordan Devey, OL, American Fork (released by Bills)
Kylie Fitts, LB, Utah (released by Cardinals)
Tipa Galea'i, LB, Utah State (released by Packers)
Corbin Kaufusi, OL, BYU/Timpview (released by 49ers)
Additionally, former Utah State cornerback Nevin Lawson was placed on the Raiders' reserve/suspended list. Lawson, who is in his third season with Las Vegas and eighth overall, has been suspended for the first two games of the 2021 season for reportedly testing positive for performance-enhancing drugs.
The release of the 53-man roster Tuesday leaves 53 players from local high schools and colleges on active NFL rosters. Teams may now negotiate with players who clear waivers and could add them to their respective practice squads Wednesday.
The group includes 22 players from the University of Utah, 13 from BYU and seven from Utah State, with three players from the state's FCS schools and 10 more former Utah high school players.
The Dallas Cowboys, Seattle Seahawks and New Orleans Saints lead all NFL teams with four locals on the roster apiece, while while the Buffalo Bills, Chicago Bears and Los Angeles Chargers have three each.
Here's a look at all 53 players.
×
Related Stories