Estimated read time: 2-3 minutes
This archived news story is available only for your personal, non-commercial use. Information in the story may be outdated or superseded by additional information. Reading or replaying the story in its archived form does not constitute a republication of the story.
MOAB — Federal land officials are asking for the public's help as they try and identify those responsible for vandalizing an at least 700-year-old petroglyph near Moab earlier this month.
The vandalism was discovered by someone visiting Mill Creek Canyon, southeast of Moab, on Aug. 10, according to Rachel Wootton, a public affairs specialist for the Bureau of Land Management. She said the petroglyph is believed to have been drawn by northern San Juan members of the Ancestral Puebloan Culture likely between 350 B.C. and 1300 A.D.
Pictures of the vandalism show the unknown vandal or vandals wrote "PETROGLYPHS" and what appears to be the names "Taylor," "Trey," "Wes" and "Travis" plus the date of Aug. 3.
Archaeologists quickly visited the site to review it and remove the scratches on the rock wall around the petroglyph. Wootton said archaeologists contacted the affected tribes and completed National Historic Preservation Act consultation prior to completing the emergency treatment two days after the vandalism was discovered.
Photos show the scratches still exist but are less prominent than before the treatment. More work will have to be done to reduce the damage.
The agency tweeted about the incident Wednesday, asking for anyone who has information in the case to call BLM law enforcement at 435-259-2131.
The incident is the second high-profile petroglyph vandalism near Moab this year. Birthing Rock, another Ancestral Puebloan Culture relic, was vandalized in April. Experts pointed out after that case that a petroglyph is never completely the same even after treatment.
Still, Wootton said it is important that people do not try and repair any damage to petroglyphs they find.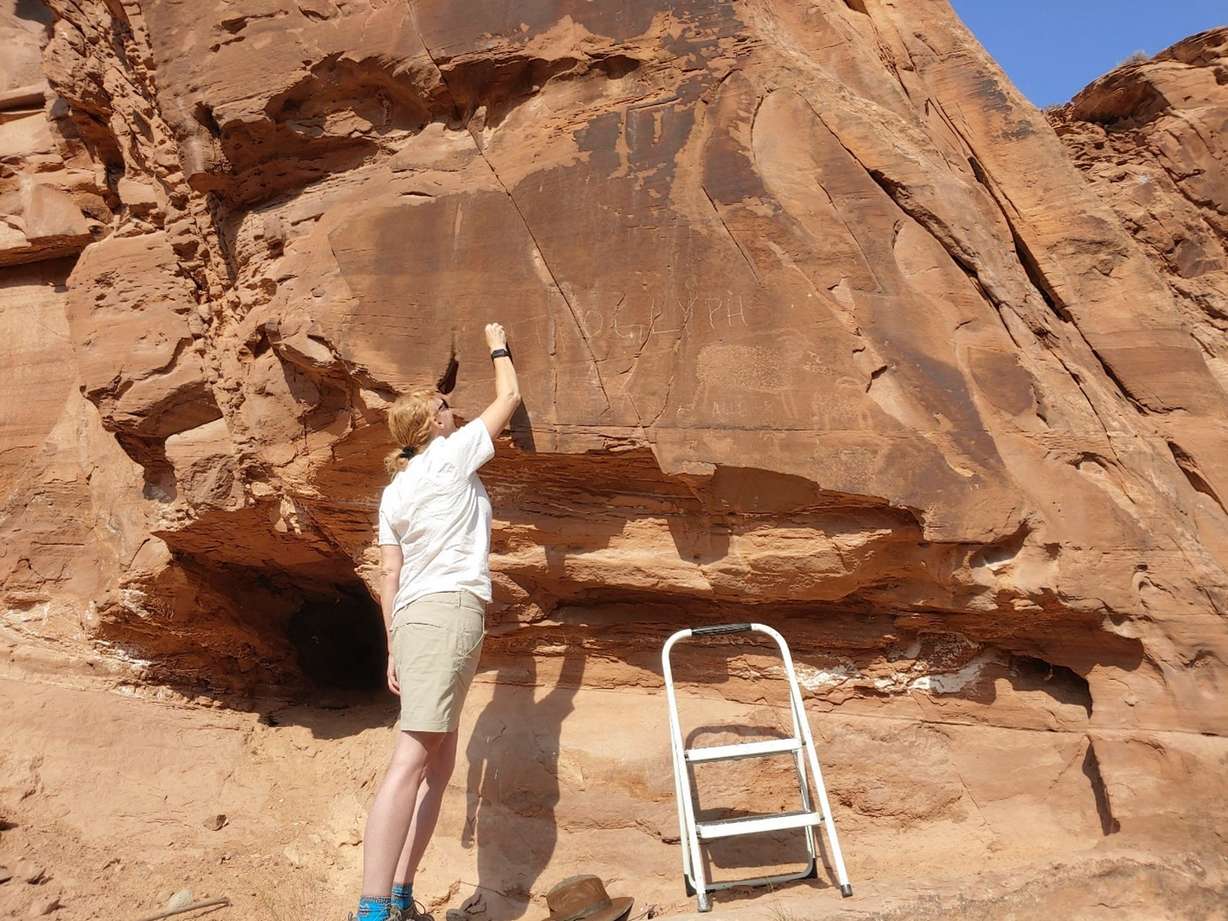 "We know seeing vandalism can be disheartening and frustrating, but please allow professionals to conduct remediation efforts. To prevent further damage, please do not attempt to clean or remove the graffiti," she said. "Sometimes trying to remove graffiti yourself can cause even more damage."
She added that the agency is "grateful" for the person who brought the vandalism to their attention. She urges anyone who comes across public land vandalism in the outdoors to report it to the agency that manages the land.
×
Photos
Related stories
Most recent Outdoors stories