SALT LAKE CITY — Earlier this week meteorologists expected that the cold front helping to push much-welcomed rain into Utah would also help clear the air from smoke that's continuously hovered over the state from out-of-state wildfires.
That's because a front pushes out existing air, typically moving it east. But even as that storm system brought rain, wind and cooler temperatures Wednesday morning, KSL Air Quality Network continues to show air quality levels considered unhealthy for sensitive groups and even reaching levels considered unhealthy for anyone at times, especially along the Wasatch Front and northern Utah.
Several Utahns have reported they still could smell smoke even during storms.
"Surprised that it's smoky while raining and windy at the same? Us too!" the National Weather Service tweeted Wednesday.
So why is it happening? It all has to do with the relationship between the cold front and smoke coming from fires in northern California, said Darren Van Cleave, a science and operations officer for the National Weather Service's Salt Lake City Office.
He tweeted a radar model video Wednesday to help explain it. Areas ahead of the cold front are experiencing air moving from the southwest, while areas behind the front have air moving north and northwest. At the same time, fires in northern California continue to push smoke east.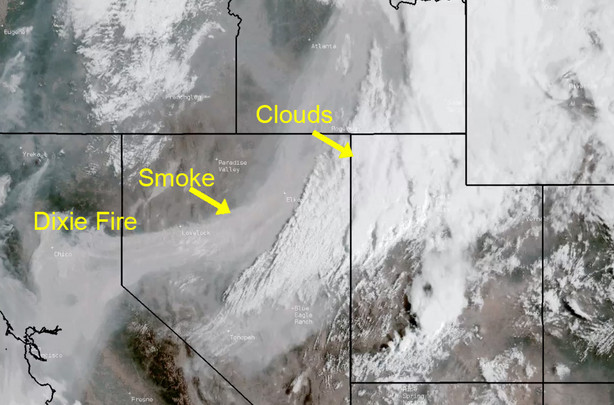 "Just think of it as two forces that are compressing the smoke into this relatively narrow ribbon of highly concentrated smoke," he told KSL.com. "This is so concentrated that rain is not going to provide the mixing necessary to make any difference there and the wind that we're having is predominantly southwesterly — well, that lines right up with the transport direction of the smoke, so that's not bringing in cleaner air. ... We don't have a good mechanism to clean it out."
As of 11 a.m., that ribbon stretched from Reno, Nevada, to Utah "roughly along" the I-80 corridor. The second radar model Van Cleave shared online shows smoke in the atmosphere over Utah despite the storms.
Projecting into the future, our weather model capable of handling smoke is showing little relief until Thursday afternoon. pic.twitter.com/0n30fyz3Db

— NWS Salt Lake City (@NWSSaltLakeCity) August 18, 2021
KSL Air Quality Network Wednesday morning showed most of the poor air quality in Utah was located north of Springville; however, Van Cleave said the cold front has stalled a bit in Utah. As it pushes through the rest of the state, it's expected to worsen air quality from Delta southward as well Wednesday night into Thursday.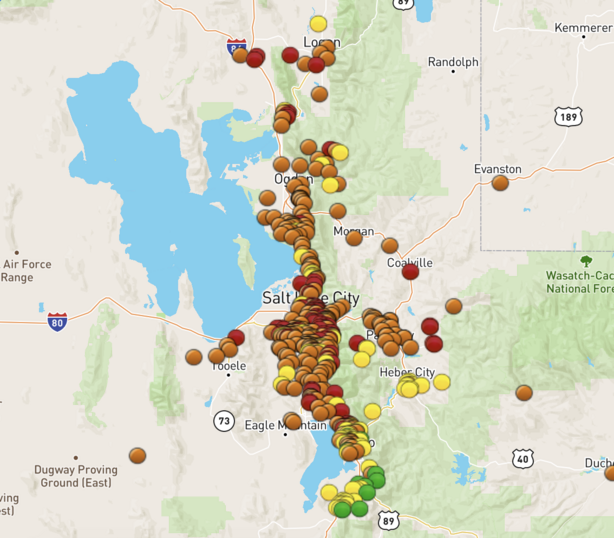 He added the higher concentrations of smoke are expected until at least Thursday afternoon, which is when "the bulk" of the cold front has passed through Utah.
"It's almost like this smoke has just been inhaled, if you will, into the system and it's just kind of stuck there, and we need the whole weather system to move off to the east," he said. "It's really after the weather system moves off to the east that we see some relief in concentrations."
Some smoke is still expected in Utah's atmosphere after Thursday afternoon but not as much as Wednesday through Thursday morning.
The only thing that'll ultimately stop unhealthy wildfire smoke from hovering over Utah isn't exactly the weather. Van Cleave pointed out that smoke will continue to enter the state as long as there are large fires burning off to the West that bring smoke to Utah.
The Dixie Fire, which is the largest culprit in terms of smoke from California, has burned 626,751 acres. It remains 31% contained as of Wednesday morning, according to federal firefighting agencies. More than 6,000 people are assigned to fighting the giant fire.
The trough moving over Utah, bringing precipitation to the Beehive State hasn't helped California at all in the battle. Weather service meteorologists say northern California is getting wind with little precipitation instead.
Full forecasts for areas across Utah can be found at the KSL Weather Center. Current air quality reports for many parts of Utah can be found at the KSL Air Quality Network.
×
Related Stories