Estimated read time: 5-6 minutes
This archived news story is available only for your personal, non-commercial use. Information in the story may be outdated or superseded by additional information. Reading or replaying the story in its archived form does not constitute a republication of the story.
FISHLAKE NATIONAL FOREST — One of Utah's most surprising natural wonders is getting some unusual attention from a battalion of camera operators.
The Pando Photographic Survey will make it possible for scientists — and the public — to see "The World's Largest Living Thing" in a whole new way.
Pando is the name scientists have given to a grove of aspen trees near the shores of Fish Lake in central Utah.
DNA testing has shown that, biologically, the entire grove is a single organism — essentially one tree. It covers 106 acres, with 47,000 trunks or "stems" that are connected underground by an estimated 12,000 miles of roots.
"You know, there's big trees and tall trees, but this is a tree!" said Lance Oditt who is leading the survey. "106 acres! I mean, it boggles the imagination."
Pando evidently started to grow from a single seed that took root and began sending out "suckers" that emerge from the soil and grow into tall stems.
Although some have claimed Pando might have started growing as far back as 90,000 years ago, there's a growing consensus that Pando is very old, but not that old.
"Most scientists agree that Pando got started sometime after the last Ice Age," Oditt said, "around somewhere between about 10 and 12,000 years ago."
"I've just never heard of anything like it before, to be honest," said Wilson Thorpe, a college student from Cold Spring, NY, who volunteered to work on the photo survey.
The highway to Fish Lake runs right through the middle of Pando.
A popular campground is nestled into one cozy corner of the sprawling aspen grove.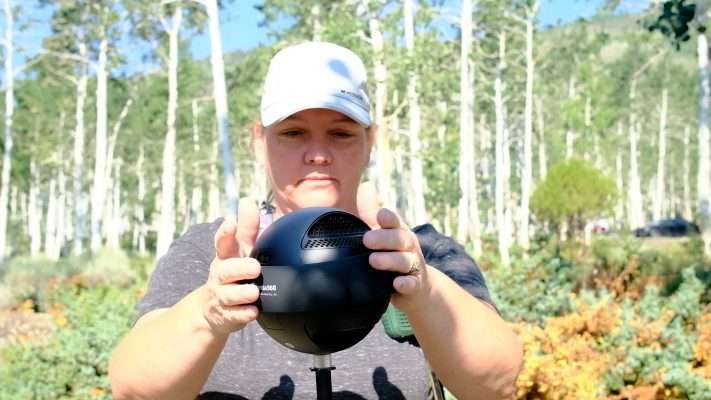 April Anderton of Sigurd volunteered to work on the survey after her daughter learned about it in school.
"Lived here all my life, camped right down here in this campground, and I had no idea it was here," Anderton said.
Pando — a Latin word meaning "I spread" — is the biggest aspen clone. In fact, it's the biggest living anything ever found anywhere.
"It's a tree that redefines what a tree is and what a tree can be," Oditt said. "I mean, whoever thought a tree could be 106 acres and have 12,000 miles of roots connecting it all together?"
"It's probably the biggest thing, it's probably the oldest thing, and it's been hiding here in plain sight for millennia," said J. Brunner of Ilwaco, Washington, senior photographer on the project.
Some experts claim a fungus in Oregon is bigger because it covers a lot more acreage, but Pando has the fungus beat on sheer massiveness. If there was a way to put it on a scale, scientists estimate it would weigh in at something like 13 million pounds.
Pando is the rare Utah native with its own postage stamp, part of a series issued by the Postal Service in 2006 called "40 Wonders of America."
And now, Pando is ready for its closeup — 8,600 of them.
Nearly two dozen volunteers have been setting up unusual spherical cameras throughout Pando's innards, at 8,600 pre-defined locations. They shoot overlapping images that will be combined into one enormous computer file, showing almost every part of Pando from every angle.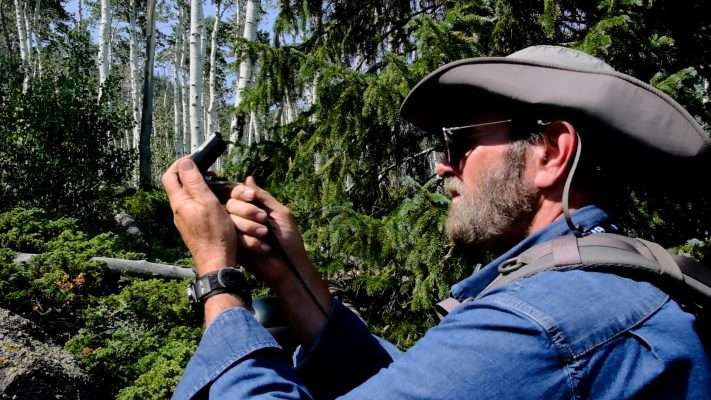 Lance Oditt dreamed up the project, partly as a way to help scientists monitor future changes in Pando's growth patterns.
"It allows scientists to get plopped down at one of 8,600 locations in the tree and study it like they were standing there," Oditt said.
At each of the camera positions, the virtual-reality cameras capture — in one 360-degree image — everything visible from that spot in the forest.
Because of that, the camera operator hides behind a tree or a rock every time the shutter snaps a picture. Otherwise, a member of the camera crew would be seen in every shot.
"Well, you'd have 8,600 selfies," Brunner said, "and nobody needs that."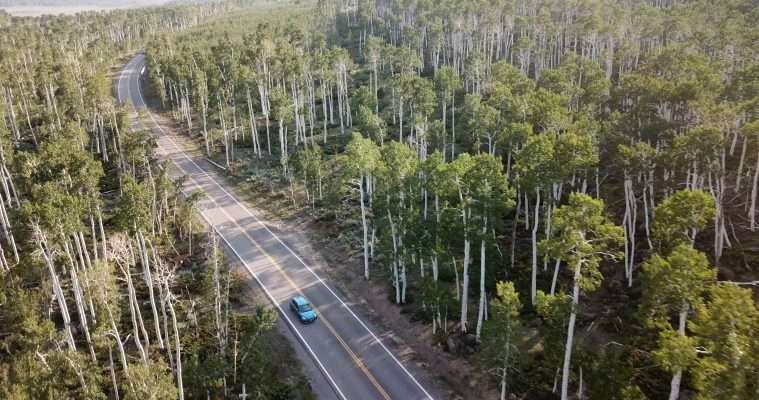 Once all the images are assembled and digitally stitched together by computer software, it will make possible a virtual-reality experience of nearly the entire aspen grove. Anyone who wants will be able to take a virtual "walk in the woods" free of charge, on their computer, cellphone or virtual reality headset.
"They would see a given location in the tree or be able to take a walk all the way through, just like they were walking through themselves," Oditt said.
The photographic record might also be useful as a baseline of visual data for scientists monitoring changes to see if Pando is thriving or struggling.
"There's evidence that it's in decline," Brunner said, "and it's thought that it's (because of) browsing by deer."
Pando's deterioration started about 50 years ago when it began failing to regenerate healthy new stems.
Although human-caused climate change and other factors may play a role, scientific research points the finger hard at mule deer. They're protected from hunting at Fish Lake and humans have largely eliminated predators that feed on the deer. That has led to an overpopulation of deer, which eat aspen stems before they can grow up into tall trunks.
Still, the volunteers have been impressed by the remarkable resilience of aspens and the fact that they seem to thrive on adversity, sending out additional underground suckers when times are tough.
From 2014:
"You can relate that to your own life," said Ngawang Salaka, a volunteer from Queens, NY. "Even when a couple get knocked down, it's going to send up 10 more and keep going. It's why it's been around for about 12,000 years."
"They love being challenged," said Nathan Lindsay, a volunteer from Sandy. "The trees are almost an inspiration because how all of this started was a tree was not able to pollinate and thus started spreading out."
Several of the volunteers expressed hope that the virtual-reality project will help scientists understand Pando better and help it survive.
"I want to preserve this," Anderton said. "I want it to be here for my grandkids and their grandkids, and I just want it to be here for them."
"Well, if we can't take care of this tree," Brunner said, "it kind of says something about our stewardship of, of everything."
Some of the virtual imagery should be available to the public early next year on the website, FriendsOfPando.org.
×
Photos
Related stories
Most recent Utah stories