Estimated read time: 4-5 minutes
PARK CITY — Thousands of homes were under evacuation order as a human-caused fire that sparked in Parleys Canyon Saturday afternoon continued to spread quickly near I-80.
Summit County Sheriff Martinez tweeted that residents of Summit Park and neighboring Pinebrook and Timberline subdivisions were under mandatory evacuation order — expected to last 24 to 48 hours — as the fire continued to grow. Lambs Canyon and Millcreek Canyon were also evacuated, according to Utah Fire Info, which is composed of state and federal firefighting agencies.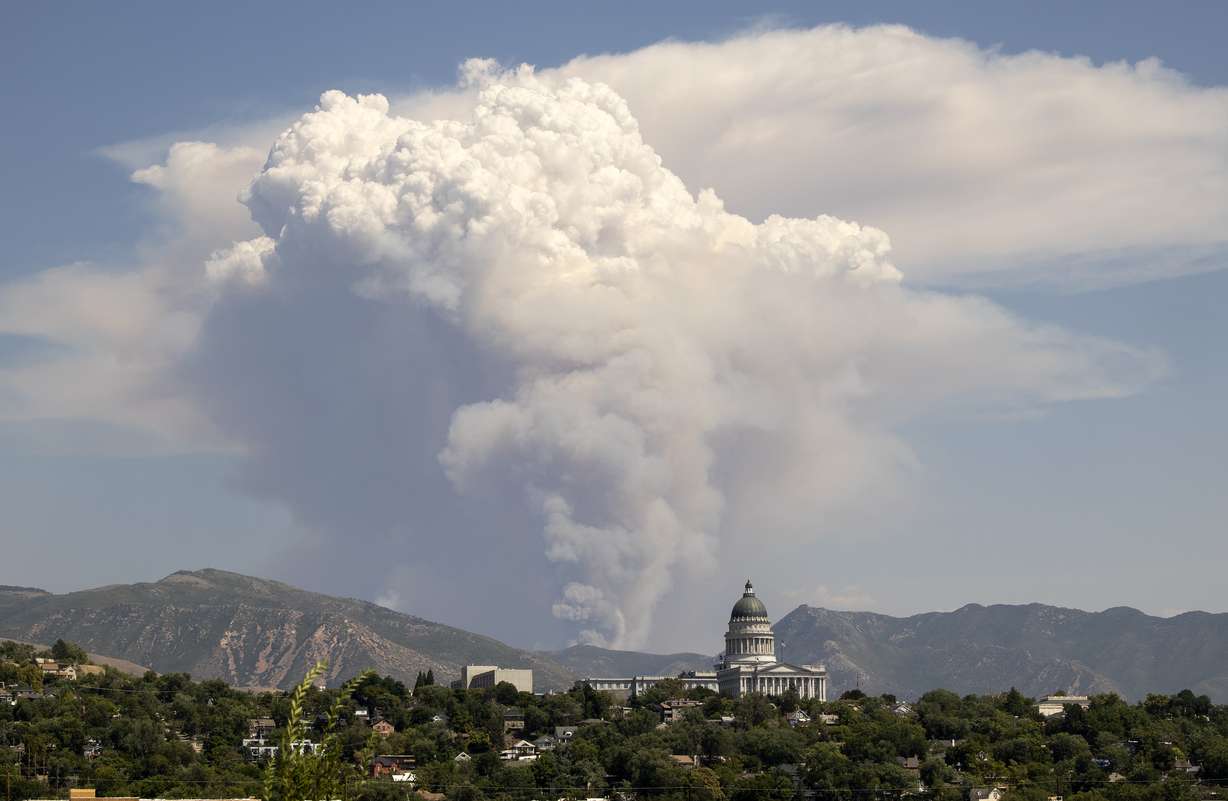 The sheriff said some residents refused to leave, which was "hampering efforts and are putting first responders in danger."
"PLEASE evacuate immediately!" he tweeted.
In all, Utah Fire Info estimated that 6,000 to 8,000 homes were under evacuation. Those evacuated were told to go to an emergency shelter at Park City High School, located at 1750 Kearns Blvd. Park City. Park City Fire District officials said dispatchers sent a reverse 911 call to residents in the area to inform them of the evacuations. Some firefighters were reassigned from the fire to facilitate "structure protection" in the Summit Park area, dispatchers said.
Red Cross officials said in a statement that evacuated residents should wear masks inside the evacuation center, regardless of vaccination status, "to ensure the safety of our workforce and those we serve."
🔥#ParleysCanyonFire: A #RedCross Evacuation Center is now open at Park City High School, 1750 Kearns BLVD, Park City, Utah 84060. Please check in with a volunteer when you arrive and don't forget to bring your mask! pic.twitter.com/cLutZQF6F7

— American Red Cross of Utah (@RedCrossUtah) August 14, 2021
Gov. Spencer Cox tweeted that his office was monitoring the fire "closely."
"We have been extremely blessed and lucky this fire season — but this one is big and dangerous. Please be careful and follow evacuation orders," he tweeted. "Praying for the safety of our firefighters as (they) work to protect homes and lives."
The blaze, dubbed the Parleys Canyon Fire, was first reported shortly after 1:15 p.m., according to the Utah Highway Patrol. Firefighters said a vehicle's "poor working" catalytic convertor tossed hot particles along the roadside, and sparked the fire.
A caller told dispatchers there were two grass fires near each other not far from Lamb's Canyon. The two fires were about a mile apart and flames quickly shot up the mountainside, away from I-80 with the help of east-blowing winds, Utah Department of Public Safety officials said.
Utah Fire Info reported the fire grew to 2,500 to 3,000 acres by 4:30 p.m. It remains 0% contained as aircraft, with hand crews on the ground, was helping to establish a perimeter.
Whoa! A birds eye view from @KSLChopper5 of the fire up Parleys Canyon. @KSL5TVpic.twitter.com/4se4GeoeZW

— Dan Rascon (@TVDanRascon) August 14, 2021
Nancy Eagan, a resident of Summit Park area, told KSL-TV that a friend who could see Lamb's Canyon from his home sent her family a photo of the fire, which is when she first learned about it.
"It just seemed like it moved so fast. There was so much orange smoke we could see from our house and found out right away we needed to get packing and getting ready to leave," she said. "We grabbed just clothes and some bathroom items and valuables and packed both of our vehicles. It's nerve-wracking, definitely. ... It's been close so it's scary."
The Northern Utah Type 3 team was called to the fire along with more than a dozen ground and air vehicles from local, state and federal departments, according to Utah Fire Info.
The fire also had severe impacts on traffic in the area. The Utah Department of Transportation said the right lanes of eastbound I-80 were still closed between Lambs Canyon and Parleys Summit, and UHP tweeted that westbound I-80 was open at about 7 p.m. At one point, travel on the interstate was at a standstill and UDOT reported that the fire was causing "significant delays" on I-80.
"Both westbound and eastbound, reduced visibility is possible due to smoke from the fire. Consider using an alternate route," the agency tweeted.
Throughout the night, officials urged vehicles to avoid the area. No stopping or parking along the shoulders was allowed.
At the same time, Rocky Mountain Power officials said there were close to 2,500 homes in the Park City area without power as a result of the fire. Most had power restored quickly, according to an agency spokesperson. UDOT also reported traffic signal issues tied to widespread power outages east of Kimball Junction in the area.
A concert planned for Saturday evening at the outdoor stage at Deer Valley Resort was postponed due to the fire. The resort was reportedly working to reschedule the Indigo Girls concert for a later date.
"This decision was made in order to help alleviate pressure on law enforcement services and fire resources," the resort tweeted.
Jordanelle State Park announced it would be closed for day use on Sunday to allow firefighters use of the reservoir to help contain the fire.
×
Photos