Estimated read time: 5-6 minutes
SALT LAKE CITY — When 13-year-old Loïs Merci pictured her baptism, she thought it would be like the ones she had seen before.
But instead of being baptized in a convention center with thousands of Jehovah's Witnesses from around the world in attendance, her father baptized her in an inflatable pool in a family friend's backyard with just a few family members and friends in attendance.
"It was a new experience for me, but I saw my dad and it was kind of normal. There weren't that many people around me, so I wasn't that nervous," she said. "Although it was small, it was still very special."
She and her father, Amisi Malembo, attend the Swahili congregation in Utah with their family. They are originally from the Democratic Republic of Congo and moved to Utah in 2017.
"I was very happy when my daughter told me that she had made a personal decision to get baptized. It was a wonderful feeling to baptize my daughter personally. I felt like Jehovah was sending a message to give her special care in the new country," he said.
Loïs is one of thousands of Jehovah's Witnesses throughout Utah who are attending their second virtual global convention from home, joining with 15 million to 20 million people in 240 countries.
Last year, in-person regional conventions — including the one that has been held at Weber State University's Dee Events Center in Ogden for over 30 years — were canceled because of COVID-19, and instead the church moved the gathering online for the first time over six weekends to help the congregants better process the material.
Substantial effort has been made to make this year's virtual conference spanning weekends in July and August "the most accessible event in the history of mankind," said Robert Hendriks, U.S. spokesman for the denomination.
Typically Witnesses hold 6,000 conventions every year with about 800 here in the United States, and people will travel to conventions from all over the world. The in-person events are usually three days over a weekend "immersion experience," he continued.
Now instead of large baptismal gatherings, Witnesses are opting for intimate baptisms in ponds, lakes, swimming pools, inflatable pools and even bathtubs, with only minimal attendance.
In order to qualify for baptism, candidates must study the Bible, answer questions and make a public declaration of their faith, according to the faith's website. And for Loïs, even though the outward circumstances were different, the internal significance remained the same.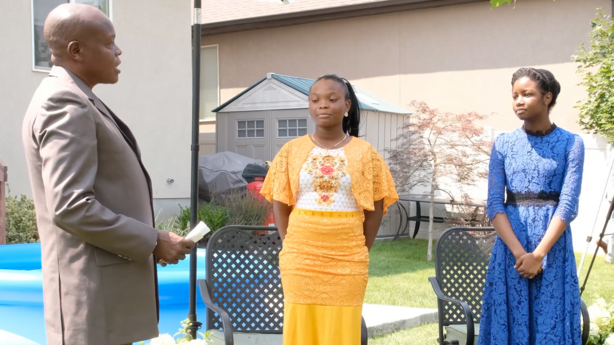 "Dedication to God happens in your heart," Hendriks said. "We pray to Jehovah, and we say we want to dedicate our lives to him, so that's private. But Jesus taught us that we had to make our dedication public," which is where baptism comes in, he continued.
He related Loïs' small, intimate experience to that of Jesus' baptism by John the Baptist.
"Our baptisms today during COVID are very much like baptisms in the first century where people were doing it in homes and in the Jordan River and other places where they didn't have 5,000 people watching. And so we're kind of going back to our Christian roots on that. But still, it does take some of the moment away," Hendriks said.
The theme for this year's convention is "Powerful by Faith!" With the delta variant still spreading, travel being limited and the COVID-19 vaccine not being available in many countries, the convention is all available online for free in 500 languages, 150 of which are sign languages, with descriptions of all the visual components for blind people. The sessions are available for download in every country through the Jehovah's Witness library app, as well as on Roku TV, Apple TV and the JW Broadcasting app.
"Being able to do this virtually is really good because it keeps our families safe. And it also allows them to continue to be with family and to kind of hunker down, focus on their real moment, and not worry about these other things that would have stressed them out if they had to travel," Hendriks said.
The virtual convention includes talks, hymns, music videos in a variety of languages and dramatizations of the lives of Biblical figures. It's typical for some of the multimedia elements of each conference to be in the works for five years before they are aired. This year's talks emphasize ways to improve the strength of faith, and one session focuses specifically on the example of women of faith.
The theme was chosen in response to the fear and uncertainty that has come about globally because of the pandemic, during which people have been hit medically, socially, financially and spiritually. Faith is the antidote to the pessimism about the future and the thing that gives people enough hope to get through difficult times, explained Hendriks.
"We're hoping that as a result of this convention, which is focusing on faith, that for those whose faith has waned a bit, it can be rekindled. For those whose faith it has strengthened during this time, that it can be even more strengthened, augmented, and that this pandemic, and this convention together, can give us the opportunity to come out of this whole crisis stronger than the people we came into it as. And that's really our goal," he said.
Eventually, Jehovah's Witnesses will go back to their tradition of being the largest convention organization in the world, but they are going to take their time to ensure safety for everyone.
"We're very global and international and we're a brotherhood. So we have to think about the implications of the international aspect of our religion, and not simply look at the implications for places, you know, states or cities, but really a global implication. So we're looking at our options, and we're looking at what's going on in the world and with the pandemic, and we'll be making some decisions over the next several months on next year's conventions," he said.
×
Related Stories