SALT LAKE CITY — It's been one year since President Donald Trump signed into law the Great American Outdoors Act, which directed about $1.9 billion annually through 2025 for public land improvements across the United States.
"The Great American Outdoors Act is very special because it brings together a broad range of recreation, rivers, trails, conservation, parks and philanthropic partners," said Shannon Estenoz, the assistant secretary for fish and wildlife and parks at the Department of the Interior, speaking of the bill during a one-year anniversary teleconference Wednesday.
"Partnerships are critical with successful implementation of the act, so we can ensure that we leverage the historic federal commitment represented by the act with state, local and organizational funding to improve and modernize our stewardship of national resources, to accommodate visitor needs and to increase recreation opportunities in ways that align with our equity and inclusion goals."
Since it was signed, millions of dollars have either already gone toward projects in Utah or are set to in a few months. About $7.3 million went to Utah for Bureau of Land Management projects during the 2021 fiscal year.
Even more money is slated to come during the 2022 fiscal year, which begins in October. A little more than $11.2 million is scheduled to go to Zion National Park to cover deferred maintenance at South Campground, rehabilitate the aging campground and add visitor amenities, according to the Department of the Interior's 2022 fiscal year budget project list. That's the most notable project of either fiscal year.
The park also is set to receive nearly $2 million through the 2022 fiscal year Land and Water Conservation Fund, which is money that goes toward projects that protect ecosystems and increase recreational opportunities. Estenoz explained that it can fund things like national forests and wildlife refuges or go toward trails.
Another $5 million was set aside in the 2022 fiscal year budget for repairs to recreation assets and trailheads at Grand Staircase-Escalante National Monument and Red Cliffs National Conservation Area, as well as multiple campgrounds and recreation sites in southern Utah. There's also about $2.3 million requested in the 2022 fiscal year Land and Water Conservation Fund for close to 3,000 acres of the Bear River Watershed that includes Utah, Idaho and Wyoming.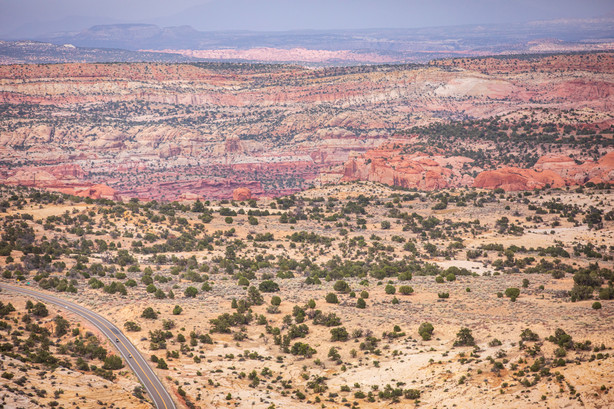 The National Park Service celebrated the one-year anniversary of the bill becoming law with free park admission Wednesday. The Bureau of Land Management waived fees, as well. At the same time, officials from federal agencies and organizations used the anniversary to talk about the current state of U.S. parks and the possible future for them, especially as interest in them has only grown in recent years.
The popularity of the outdoors
The timing of the bill also couldn't be more perfect in terms of public land popularity. The COVID-19 pandemic led to increased outdoor recreation, especially at local and state parks when national parks closed.
National parks across the U.S. have experienced surges in visitors since reopening. Zion National Park, for example, is still breaking visitation records. It reported an estimated 675,799 visitors in June this year, which is the most of any month since at least 1979 when it began keeping track of visitation.
---
It's pretty evident that more and more people are getting out there and how important outdoor recreation, especially on trails, is.
–Kate Van Waes, executive director of the American Hiking Society
---
About 4 out of 5 U.S. adults surveyed said they agree that visiting their local parks, trails and open spaces is "essential for their mental and physical well-being during the COVID-19 pandemic," according to a National Recreation and Parks Association published earlier this year. Studies have shown various benefits of visiting the outdoors, too.
Kate Van Waes, executive director of the American Hiking Society, said the organization's "National Trails Day," which happens every year on the first day of June, reached 45 million people on social media this year. That more than doubled the 20 million people in 2019.
"And we thought it was a big number then," she said. "It's pretty evident that more and more people are getting out there and how important outdoor recreation, especially on trails, is. And trails are critical not just for hikers. They are used by equestrians, they're used by trail runners, they're used by mountain bikers, they are used to get to your fishing and camping spots and they're used to get to your climbing spots."
Yet still, some 100 million Americans, including 28 million children, don't have adequate access to parks, the Trust for Public Land estimates. That's where funding for everything from national to local parks matters.
"We are working to change that (divide)," said Kristine Stratton, president and CEO of the National Parks and Recreation Association. "And a fully funded (Land and Water Conservation Fund) and greater emphasis on the Outdoor Recreation Legacy Partnership Program, which funds green spaces in underserved communities, will help address these inequities."
Early successes of the act
In addition to trying to make public land more accessible for everyone, there's also an effort to catch up to major backlogs in current public land maintenance.
There's currently a $6 billion deferred maintenance backlog within the U.S. Forest Service, according to Jeff Vail, director of the Great American Outdoors Team at the U.S. Forest Service. The Great American Outdoors Act won't completely wipe out that backlog but it's expected to provide plenty of help.
"The investments for the Legacy Restoration Fund projects for fiscal year '22, we anticipate we'll improve the resiliency of forest and grasslands on 13 million acres, reduce fuels on 1.2 million acres and improve the watershed condition of over 4 million acres," he said.
The agency alone anticipates $1.4 billion in funds to cut into the backlog over the five-year lifespan of the bill. That money has already helped complete some of the needed agency projects, including in Utah.
Vail said one project, under the Legacy Restoration Fund created through the act, improved parking and road access to a Manti-La Sal National Forest campground near Bears Ears National Monument in an area that's become a "prime" recreation vehicle destination.
What's in store after FY2022?
Estenoz explained Wednesday that the agencies within the Department of the Interior, such as the National Parks Service and Bureau of Land Management, are still working to figure out what projects could get funding during the remaining three fiscal years (2023-2025) outlined by the bill.
So how does a project get selected, especially given a vast backlog of maintenance projects? For the U.S. Forest Service, the agency worked with field units in the 154 national forests within nine regions and also local communities to figure out the projects with the highest priority for fiscal years 2021 and 2022, Vail said.
Projects that benefited recreation, such as campgrounds or trailheads, were among the high priorities. Those are the types of projects that will likely move to the top of the fiscal year 2023 list, too. The forest service will go through a similar process of reaching out to field offices and communities to determine the projects that will get funding.
"Local community interest through public engagement and listening sessions is informing our selections and our priorities," he said.
There are other factors that will go into projects that receive Great American Outdoors Act funding. Agency insiders say selected projects will likely align closely with President Joe Biden's "America the Beautiful" executive order issued earlier this year, which creates a goal to "conserve, connect and restore 30% of (U.S.) lands and waters by 2030" among other things, such as honoring tribal sovereignty and ensuring conservation is to the "benefit of all people."
The goals of the Great American Outdoors Act and the "America the Beautiful" plan are very similar, which makes it easy to implement the executive order, Estenoz said.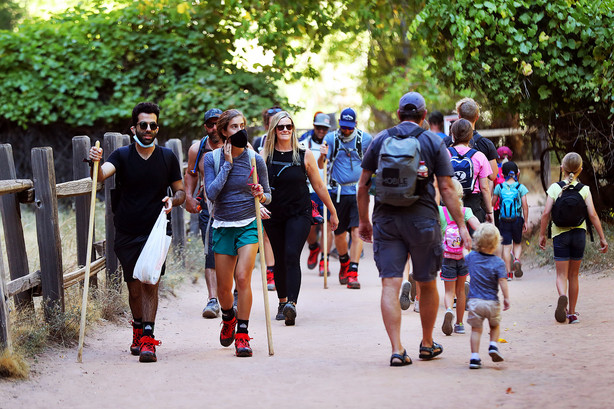 There's also a point to maintain public land in areas dealing with overcrowding. That's one of the key items that the Great American Outdoors Act has aimed to address. National parks, like Zion, continue to experience overcrowding concerns. It's why Zion National Park is scheduled to receive $13 million in total in the 2022 fiscal year and could receive more afterward.
"Just having better, safer, more adequate campground structure and trails and bridges and road systems is really helpful for overcrowding," said Jessica Turner, the executive director of the Outdoor Recreation Roundtable.
She added that it's helpful not just for national parks but also for overcrowding on public land managed by other agencies.
Of course, another solution could be to designate more parks, monuments and protected areas. Estenoz said that is "one of the tools in the toolbox" but that it may not always be the answer. One of the solutions to the park overcrowding, she said, is instead finding ways to get people to visit lesser-visited national parks.
"Most of our overcrowding problem in the National Park Service is really focused in 50 of our park units and we have more than 420 park units," she said. "There are many, many national parks that folks don't know about. And there are many gateway communities around those lesser-known parks that aren't receiving sort of the maximum economic benefit that comes with being a gateway community to a national park unit."
After all, that's one of the key goals of the National Park Service — to find your park.
×
Related Stories