Estimated read time: 4-5 minutes
Editor's note: This is part of a series at KSL.com featuring some of Utah's coolest cars. If you own a customized vehicle — from sports cars to semitrucks — email jormond@ksl.com with a photo of the vehicle and a brief description for consideration.
LOGAN — If you think Tyler Merrill was wrong to build a car that looks like it's from the movie "Mad Max" instead of "Christine" out of his 1958 Plymouth, check out the car's roots before pronouncing your verdict.
"Christine" was a 1983 horror movie based on a Stephen King novel. It made the 1958 Plymouth Fury famous, though in the movie it was possessed by the devil and killed people. "Mad Max" is a series of movies with odd combinations of vehicles in a post-apocalyptic wasteland.
The car character "Christine" was a 1958 Plymouth Fury, though filmmakers dressed up Belvederes, Plazas, and Savoys to fill in since there was a lot of crashing going on in the film. There were only 5,303 Furys built, but almost 37,000 of the lesser models.
Merrill, who lives in Richmond in Cache County, first saw the Savoy in a Clarkston wrecking yard. The owner, Bob, was using it as a yard car and had done some major modifications with parts that were already around. He cut out the wheel wells and made fender flares out of a 55-gallon drum. He welded wheels together to make a "dually" setup for the four back tires. He added a manual transmission to the back of the existing automatic to let it gear extra low for yard pulling and logging.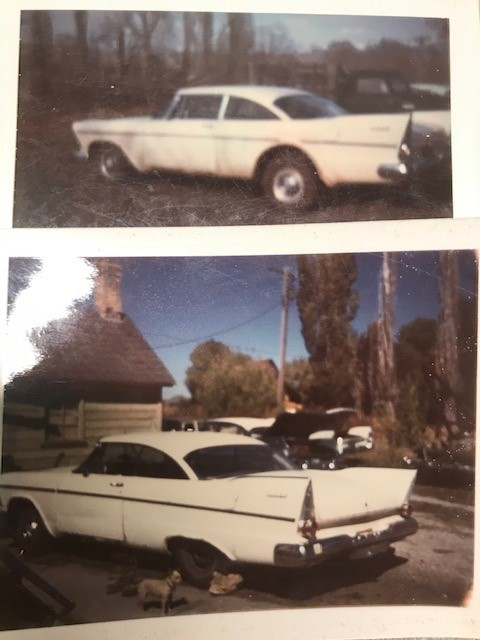 The Savoy came with a leaf spring suspension, but Bob had added on coils and air shocks to keep it from sagging when hauling. Merrill describes the ride as "like a brick." The interior was factory original. Merrill asked to buy it, but Bob wouldn't sell.
When Bob passed away in 2018, Merrill helped Bob's widow sell off about 25 cars and find a home for scrap metal. For his time, he was given the Savoy.
He considered restoring it into a "Christine" car but figured a $60,000 to $80,000 investment would result in a car worth only $50,000 since it was a Savoy. Plymouths at that time were already known for rusting and poor build quality, and the car was full of braces and beams to support the two-transmission, two-suspension setup. Merrill decided to modernize what Bob had done.
Merrill relieved the Savoy of its frame and running gear, replacing it with the undersides of a 1977 Dodge 4x4 pickup, cutting out 8 inches from the middle of the Dodge's frame and making other modifications so it would fit. It now has a regular dually rear end and can go crawling with the rest of the — well, there's not much else like it. He says it'll climb hills OK, but there are plenty of obstacles in Moab that could stop it.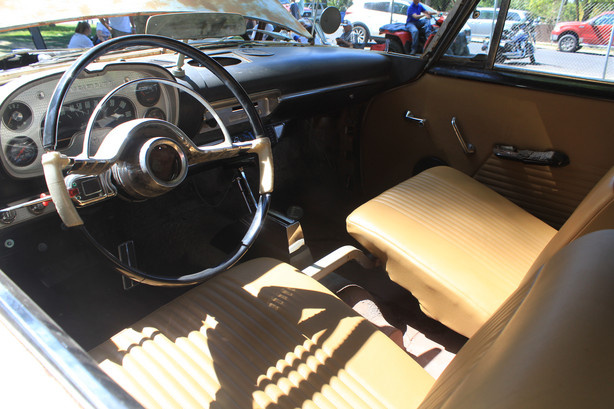 He calls it "Maxine," a mix of Mad Max and Christine. He said his wife "hated, absolutely hated it" at first but is now on board. He drives it to work once a week and on grocery runs with his daughters where it draws a crowd. He is happy to not be driving the expected, and the perfectly restored interior surprises those who dare to get close enough to peek inside.
Minus the wheels and tires, he said it has been pretty cheap with a $10,000 investment that includes the donor pickup.
His future plans include swapping the 440 for a Cummins diesel engine and NV 4500 transmission with the goal of doing six-wheel burnouts. He also hopes to tow with a fifth-wheel hitch in the trunk. It should be able to do anything the toughest trucks can while having some of the tallest tailfins ever made. He said he plans on patching rust holes, but he won't change the rough look.
When asked if he is crazy, he said, "I don't think so. People who are casting a new type will always be seen as crazy. All it takes is one celebrity on the bandwagon and then you're a trendsetter."
The defense rests; you may now pronounce judgment, readers. If you want to see more Maxine, you can follow her on Instagram @farmfreshfabrication.
More Cool Cars:
---
×
Photos
Related Links
Related Stories