SALT LAKE CITY — MyKayla Skinner described her ending to the Tokyo Olympics as being "heartbroken." The Olympic dream was over and she remained in Tokyo only to support her teammates.
Her gymnastics career was complete and she was leaving empty handed. But that ending turned out to be just the beginning.
In an improbable turn of events, Skinner was pulled back into the women's gymnastics vault final after Simone Biles withdrew from the competition due to coming down with "the twisties," a condition that has kept Biles out since the team competition. The long battle to get to the Olympics and then to get back to competition on vault turned out to be all worth it.
Skinner leaves Tokyo as a silver medalist.
In the end, it was a storybook ending with all the twists and turns of a movie. From being named an alternate to the team in 2016, to contracting COVID-19 and pneumonia as she made her comeback as the oldest gymnast in competition for the United States, to coming up just short of qualifying for the vault final, it was all part of the long journey to a remarkable finish to her career.
Skinner told reporters after the vault final that she dedicated the medal to Biles, who was present at the final loudly cheering on her teammate. Skinner added: "I wouldn't be here today if it wasn't for her."
"I told her I would be doing this one for her," Skinner said. "She said, 'Don't do it for me, do it for yourself,' so technically it's for all of us."
The 24-year-old gymnast will return home to Utah with some much-anticipated hardware and a legacy as one of the best gymnasts to run through the University of Utah. That's to say nothing of her own Olympic legacy, which will go down as an all-time great moment.
"There have been so many times I've wanted to quit the last 2 years and throughout my entire gymnastics career," Skinner wrote on Instagram hours after she won silver. "I don't think most people know how hard this sport is on your body and mind. I'm grateful I never gave up and that so many of you never gave up on me ♥️ unfinished business ... FINISHED 🥈"
Skinner was the first of eight gymnasts representing six countries to compete on the vault final. Everything she'd done leading up to that moment was now center stage and she delivered, landing a 15.033 score on her first vault. The first one was finally out of the way. The second vault, Skinner hugged the line on her landing and recorded a 14.800 for an average score of 14.916.
And then the wait, which lasted only about 30 minutes but likely felt like an eternity, commenced as she had to hope her score was good enough to be on the podium in the end.
Olympian *and* Olympic vault silver medalist @mykaylaskinner. 🙌 #TokyoOlympicspic.twitter.com/wQbFgpw7wz

— Team USA (@TeamUSA) August 1, 2021
Mexico's Alexa Moreno went next and finished with a 14.716 score before Brazil's Rebeca Andrade exploded with two vaults over 15 to score 15.083 — just a tenth higher to pull ahead of Skinner for the gold medal.
Jade Carey, who also represented the U.S. and claimed the No. 2 overall vault score in the qualifying round, went next but had a misstep on her run-up on her first vault attempt and was forced to improvise on the spot. Unfortunately for Carey, the score was only a 11.933 — the lowest score of the event. With the pressure of the misstep on her mind, Carey scored a 12.900 on her second vault to finish with an eighth place score of 12.416.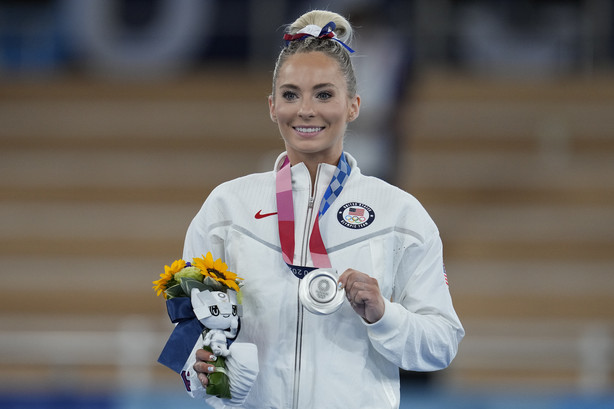 Korea's Seojeong Yeo went next and appeared to be poised for a gold medal when she landed an vault final high of 15.333 on a nearly flawless routine. But too much power on her second vault left her taking a few steps forward and she scored a 14.133, landing her in the bronze position where she finished with a 14.733 score.
The remaining three gymnasts, whose start values were lower than the three medalists, couldn't overcome the top scores. Skinner could let out a sigh of relief as she claimed the silver medal and fulfilled a lifelong dream.
Skinner previously contemplated going home after not qualifying for any individual event, and told reporters Sunday that her thoughts at the time were her teammates would be "fine" without her and that "they're going to be good." But after Biles withdrew from the team final, Skinner said Biles told her coach Cecile Canqueteau-Landi that "you need to text MyKayla to make sure she doesn't go home in case she needs to step in."
Skinner found out she'd be in the vault final Saturday when Biles and Annie Heffernan, vice president of the women's gymnastics program, told her of the update. Biles, instead, was going to be in the stands cheering her on.
"It's so weird, because I'm not used to seeing her in the stands, you know?" Skinner said. "So it was seriously cool to see her love and support and her cheering us on. And I knew she was going to be the loudest one in there tonight because she's like, 'I want you to make podium. I want you to medal.'
"She is definitely one strong cookie," Skinner added. "She has inspired me in so many ways."
Final scores:
Rebeca Andrade (BRA): 15.083
MyKayla Skinner (USA): 14.916
Seojeong Yeo (KOR): 14.733
Alexa Moreno (MEX): 14.716
Angelina Melnikova (ROC): 14.683
Liliia Akhaimova (ROC): 14.666
Shallon Olsen (CAN): 14.550
Jade Carey (USA): 12.416
×
Photos
Related Stories